Edition 138 - June 2012
---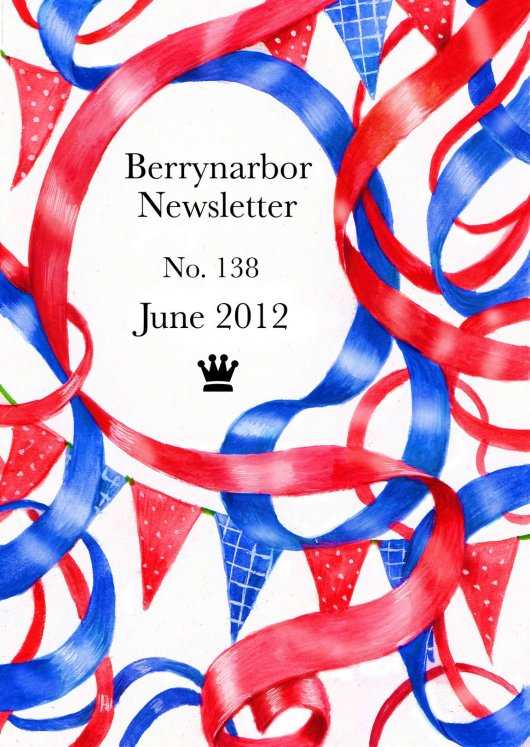 Artwork: Debbie Rigler Cook
---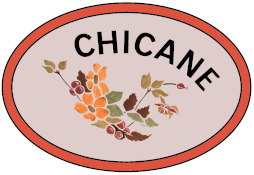 Artwork: Judie Weedon
EDITORIAL

June . . . and it's just a couple of days now until we'll be celebrating the Queen's Diamond Jubilee here in the village. Let's all enjoy the events, free, that have been organised for us and keep fingers crossed that the weather is kind!
For the cover and centre page, fitting the occasion, we are again indebted to Debbie Cook and her artistic talents. Debbie has produced the cover of so many of the 'special' Newsletter issues, much appreciated by us all.
This issue contains another set of varied articles for your enjoyment, many of which are currently pertinent, and thank you to everyone who has contributed in any way - writers and artists.
Articles for the August Newsletter, when it begins its 24th year, are welcome as soon as possible and by the deadline which is the 9th July please.
We send our best wishes and happiness in your new homes to all those who have left the village or come to join us, and a get well soon message to all those not feeling at their best just now.
A sincere thank you to the Parish Council for their continued generous support and grant of £500.
A final personal thank you, from Ken and myself, for the many cards and good wishes on the occasion of our Golden Wedding, for the help and support when Boston went AWOL but miraculously reappeared four weeks later, and your good wishes for Ken's recent spell in hospital. Thank you all.
Judie - Ed
1
---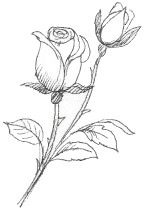 IN MEMORIAM
Praise Life
Men and boughs break;
Praise life while you walk and wake,
It is only lent.
David Campbell [1915-1979]
MADELAINE HARRIS
It was sad to learn that following a short stay at Fremington and just a few days at the North Devon Hospice, Madelaine had slipped away peacefully on the 27th March. Her funeral took place at St. Peter's a week later when she was laid to rest with her late husband Brian, who died seven years ago.
Madelaine and Brian purchased Orchard Park a few years before they retired here in 1983. Together they transformed it with great care, craftsmanship and taste, a pleasurable task that kept them both very busy. Sadly, work was not finished when Brian died, but Madelaine carried on and completed their dream home.
No longer acting as Brian's 'go for' and with workmen helping to complete the house, Madelaine had more time to spend on village activities, joining the Ladies Group - unfortunately now defunct - and becoming a keen member of the 'Alley Cats', one of the Globe's skittle teams. She was a staunch supporter of our community shop, both old and new, having an order delivered each week. She will be much missed by her many village friends and acquaintances.
She will also be sadly missed by her family - her son Steven and his wife Karen, daughter Laura and partner Dave, her grandsons Richard and Michael and her great-grandchildren. Our thoughts are with them all at this time of sorrow.
WALTER CANHAM
1917-2012
I was very sad, as I am sure readers will be too, to learn that after a few days in hospital feeling unwell, Walter had passed away suddenly but peacefully on the 28th April.
When I first met Walter at Lee Lodge he told me his family boasted longevity, his mother and father both living to the age of 96, and he was going to break that record! Sadly, he fell just short of doing so.
An only child, he was born in London and attended Dulwich College where he excelled at Maths and Latin, making his choice of career as a Chartered Accountant an obvious one. He was also an obvious choice to be Treasurer of the British Automobile Racing Club for 12 years, was also a Rotarian, being President of the Portslade Club in West Sussex in 1973, and a founder member of the Sussex Film Society.
From the age of 7, Walter was a very keen stamp and coin collector, was always interested in aircraft of all types and enjoyed gardening.
In 2003 he came to live with Sue and his son Malcolm at Goosewell, before taking up residence at the newly established Lee Lodge. It was whilst he was there he began to contribute items for the Newsletter and he continued to do so when he moved to Burrow House in Ilfracombe a couple of years ago.
We'll miss his interesting and informative 'Whispers' but how much more will he be missed by all his family. Our thoughts are with his sons Graham, Malcolm and James, and daughter Mary, his four grandchildren and five great-grandchildren.
2
---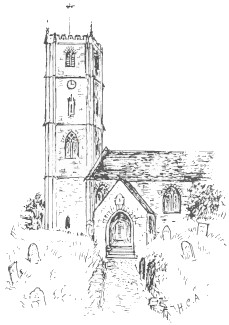 Artwork: Helen Armstead
ST. PETER'S CHURCH
Easter began early with Class 3 from the School coming into church on 29th March to give their presentation of 'Good News'. A lot of work and rehearsal had gone into their enthusiastic performance which covered the Easter story as though it were happening and being reported on the TV News, interspersed with lively songs.
The well-attended Palm Sunday Service was led by Celia Withers who had us take a fresh look at the old familiar story and, on Good Friday George Billington presided over the quiet hour of music and reflection before the cross. Twice as many people as usual came to this service and the trend was repeated on Easter Day with a large congregation joining in the happy celebration with the Rector. The singing was led by a full choir who also sang the 'Agnus Dei' by Karl Jenkins most beautifully.
Once again Sue Neale and her team must be thanked for the lovely flower arrangements and thank you, too, to those who made donations towards the cost.
We are looking forward to the celebration of the Queen's Diamond Jubilee and the Flower Festival in the church. The Thanksgiving Service will be at 11.00 a.m. on Sunday, 3rd June. On Sunday, 24th June, Christians Together will be holding their Evening Service at 6.30 p.m. in Berrynarbor. This is always a well-attended, joyous occasion so do come and join us. A collection will be taken up for Christian Aid.
St. Peter's Day falls on the 29th June and Gift Day will be held on Wednesday, 27th. Once again letters and envelopes will be delivered around the village and the Rector and PCC members will be at the lych gate to receive donations, meet everyone and have a chat.
Friendship Lunches at The Globe, from 12.00 noon, will be on Wednesdays, 27th June and 25th July.
July is set to be the Wedding Season with three weddings booked in over the month. Sunday services will follow their normal pattern.
St. Peter's Annual PCC Meeting was held at the end of March preceded by the Vestry Meeting for election of Churchwardens.
Stuart Neale agreed to stand as Churchwarden for another year but there is still a vacancy for the second post. It is important that this is filled and efforts will continue over the coming year to find someone able to take on the role.
The meeting continued with a review of the past year. The appointments and licensing of Rev. Chris as Team Rector and Rev. Yvonne as Team Vicar were the outstanding events of 2011 and an encouraging start has been made on building up the North Devon Coast Team Ministry and getting the parishes working together - not an easy task when there is such a wide area to cover and so much travelling is involved. Growing links with the School are particularly encouraging.
Thanks were extended to all those who give so generously of their time to maintain all aspects of church life. Especially thanked was
Sylvia Berry who has retired from the PCC after 18 years' service. We were pleased to welcome Teresa Crockett back on the Church Council after a few years' break.
Mary Tucker
3
---
WELCOME!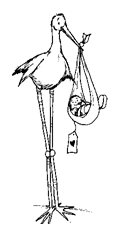 It is lovely to be able to congratulate Debbie and Stuart, late of Bali Hai and now of Coastal Kennels, on the birth of their daughter.Jessica Fern was born on the 29th April weighing 7lbs 111/2oz. Mother and daughter doing well and father surviving!
And congratulations, too, to Ron Toms who is very proud to announce the arrival of his third great grandchild.
Katie Elizabeth Bolt arrived on the 2nd April, the first child of Craig and Jenny and another very welcome grandchild for Sheila and Tony.
A warm welcome to the little ones and best wishes to you all.
4
---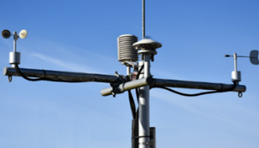 WEATHER OR NOT
The first three months of this year were the driest we have ever recorded with a total of only 185mm (7 5/16"), As we said in our previous report, we were away until the 7th of March but between the 8th and the end of the month we recorded only 8mm (5/16"). The middle of March was fairly quiet with a lot of fog - chilly in the fog but warm when the sun broke through - then the last week was more like summer with a maximum temperature on the 24th of 20.6 Deg C, the highest temperature that we have ever recorded in March. The lowest temperature was 1.9 Deg C on the 19th. Winds were light with a maximum gust of 20 knots on the 9th. 98.71 hours of sunshine were recorded, up on most previous months although last year we had 109.00 hours.
According to the Met. Office it was the wettest April for over 100 years, but we got off lightly here with only 115mm (4 9/16" ), less than we recorded in the April of 1994,1998,1999, 2000 and 2001. On the 18th the barometric dropped to 979mb, the last time it was lower was in November 2010 when it fell to 969mb. It was a cold month with a maximum temperature of only 14.9 Deg C on the 30th, well down on average though the minimum was about average at 1.6 Deg C. There was a cold wind for a lot of the month which meant that the wind chill was often in minus figures. On the 29th stormy weather was forecast, but because of the wind direction from the north east we were sheltered and only recorded 29 knots although the wind was up to storm force 10 in parts of the county and gusting force 11 off the south coast. It wasn't just the wind strength that was a problem, it was also very cold with a wind chill of -11 Deg C and we heard that there was snow at the top of Porlock Hill. The 110.88 sunshine hours were the lowest recorded in April apart from 2004 when it was only 109.38.
We hope to be able to report some excellent summer weather in the next report.
Simon and Sue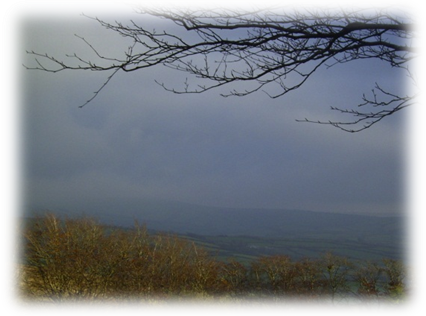 5
---
JUBILEE FUN HUNT
Lorna and Michael wish to thank everyone who supported the Car Fun Hunt during April. We hope you enjoyed the trip and perhaps discovered new places in our lovely countryside. I must admit we panicked when we learnt the church at Kentisbury was covered in scaffolding! We rang Brenda Bowden who assured us the church would remain open. We thank her and the Wright family at The Barton for their forbearance of the influx of visiting cars during April and wish them God Speed with their renovation project. We also thank Debbie, Nita and the volunteers at the Shop and Karen at The Globe for selling the forms and Geoff Adam for printing them. We are not sure of the final figure but we should raise £250 plus.
The winners, who answered all the questions correctly, were Karen and Nick Hawke and Julie Sayer, c/o Wood Vale, Sterridge Valley - well done!
The answers are [and hopefully you remember the questions!]:
1. Capel Cottage 2. £2.50 3. Hammonds 4. Large spar-stone boulder balancing on rocky outcrop 5. Diggers Cross 6. Long Lane 7. Brinscott Farm House 8. Coil Cross 9. Stone Combe 10. 01271 882323
11. Pond 12. Tudor roses or flowers 13. St. Thomas 14. Shirwell 15. Miss B. Bowden 16. Roll of Honour shows 24 served, Cenotaph records 5 men died. 17. 6 18. Stone stairway [to nowhere] 19. Dairy Farming 20. 9 [the Barton is a Devon longhouse] 21. [Blackmoor Gate] Railway Station 22. Calvert Trust 23. 1950-1957 24. 22m - 72 ft 25. 2.2km 26. Oxygen, pumped in to kill algae 27. Bess Hill 28. Chichesters
29. Brockham Bridge 30. Re-Pyne Family, early Lords of the Manor 31. [Ornate] Weather Vane 32. Public Footpath 33, Traditional hedge making, steeping or laying.
And we all thank Lorna and Michael for a great fun time and hope they might do another car run before too long and take us to places we've not visited before!
6
---
BERRYNARBOR YOUTH CLUB IN THE '70'S AND '80'S
Following Lorna's February issue plea 'Where Are You Now?' it is lovely to have heard from two more members of the Youth Club.at that time. Thank you Rachael and Wendy.
For the past 12 years I have been living in Exeter on my own but with support staff to help me. I do several voluntary jobs during the week at a nursing home and two day centres for the elderly. I love chatting to older people! I see my mum every other weekend, she lives in Crediton. I am 43 years old now. I have a boyfriend now: I meet him at two evening clubs I go to.
My sister Becky is married with three sons, in Salisbury. She is 38 years old and a Special Needs Teacher.
Rachael Delve [25.3.12.]
Marian Delve gives us news of Dawn, Denise and Julie Copp who were fostered by Gerald and Phyllis Andreis. Gerald worked at Moules Farm and they lived at Castle Cottage.
Denise now lives in care in Cullompton and Dawn in Ilfracombe, as does Julie who has just moved into a 'sheltered' flat near the Tyrell Hospital. She and Rachael are still good friends.
Gerald sadly died several years ago and Phyllis earlier this year.
* * *
After reading Kevin's contribution to your wonderful Newsletter I thought I would write to you myself.
I remember the Youth Club very well and Sally Richards taking pity on me and taking me under her wing as I was too scared to go by myself.
As some of you already know, I emigrated to Australia in 1981, ten days shy of my 21st birthday. I was terrified and very excited at the same time. On reaching Sydney - there was no international airport in Brisbane back in those days - as we flew over that amazing city I couldn't work out what the blue dots were. As we circled closer to the ground I realized with a gasp of surprise that they were swimming pools and that nearly every back yard had one!
I continued hairdressing for a few years and travelled a lot. Then I started to work in fashion retail. After an accident on a jet ski when I broke my back, I had to give up as I couldn't stand all day and I now work for a fashion agency where we represent national and international designers. It's a great job and I work with a great bunch of girls.
I am married to Ariu and have two step children - Tamara who is 30 and Josh who is 28. Both are married to lovely people and we have a great relationship. Josh and his wife Amy are expecting their first, so we shall be grandparents in October.
We live in an old Queenslander which we love and last year Sue Barrowcliffe [Todd] and Phil Desmond came to stay for a long weekend. It was great to see them and we had a great time catching up as it had been over thirty years since I had seen them. I also stay in touch with most of the gang via face book and still get to hear most of the village news through the newsletter and all of my family who still live there.
We haven't been back since Mum died but will try to get back this Christmas. I love coming home and Ariu loves it too so will look forward to a catch up down at The Globe!
Wendy Sio [nee Fanner]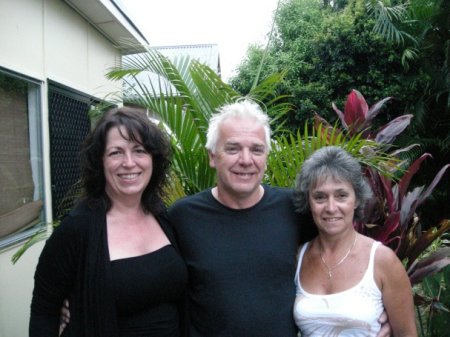 Wendy, Phil and Sue
7
---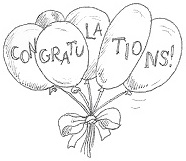 Artwork: Debbie Rigler Cook
BERRYNARBOR TODDLER GROUP
The Toddler Group Bingo Night held on the 5th April at the Manor Hall made a grand total of £125 and we made a small amount of £18.50 on the Name the Teddy at the Tea following the People Juice dance event. The teddy was won by Christina Barrow who attends the Group with her children. Thank you all for your support.
Be Barten
8
---
IF ONLY THEY COULD TALK!
On 20th March, whilst away with family, I received a text from Judie that said their cat, Boston, had gone missing. Now I have come to know Bostie well, being his 'babysitter' on the occasions when Ken and Judie have been away and know that he was not a wanderer, in fact a home-loving cat. Consequently I was much concerned by his absence.
Many of us know of cats and other pets that have gone missing and the heartache of not knowing what might have happened. However, the Sterridge is a close-knit community and with broadcasting the fact and asking neighbours to search sheds, garages, etc., wherever a curious cat might become trapped, I felt sure he would soon be found.
But the days drew out and Ken and Judie celebrated their Golden Wedding without their beloved Boston but continued in their efforts to trace him. In fact several times neighbours reported having seen a black cat, to no avail. On one occasion, not being too sure if it was Boston, for after several weeks they were aware he might be thinner and disturbed, a check with the vet ascertained the cat's chip was not right. How heart-breaking, although it hadn't really felt right.
When spending a few days at home, I arranged to pop over to see Ken and Judie on Sunday, 15th April. I drew up outside their home and sat in my car for a few moments, not really wanting to walk into a home where I would not be greeted by a purring Boston at the door. But wonder of wonders, a very thin black cat was at Judie's heels, certainly with a welcome for me. Although we all knew it was the right cat this time, a trip to the vet for verification and a health check, he had lost half his body weight, was needed. Off they went and I went off to celebrate a friend's birthday taking the good news with me. Half way through our meal a text came through, 'Yes, it's him!' and gosh, how happy we all were!
As for Boston, where had he been and what tales could he tell? A call from a neighbour that morning had said there was a black cat caught in their oil tank pit, yowling loudly. Judie went to check but didn't dare to get her hopes too high. The cat was proving difficult to persuade to come up the planks out of the pit, but as Boston loved a bit of cheese, the neighbour went to get some but before she arrived back the cat had managed to scramble out and was purring in Judie's arms.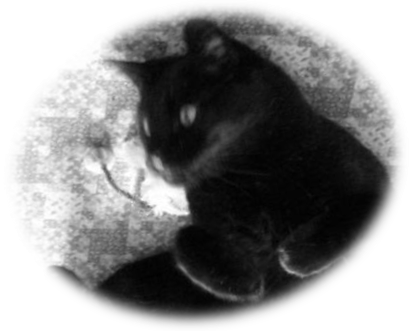 Boston had to have 'house arrest' for a considerable period, to feed little and often and use a much hated litter tray. But my last chat with Judie elicited the information that he was no longer grounded and putting on weight and within half an hour of his first excursion out had returned with a 'present' for them - a mouse! Long may that continue.
If only cats could talk!
Judith M.
9
---
BIKEY'S BASH
What a great afternoon we had raising money for the Hospice in Brian's memory. I should like to thank everyone who came for a cream tea and supported the raffle and the delicious cake and produce stall. Together with Issy's fund raising event at Easter, we have raised £1,038.50! I am sure the Hospice will be delighted with such an amazing amount.
Di
10
---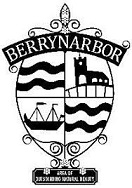 REPORT FROM THE PARISH COUNCIL
Councillors were pleased to welcome Charlotte Fryer as a Parish Councillor. With her co-option the Council is now up to full strength with 9 active and fully involved members working hard for the Parish. The May Meeting was the Annual Parish Council Meeting [AGM]. Councillor Adam Stanbury was voted in as Chairman, with Councillor Dave Richards as Vice Chairman.
Parishioners who have children under the age of 16 are reminded to contact the Clerk if they have not already done so to register their child or children to receive a £5 Jubilee Coin to commemorate the Queen's Diamond Jubilee. The Parish Council are very grateful to County Councillor Mrs Andrea Davis and District Councillors Mrs Julia Clark and Mrs Yvette Gubb for their assistance in funding the bulk of the cost from their Locality and Community Councillor Grant.
Councillors voted to donate the sum of £1,000.00 to the Manor Hall and £500.00 to the Berrynarbor Newsletter.
The Parish Council has been awarded the maximum grant towards the upkeep of the public toilets from North Devon Council as a result of an application being made by the Clerk with full details of running expenses supplied. All three public toilets will shortly have a dedicated sharps box, an item which is becoming more familiar in public toilets.
Councillors are pursuing grants from the Active Villages scheme for new goalposts and nets in the recreation field, footballs and a basketball hoop and ball. Berrynarbor is one of 19 villages chosen to benefit from this project. Other organisations are welcome to apply as well. If you would like to see additional facilities such as table tennis, judo, netball, keep fit, craft or similar activities please get in touch as the funding also provides coaching facilities.
Sue Squire - Clerk to the Council
11
---
THE GREAT BERRYNARBOR PLANT SALE
Word is spreading that good bargains can be had at The Great Berrynarbor Plant Sale. The crowd waiting for the doors to open was even bigger than last year! A very brisk trade was done by all stalls and we raised over £460 for shop funds.
Thanks to all the gardeners of the village who donated plants. Without your efforts we would not have a sale at all. Also thanks to all those who helped to set up stalls, make tea and to clear away afterwards.
There are some plants left and these will be on sale at the Village Shop.
Kath
12
---
MOVERS AND SHAKERS NO. 39
WILLIAM ADDIS [1734 - 1808]
Stationer, Rag merchant and Inventor of the Toothbrush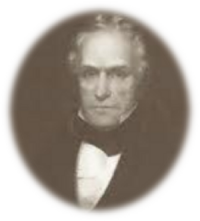 I wanted to link the Queen's Jubilee with Movers and Shakers, yet I'd decided to write about the man who invented toothbrushes . . . not an easy connection! Yet Her Majesty must have a Royal Appointment on toothbrushes, mustn't she?
Putting Royal Warrants into Google came up with a huge list of over 850 from Abels Moving Services [removals and storage services] to Yardley [toiletries and personal products] via bagpipes, champagne, hairbrushes, foster mares for orphan foals - and yes, GlaxoSmithKline [toothpaste]!
It could be that they also supply Dr Best toothbrushes [very big in Germany], but I guess I'll never know!
To get down to William Addis who started all this, around 1770. In Newgate Prison for inciting a riot, he had little to do except eat, sleep and think - thinking involved what he would do on his release from prison. After washing his face one morning, he cleaned his teeth as usual by rubbing them with a rag [possibly dipped in salt or soot] - a system used since the days of Aristotle advising Alexander the Great - and had an idea. There must be another way! Next day, he saved a bone from his meat dinner, bored tiny holes in it, begged some horsehair from the guards, cut these down, tied them into tufts, glued them and carefully pushed them into the holes. And it worked!
On his release from prison he went into production in Whitechapel, East London and was a success.
Over the years, the business grew with his son, also William, taking on the business after his death in 1808. By 1841, there were 60 staff, the brushes were hand produced from bone and ivory with hair or bristle filaments and the average retail price was 6d [21/2p]. The bones used to make the handles were ox thigh and buttock bones. Just the centres of the bones were used, the ends being sold to button manufacturers. Largely women in their own homes did the securing of the hair or bristles. Badger hair was used for the more expensive brushes, but bristle from hog, pig or boar was more commonplace.
In 1869, the first Addis toothbrush handles were made by machine.
By World War I Addis were supplying toothbrushes all over the world, and issued them to troops, thus creating a national teeth-cleaning habit.
In 1938 nylon was invented. The Addis family immediately contacted the UK licensee, ICI for permission to use it in toothbrushes. And in 1940 Addis created Wisdom toothbrushes, the first to have nylon bristles. These sold for two shillings [10p]. The Addis family bowed out in 1996, but what a success story it has been.
In Britain, we now spend nearly £250million pounds a year on toothbrushes. But what is interesting is that although new designs and materials have emerged over the years, the toothbrush has not changed all that much from the original one produced by William Addis over 200 years ago.
And at the end of the day, who cares what toothbrush Her Majesty uses - as long as she continues to keep up that smile. God Bless Her!
PP of DC
13
---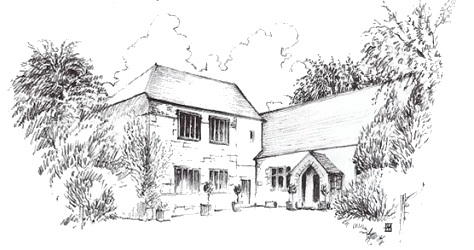 Artwork: Peter Rothwell
MANOR HALL MATTERS
The Annual General Meeting for the Hall was held at the beginning of May and my Report for the Financial Year 2011-12 reads as follows:
2012 is a significant year for Manor Hall in that it is 65 years since the acquisition of the Manor House, Hall and Parish Room from the Bassett Estate in February 1947.
We have gained the benefit of two new members on the Committee, welcoming Lorna Bowden representing the Parish Council and Natalie Stanbury the Pre-School and Toddler Group.
We said goodbye to Craig Hodgen, Anna Scholes and Marion Carter and thanked them for their help and support. We also acknowledged the significant support we have had over the years from Tom Tucker who passed away early in the year.
Cleaning has continued with Abbie Orr as our one paid staff member and continue to operate without a paid Caretaker [since 2009] but keep open the option to recruit if the volunteer help were to cease.
The new kitchen was completed with the final activities of decorating the walls and ceiling, as well as some carpentry work. Decorating was also carried out in the rear lobby and toilet areas attaching next to the Penn Curzon Room in anticipation of an Ofsted Inspection.
A number of our strip lights in various locations needed attention, and replacement proved the answer. Some of the PIR switches in various toilets were troublesome and were also replaced. The "Black Box" control unit to one of the overhead heaters failed frustratingly soon after earlier replacement, and we were grateful to the manufacturers for supplying a further unit at no charge!
Garden areas received a major cut back thanks to Chris Townsend and Michael Bowden helped us with Hedge trimming
We sourced new crockery to complement the refurbished kitchen, and non-slip mats for the kitchen and front door areas and have also secured a new beaded curtain as a deterrent at the front door when our feathered friends return from their migration.
We have dropped the notion of upgrading the speakers and sound system for the stage area having noted that all visiting performers and musicians and discos are invariably self-sufficient with equipment.
We have introduced a new Log Book for Hall Users to record any Health and Safety issues and also to offer up any comments about the Hall premises and its usage. We had one single accident report in the year [Badminton], thankfully with no serious injury.
I'm pleased to report that all fire extinguishers have had their annual service, as have the fire alarm and emergency light circuits. Full testing of all electrical circuits is a requirement every 5 years, and our system is scheduled for re-testing in May 2012.
The Berry Revels in August 2011 saw a record result of over £2,000 and a profit over £1,500. The Christmas Coffee Morning was also well supported and monies from these 2 dedicated Fundraisers plus some shared results from the Beaford events, totalled 15% of our annual income and this has again helped us offset our running costs and keep Hire Charges extremely competitive.
Overall, we're in good financial shape with income exceeding expenditure, and we continue to have a good reserve, funded primarily through a legacy left to us a few years ago. It's salient to point to an annual running cost for the hall of over £12,000 which approximates to £40 per day including days when we're without bookings! We continued our established policy of small annual increments in Rental Rates in September, keeping our charges very keen and competitive with local alternatives.
We continue to enjoy the benefit of a Grant from the Parish Council for which we are very grateful and going forward, we're exploring the prospect of a grant from Fullabrook CIC as a potential source of income for our Roof Restoration ideas, and Sports Aid grant to lead to a rejuvenation of our sports hall flooring!
These have continued at a similar level to previous years with good, regular usage across weekdays, but still untapped capacity on Thursdays and weekends. Trials of bookings for Tai Chi and Bridge didn't convert into regular slots due to inadequate support.
Our Booking Forms and systems comply with Hallmark 2 standards, but users have to be reminded to return Confirmation Slips to keep the system working, and avoid chance of double bookings. We're hoping that a recent trial of Bingo might convert into a regular event under a series of sponsors.
2011-12 has been a satisfactory year for the Hall and the present Committee in managing the resources of not only the main hall but also Manor House & Parish Room.
I'd like to thank the present Committee for their work of the last year and continued efforts in support of the Hall and its on-going aim of providing a central resource and meeting place in the Village.
Colin Trinder, Chairman 2011-2012
The Hall will come into its own for the Jubilee Celebrations - enjoy them! And don't forget the Berry Revels to be held in August.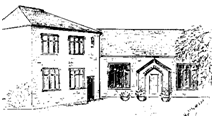 14
---
THANKS
Hello to all my friends and neighbours. I am back to Barn Cottage!
I want to give my thanks to everyone who sent me lovely cards and enquired about my well-being - it was so encouraging to me. I look forward to meeting you all soon. Kind regards,
Kath Arscott
15
---
QUICK QUOTE
"A sense of humour is a sense of proportion."
Norman St. John Stevens
16
---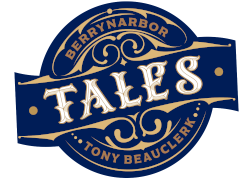 Artwork: Angela Bartlett
CHANGES . . . I SHOULD SAY SO!
Once I left school my adult life began and there were going to be many changes over the next 67 years. I shall, no doubt, get my chronology wrong, but here are just a few of the changes in those years:
Money was in pounds, shillings, pence, halfpence and farthings. Now pounds with a hundred [new] pence instead of 240d.
Measurements have also changed.
Chinese takeaways and Indian food are normal.
Men's haircuts - no short back and sides, its "Which number sir?" I feel like saying, "No. 3 with chips and special fried rice!"!
My first job was for £2.10.0 a week [£2.50].
The Empire has been reduced and the names of countries changed.
Prices? I remember paying 50p for two gallons of petrol and what is it now? About £1.50 per litre
We now have supermarkets, DIY shops, garden centre and very few 'corner shops'.
The demise of large cinemas has been replaced by multi-screens, and the 9" black and white television has been replaced by huge colour screens with 3D.
Now common place are roads marked with yellow lines, parking meters and multi-storey car parks, when at one time you could park anywhere...
If you rode a bicycle you were lucky to have three gears. Now you have many gears although I doubt if they can cope with Hagginton Hill!
We've seen the introduction of the NHS, the EU and 'health and safety' applied to everything!
Cars need to be MOT'd.
We have nylon, electronic calculators, plastic, electric cars, smaller gardens, insulation, synthetic fibres for clothes and carpets, varifocal lenses for glasses, life lengthening operations and drugs, computers, immigration, washing machines, dishwashers, mobile phones, double glazing
the list is endless!
Even the way we speak has changed. If you ask how someone is keeping, you get the reply, "I'm good." What about "Would you like a cup of tea?" "Oh, go on then." Not yes please or no thank you!
Then there is "Catch you later" or if you tell someone something, they say, "I know."
Even the crops farmers grow have changed and did I mention economy bulbs, emulsion and lead-free paint? People now eat with just a fork in their right hand and man has flown to the moon! We have central heating and very few coal fires.
You can, no doubt, think of lots of things I haven't mentioned - give it a try.
I wonder if 'Beam me up Scotty' will ever happen. Don't be too sure it won't!
Tony Beauclerk - Stowmarket
17
---
MARWOOD HILL GARDENS
The wisteria arch is just about to burst into bloom and there is lots to see in the Gardens at this time of year.
Don't forget, the Tea Room and Plant Centre are open daily and entry is free for both if you haven't got time to go round the Gardens. We'll be celebrating the Diamond Jubilee in conjunction with the village on the Bank Holiday Tuesday afternoon, 5th June, when normal admission applies. There will be story-telling, fancy dress and more - come and join us! Visit the website for up-to-date information.
On Tuesday, 21st August, we are having the Folksy Theatre to give an open air performance of Much Ado About Nothing, 6.30 p.m. Full details in the August Newsletter, but keep this date free!
Tel: [01271] 342528 www.marwoodhillgarden.co.uk.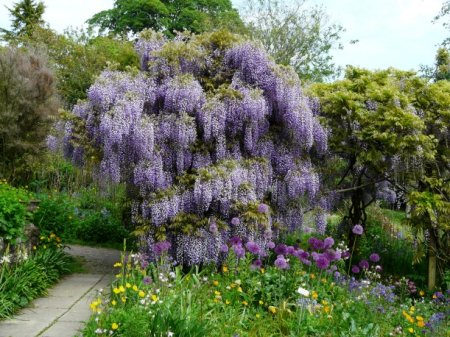 18
---
THE QUEEN'S DIAMOND JUBILEE AT BERRYNARBOR
THE TWO-DAY PROGRAMME OF FREE EVENTS
SUNDAY, 3RD JUNE
11.00 a.m.
Thanksgiving Service at St. Peter's Church
12.30 p.m,
Bring and Share Lunch in the Central Village
[Manor Hall if wet]
As part of the nationwide 'big lunch', with family entertainment.
Bring a plate of food to share and your own drink.
MONDAY, 4TH JUNE
2.00 to 4.00 p.m.
Diamond Country Fayre at the Manor Hall
Stalls, Games, Entertainment, Best Hat and Crown Contest,
Devon Cream Tea, Family Pet Show, plus lots more.
4.00 to 6.30 p.m.
BBQ and Music in the Central Village
[Manor Hall if wet]
Remember the music of the '50's? Dance away to the music of The Elderley Brothers and enjoy a burger or two! [vegetarian option available]
8.00 to 10.30 p.m. [ish]
Barn Dance, Jubilee Bonfire and Fireworks at South Lee Farm
Barn Dancing in the Barn, Barrel of Beer, Bonfire, Fireworks
Bring your own extra drink!
St. Peter's Church: Jubilee Flower Festival
Sunday and Monday, 3rd & 4th June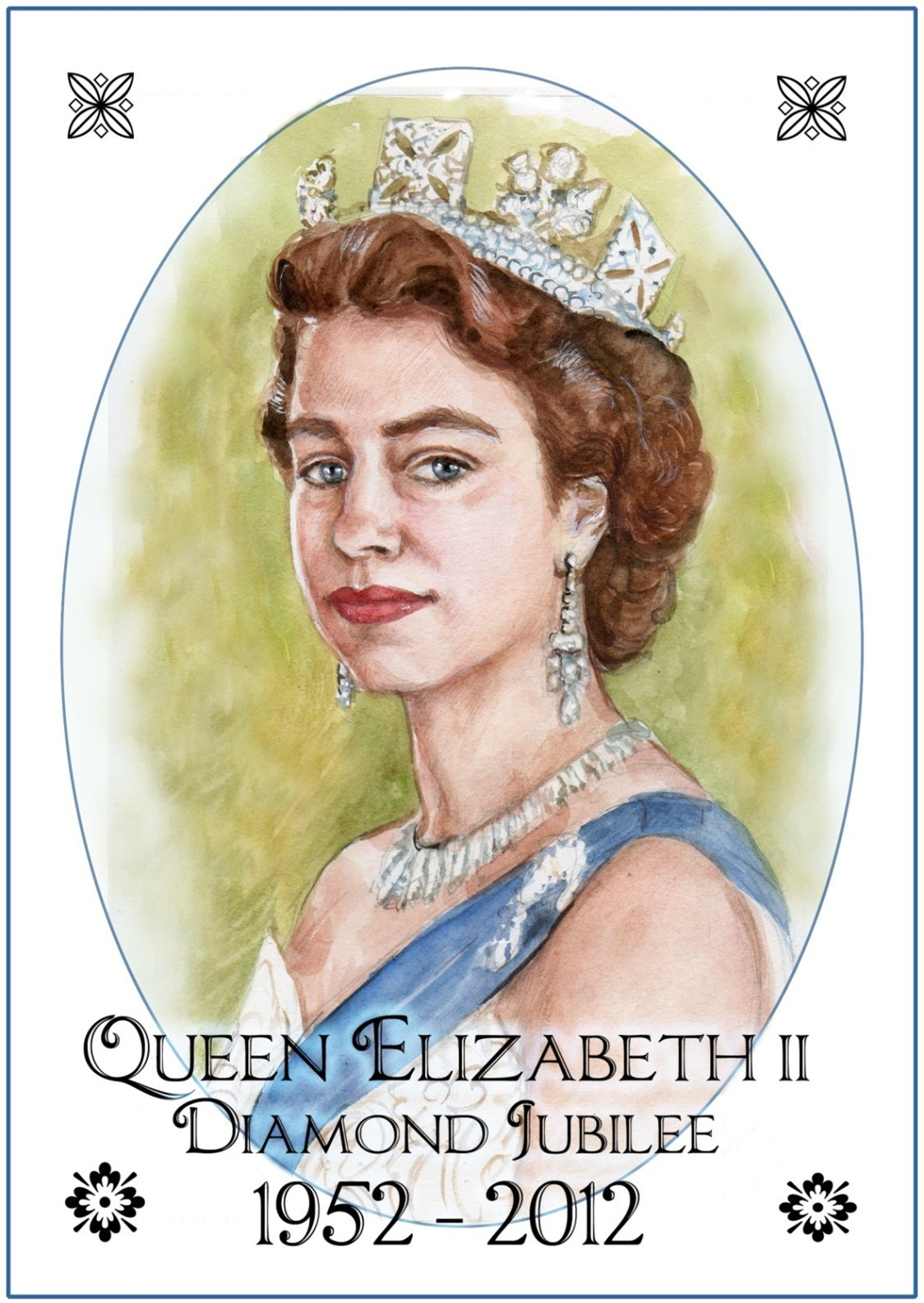 19
---
VESTS FOR AFRICA
Over the years the Craft Group, and friends, have knitted a variety of items for charity - including Easter chickens [to be filled with cream eggs] for the Barnstaple Soroptimists, bonnets for premature babies, squares for blankets for Women's Refuge, bunting for the Big Arts Day at Swindon, miniature lifeboat men for the RNLI, and of course, strips for the Hospice.
Now we are knitting vests!
These are for the Spencer Trust and will be sent to Kisiizi Hospital, Uganda. Each newly born baby is given two vests, often its only clothing and as an incentive for the mothers to bring their babies for the course of inoculations, they are promised two further vests when the course is completed.
These vests are knitted in 2 x 2 rib, which can expand quite easily and fit them from birth to two years old!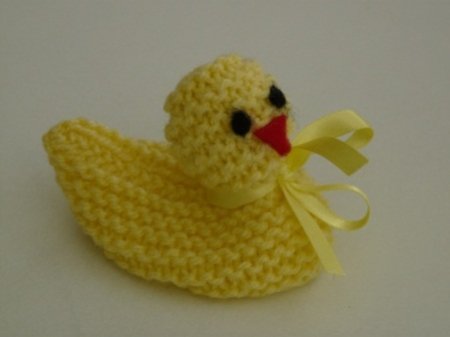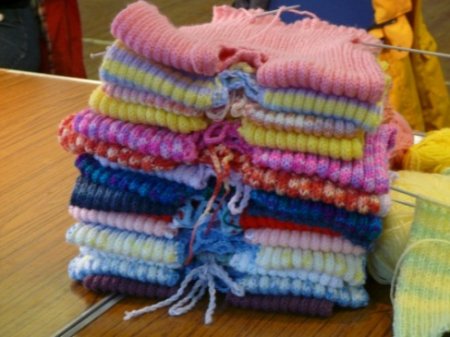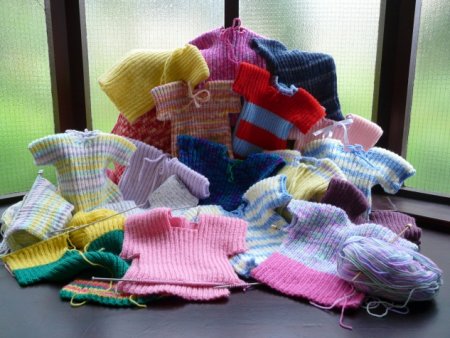 So knitters, would you like to knit a vest or two? The pattern is very simple:
Materials:
Odds and ends of coloured wool - it says odds and ends but you will probably find you need about 100g. Any colour except plain white, which is not a popular colour as it is for mourning.
No. 9 or 3 knitting needles
Medium crochet hook
Method:
Cast on 80 stitches and rib 2 plain, 2 purl for 8".
Cast on 14 stitches at the end of the next two rows for the sleeves.
Rib 16 rows.
Rib 44, cast off 20, rib 44.
Rib last 44 stitches for 31/2", break off wool and knit the other shoulder in rib to match.
Rib 44 stitches, cast on 20 stitches and then rib 44 stitches from the other shoulder.
Rib 16 rows.
Cast off 14 sleeve stiches at beginning of next two rows.
Rib until back matches front and cast off.
*Crochet round neck and put in a crochet draw string, fastening at the back to prevent pulling out.
Any vests would be warmly received either at the craft group Monday meetings [1.30-4.30 p.m.], with a member of the group or at the Shop.
* Don't worry if you don't crochet, this can be done for you.
We look forward to sending a goodly batch of vests from Berrynarbor!
20
---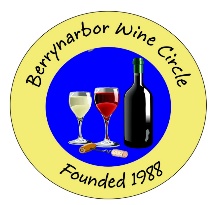 BERRYNARBOR WINE CIRCLE
Our March meeting was unfortunately too late for the report to go in the April Newsletter, so although some weeks ago, it should be mentioned that Pam and Alex Parke presented 'Wines That We Like'. We began with a white Spanish 'fizz' and ended with a 'heavy' Portuguese 'Shiraz type'. In between we sampled other whites from New Zealand and South Africa and an Argentinean and Lebanese red. Typically, preferences varied; some white-wine drinkers enjoyed 'The Ned Black Label', a Pinot Grigio from Marlborough, whilst others thought the 'Musar Hochar' from the Bekaa Valley was 'rather good'. It really was a case of 'each to their own'.
Even though our 'Circle' has been going since 1988, new presentation ideas still occur. April's meeting was 'Members' Choices'.
Proceedings began with Jonathan Peat presenting a blind tasting of another 'Ned': a Sauvignon Blanc Trophy winner. Members wrote an individual assessment without discussion, and, therefore, avoided the usual 'peer pressure'. Most of us had decided that this white was very 'gluggable'! Phil Brown's choice was 'Wines with Cheese': The 'Yarg' then the 'Dorset Blue Vinny' complemented the wines well. A French Sauvignon Blanc followed by our first red, from Tuscany. Many red drinkers thought this 'Poggioargentiera' was delicious. Popular in Italian supermarkets, it was the dearest of the evening at £11.99 for one bottle at Majestic. Raymond Blanc, in 'The Very Hungry Frenchman', had revealed
that his favourite grape was Gewurtztraminer. Bill Scholes used this revelation for his choice. Its bouquet of lychee, roses and Turkish Delight was noticeable; however, many white wine palates, generally, found it too sweet. Another 'Wines That We Like' were French reds, presented by Len Boudier on this occasion. A 2006 mix of Merlot and Cab. Savignon preceded an example of the Solera process, more usually used for sherries. This was 100% Grenache grape, aged by a percentage taken annually from 1999 to 2011 to produce a bottle with the most bizarre label and name: 'Little James' Basket Press'. Comments abounded on their marketing but not their wine!
May is our last meeting of the season. Members and wines were award winners on this occasion, which began with a presentation to our Secretary Tony Summers and his wife Pip, who have researched, organised, presented, cooked for and supported meetings for the last twenty years. Flowers by Sue Neale and a case of Majestic wine were, apparently, 'gratifying' for what Tony said has been 'a labour of love'.
Jan Tonkin, seemingly synonymous with May, presented 'Everyone's a Winner'. Our six wines had won an award from either Decanter World Wine or Wine Magazine. Our first, from Lidl, was champagne: a Commended and Bronze 'Decanter' winner in 2009, 10 and 11 and at £14.99 is cheap for French 'bubbly', but was the dearest white, as the others were £6.99 and £7.45: one French, the other a German Riesling, both from Majestic. Two reds and a rose followed, but the latter was a desert wine: a 3-year-old, half-bottle of a Croix Milhas: a Rivesaltes Ambre from the Pays D'Herault region, courtesy of Tesco's. It had won a 'Silver' from 'Wine', had the highest percentage, 16%, and was 'plum, prune, nuts' and purchasable at £4.49.
Summer is ahead, we hope; time to sip and sample with friends and family. Our meetings are usually on the third Wednesday of the month and we shall meet again at 8.00 p.m. on Wednesday 16th October, at the Manor Hall and look forward to seeing new faces.
Judith Adam
21
---
Combe Martin Friends Group Needs You!
Please join us at the Royal Marine Pub on Friday 8th June at 10.30 am to meet Rebecca Worth of North Devon Hospice's fundraising team and find out more.
Would you like to support us by joining our Combe Martin friends group? You can find out how to run your own fundraising events with support or help at larger hospice organised events. Make new friends and have fun whilst helping the hospice to provide care and support for all the family. Contact Rebecca Worth on 01271 347204 rebeccaworth@northdevonhospice.org.uk
22
---
A VISIT TO THE QUEEN
St. Dunstan's, a charity to help blind ex-servicemen and women, was formed in 1915 during the First World War.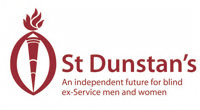 George and I were members and supporters of St. Dunstan's and early in 2001 we received an invitation to the Palace to a Reception to celebrate 85 years since its foundation.
I was very disappointed when the doctor said George was too ill to go as I realised this was a 'once in a lifetime' opportunity. However, kind friends came to look after George and I went off on the train to London.
In London coaches arrived from all over the country and especially from Ovingdean in Sussex, the main residential home for blind ex-servicemen and women. The coaches took us through the main gates and then through the central archway into a square where they parked.
We entered a large door leading to a grand staircase. I was pleased to have been put in charge of an elderly, blind veteran who was in a wheelchair. The wheelchairs and carers were taken up to the next floor in a lift, which had been installed for the Queen Mother.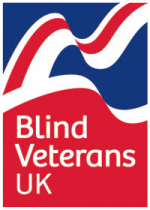 We all arrived in the Picture Gallery just after 5 o'clock. The walls were hung with massive paintings of previous monarchs and the floors covered with opulent carpets in rich colours. It was amusing that we were served with either white wine or gin and tonics - all being aware that the veterans were not always able to cope with liquids in glasses and red wine on those carpets did not bear thinking about!
The Queen, Prince Philip and Princess Alexandra arrived about 7 o'clock and 'worked' the three large rooms, talking to the guests.
I was standing in the third room, behind the wheelchair of the gentleman I was escorting. After speaking to me, the Queen spent some time talking to the blind St. Dunstaner.
As she went to leave him and carry on with the 'meeting and greeting', my friend in the wheelchair said, "To whom am I speaking/"
She replied, not 'Your Queen or Sovereign', but "Your Hostess".
I shall never forget that moment.
N.B. St. Dunstan's has recently changed its name to the Blind Veterans UK.
Yvonne
23
---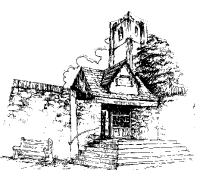 Artwork: Peter Rothwell
FROM THE RECTOR
Dear Friends
On Sunday 3rd June - the special Service of Thanksgiving to mark the Queen's Diamond Jubilee, 9.30 a.m. at Combe Martin [without the usual Communion] and 11.00 a.m. at Berrynarbor. Musical items and involvement from school children will take place.
Amongst prayers children will be praying is this prayer:
O God our Father, you love all your children in this and every nation: we give you thanks for Elizabeth our Queen at this time of Jubilee; give her your strength and protection, your love and your peace, that she may joyfully serve you and her people all the days of her life; we ask this through Jesus Christ, our Lord and our Friend. Amen
The Queen is one of the most impressive religious leaders in Britain. She says little in public about her Christianity, but what she does say - usually at the end of her Christmas Day broadcast - is powerful in its directness. Having discussed the celebrations, tragedies and anxieties of the past year, the Queen affirms, naturally but unflinchingly and with no attempt at religious relativism, her faith in Jesus Christ. This is from her message last Christmas Day:
"Finding hope in adversity is one of the themes of Christmas. Jesus was born into a world full of fear. The angels came to frightened shepherds with hope in their voices: 'Fear not', they urged, 'We bring you tidings of great joy, which shall be to all people. For unto you is born this day in the City of David a Saviour who is Christ the Lord.' Although we are capable of great acts of kindness, history teaches us that we sometimes need saving from ourselves - from our recklessness or our greed.
"God sent into the world a unique person - neither a philosopher nor a general, important though they are, but a Saviour, with the power to forgive. Forgiveness lies at the heart of the Christian faith. It can heal broken families, it can restore friendships and it can reconcile divided communities. It is in forgiveness that we feel the power of God's love."
In the face of a growing divide between faith and secularism, the monarch delivered a staunch defence of the Church and religion. The Queen, speaking to leaders of Britain's nine main religions on one of the first public events to mark her Diamond Jubilee in February said the Church of England was "woven into the fabric of this country" and had helped to build a better society. The Queen took the unusual step of highlighting the powerful role faith plays in society.
"The concept of our established Church is occasionally misunderstood and, I believe, commonly under-appreciated," She said. "Its role is not to defend Anglicanism to the exclusion of other religions. Instead, the Church has a duty to protect the free practice of all faiths in this country."
I believe our country is fortunate to have had such an impressive record of dedicated service.
Please note our summer series on wonder and the creation will take place on Tuesday evenings in June and July. It is this dimension of wonder that is lacking today for so many. In the wake of the destruction of civilisation after the First World War, the German sociologist Max Weber said that a key feature of modern life was its drabness. We live in a world where uniformity and sameness characterise things. Mass production, mechanical and now electronic ways of living create distance and a loss of aura that undermines things being special and wonderful. The loss of religion, as he saw it, contributes to this since we try to have an explanation for everything and no longer see the hand of God. Urban living adds to this scene enormously for in the country, it is easier to glimpse a sense of wonder.
One aspect of our church's Mission Action Plan is to try to create a spirituality hub in North Devon. In other words, we want to build on a sense of wonder that is there to be evoked, especially when we look up. Exmoor has recently been granted Dark Sky status - amongst the first anywhere in Europe. Here is something to draw on. It lends itself to pilgrimage, to a ministry of spiritual tourism and enhancing the experience of those who live here.
More of this in due course but a start on this aspect of our Mission Plan is intended for our summer series. This will take two forms. Firstly, our series of Countisbury epilogues on summer Sundays in July and August will have the creation as its theme. Speakers will be contributing to this awareness and it makes for a great evening out, especially if the weather is good to us as it was last year. Seeing the sun die away and the coast in full throttle is very special.
Secondly, we will be laying on a summer series of seminars and Bible study showing how "The heavens declare the glory of God." Seminars saying something about the cosmic architecture and how it all came to be in place will be accompanied by biblical material about the creation. A sub-text of this subject is always "Is the Bible in conflict with modern science?" To accompany this emphasis, we want to arrange some evening walks, guided by expert eyes and hands to make sense of what we see when we look up. So come along if you wonder what Genesis actually says, if science and faith are in conflict or is their marriage the great event of the 21st century?
Best Wishes,
Rev. Chris
24
---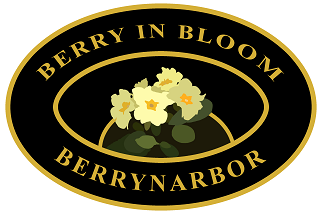 Artwork: Harry Weedon
BERRY IN BLOOM & BEST KEPT VILLAGE
This is the time of year when we are at our busiest with planting, trimming, weeding and generally trying to keep on top of all the gardening jobs. The hanging baskets arrive in late May in time for the Jubilee celebrations, but this year with the watering system in place some of the work has been cut down.
We have had our first litter pick of the year and very successful it was too, with twenty eight good souls turning out on a lovely sunny day armed with bin bags and the promise of a lovely cup of tea and slice of cake afterwards. Thanks to all the new and regular 'pickers' and a special mention to Martin our 'road sweeper' for taking all the bags of litter away for us. Please keep an eye out for our 'blooming' posters with the date of the next litter pick.
Our fund raising this year is going quite well with the coffee morning organised by Pat and Maureen at Fuchsia cottage followed by the cake stall at the Easter Fayre organised by the Horticultural and Craft Show committee. The Quiz and Supper Evening in the Manor Hall was a great success and hopefully enjoyed by all who scratched their heads over Phil Bridle's fiendish horticultural questions. Many thanks to everyone who helped run these events and, of course, thank you to the good Berrynarbor folk for supporting us.
This year the first of the two Open Gardens afternoons was on 20th May for the Sterridge Valley. We were very lucky that the weather was kind to us and the afternoon sunny and warm. The Valley gardens were in all their natural spring loveliness and as always Judie and Ken organised a delicious cream tea. We made about £250.00 so many thanks to everyone who weeded, baked, or visited the gardens. The next Open Gardens afternoon will be on the 9th September for the Village.
25
---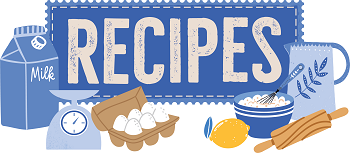 Artwork: Angela Bartlett
Strawberry Tart
This is a gorgeous summer treat and looks and tastes fabulous for a summer party or garden event. Using English strawberries in season what could be nicer? Although a little complicated to make it is well worth the effort and the pastry case and the pastry cream can be made the day before needed as this tart is best eaten on the day it is assembled.
25g white chocolate chopped
100ml double cream
11/2-2 tablespoons icing sugar, to taste
350-400g firm but ripe strawberries hulled
2 tablespoons strawberry jam, warmed and sieved

For the sweet flan pastry
125g soft unsalted butter 90g caster sugar
1 large free-range egg lightly beaten
250g plain flour, plus a little extra for dusting[Or cheat and use Sainsbury's fresh sweet short crust pastry, which is very good!]
For the pastry cream
175ml whole milk 75ml double cream
40g caster sugar
1 vanilla pod split lengthways (or 1/2 teaspoon vanilla extract)
3 large egg yolks
20g corn flour
You will also need a shallow, round. 20cm loose bottomed tart tin
To make the pastry, place the butter and sugar in a food processor and whiz until just combined. Add the egg and whiz for 30 seconds. Tip in the flour and process for a few seconds until the dough just comes together (do NOT over process or the pastry will be tough). Add a little cold water if it seems too dry. Knead the dough lightly on a floured surface and shape into a flat disc, wrap in cling film and rest for at least 30 minutes in the fridge. Roll out pastry on a floured surface into a large round the thickness of a £1 coin. Use to line the tin, with some pastry overhanging the tin. Rest in the fridge for 30 minutes. Preheat the oven to 190 Deg C, fan 170 Deg C, gas 5. Melt the chocolate in a bowl over a pan of hot water then allow to cool slightly. Line the pastry with baking parchment and baking beans and bake blind for 15-20minutes until the sides are set and slightly golden. Remove the parchment and beans and return to the oven for 5 minutes. While still warm, trim the excess pastry from the sides until level with the rim of the tin. Brush the inside base and sides with the melted chocolate and leave to cool and set in the tin.
For the pastry cream, put the milk, cream and 1 tablespoon of the sugar into a heavy based saucepan over a low heat. Scrape out the seeds from the vanilla pod and add them to the pan along with the pod (or add the vanilla extract). Slowly bring to a simmer. Meanwhile beat the egg yolks and remaining sugar together in a bowl until smooth. Whisk in the cornflour a third at a time keeping the mixture smooth. When the creamy milk is about to boil trickle it on to the egg mixture whisking all the time. Strain the mixture back in to the pan and return to a gentle heat, discard the vanilla pod. Stir continuously until thick and smooth, but take care not to let it get too hot or it will curdle. If you get any lumps whisk briefly with a balloon whisk. Pour through the strainer into a bowl and stir now and then as it cools to prevent a skin forming. Whip the rest of the double cream with the icing sugar and fold through when the pastry cream is cold.
Both the pastry case and the pastry cream can be made the day before [keep the case in an air tight tin and the pastry cream in the fridge].
On the day of serving remove the pastry case from the tin and spoon in the pastry cream levelling it off with a spatula. Thinly slice the strawberries and arrange them over the cream in concentric circles. Lightly brush with warm strawberry jam to glaze.
Yummy - don't forget to invite me for tea!
Wendy
26
---
WHEN HELEN MET THE QUEEN
May 1st 2012 and as part of her Jubilee tour The Queen and Prince Philip visit Salisbury. It's a day for the whole of Wilshire to celebrate. Now Swindon is a separate council, but it's part of the county of Wiltshire, so we are invited as joint host. I was asked by our Leader, Cllr. Rod Bluh, to commission an exhibition to be displayed in front of the great Cathedral in a jousting style tent. So, me being me, I decided this was the perfect opportunity to put into action an idea I'd had for a while - to make a film by the people of Swindon, for the people of Swindon, to show the world what Swindon is really like. And I knew just the people who could make it happen!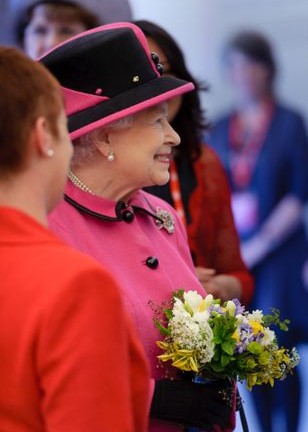 In March 2012, Create Studios worked with Swindon film maker, Gurchetan Singh and artist Jill Carter to film and photograph over 600 Swindonions in 60 locations across the town. The result is a beautifully crafted poetic exhibition that captures the culture, heritage and spirit of Swindon in 2012. This exhibition is what I was privileged to show the Queen when she visited Salisbury.
I was very nervous and excited. Unbelievably the rain stopped its torrential downpour about an hour before she was due to our tent and the sun came out. There was a growing sense of excitement, the crowd was building, the security was getting tighter - I had to show a pass and get through three security checks just to go to the loo!
And then she was here, The Queen. I was introduced to her by Cllr. Bluh and I told her that we had created this exhibition as our Jubilee commission and how excited we were to be able to show it to her. The photographs were inspired by the concept of Royal Portraits. Jill had invited people to decide where and how to have a photo taken with or on a golden chaise longue. The image we showed her was of Richard Deacon. Deacons is one of the oldest businesses in Swindon and Mr Deacon Snr. came to Swindon to make clocks that would keep the trains running on time back in the 1840's.
Richard chose to place the chaise in a flower bed in the beautiful Old Town Gardens. The park keeper wasn't too keen on the idea, worrying about his newly planted flowers! Richard chose to place a clock on the sofa in the flower bed in the foreground, whilst he sat on a bench in the distance. The Queen was clearly captivated with both the idea and the image and gave us a genuinely warm smile!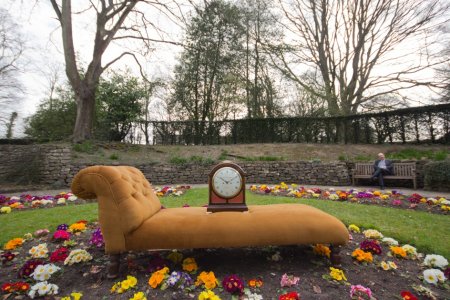 Next up was a two minute extract of the film. A poignant section about Vince who runs a shoe mending and engraving service. Recently he has been working on engraving shell cases for the fallen soldiers repatriated at nearby Wootton Bassett. A glimpse of our prestigious British Modern Art collection and unique stories of what Swindon means to be our home.

And then she was gone, with a smile and a thank you and a wave to the crowd . . . and we all let out a huge sigh of relief - it had all gone so well!
Helen Miah [Weedon]
27
---
AVON:
I have just started as the Avon Rep for the area. If you would like me to drop a catalogue round to you, please contact me on [01271] 882465 or pop in to The Globe to pick one up.
Karen
28
---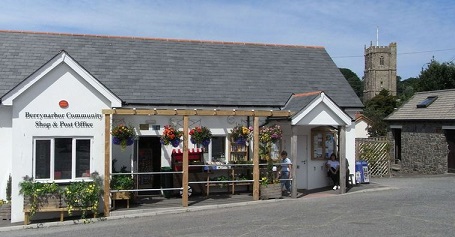 NEWS FROM OUR COMMUNITY SHOP AND POST OFFICE
If you've not already heard, we have now been accepted for selling lottery tickets. The 'official' bits will take a little time, but we'll keep you informed. For up-to-date information, why not join our e-mail update. All you need to do is give your e-mail address to Anita or Deb when next in the shop.
Well-done Kath, for another outstanding plant sale. Judging by the hordes of folk in the Manor Hall at around 2.30 p.m., she and her 'gang' had done an excellent job of advertising it. The outcome? £473.05 - not bad for a Sunday afternoon! We'll look forward to the Great Plant Sale 2013, Kath.
And whilst on the subject of gardening, we now sell large bags of compost at £5.99 a bag, or 3 for £15.
By now you will have noted that postal rates went up on 30th April. First Class from 46p to 60p, Second from 36p to 50p, and large envelopes from 60p to 90p [1stt] and from 56p to 60p [2nd]. But we still have a superb selection of greetings cards that remain the same price!
BerryBay continues to thrive. A glance when you are buying newspaper or milk might result in a gift for a friend.
A big thank you from everyone to Deb and Tony for the very successful Auction of Promises which raised an astonishing £1,500 for the Queen's Diamond Jubilee Celebrations.
Tony started the evening off well with folk singing and there was no shortage of buyers for the promises. Thanks must also go to Judith who did all the organising and, of course, the donors who made promises and those who bought them - well done to everyone involved!
And that's about it! We shall all be wishing Her Majesty well as we celebrate her Diamond Jubilee with events on the 3rd and 4th June. The shop will open as usual on Sunday [8.30-12.30] but will be open on Monday from 8.30-10am only.
Happy Celebration!
PP of DC
29
---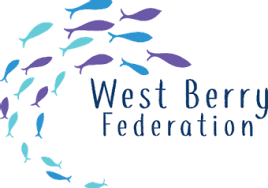 NEWS FROM THE PRIMARY SCHOOL
I can't believe we are well into the summer term already.
The Children enjoyed taking part in the recent Mean Feet Dance event organised by Beaford Arts and d despite the weather everyone had a fun afternoon.
KS1 and KS2 children have recently had a visit from the local Lifeguards. This is quite an important talk for the children due to the area in which we live.
Class 4 pupils will have completed their SATS week in May.
They will be enjoying a day out to the Ocean Fest in June.
This term will see class 3 heading to Embercombe near Exeter for their residential. It is the ultimate 'outdoor classroom'. The children will have great fun learning new skills and old, stretch their imaginations and have lots of fun in the outdoors.
Class 4's residential is to Bristol this year, where they will be visiting the SS Great Britain, the Clifton Suspension Bridge, watching 'Phantom of the Opera', plus lots more. Mrs Lucas works very hard to ensure the children have a very fun-filled week.
The whole school will be taking part in an Olympic Torch event being held at Brimlands rugby field. This will be a great opportunity for the children to view the torch as it passes through and to take part in a fun day of sporting activities.
To celebrate the Queen's Jubilee, the children will be having a street party lunch at school.
Sports day this year will be held on the first fine day, either Tuesday 19th June or Thursday 21st June.
The PTA will be holding their annual Summer Fete on Friday
29th June - please see posters for times. This is usually a really big fundraiser for the school, so it would be lovely to see lots of people there. All welcome!
If there are any gardeners who have a glut of fruit or veg and would like to donate to our school kitchen, we should be very grateful. This enables us to try and keep our costs down!
Sue Carey - Headteacher
30
---
LOCAL WALKS - 132
'It's a shore thing.'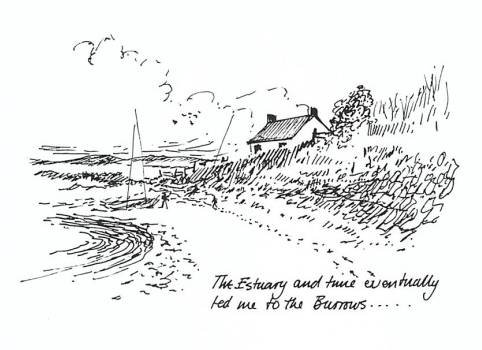 Illustration by: Peter Rothwell
When walking North Devon's wonderful variety of coast paths I often try to work out the attraction of being within sight of the sea; whether gazing out over the vast expanse of water from the high cliff tops of Exmoor or standing at a sandy shoreline.
Crossing the Burrows on a calm and sunny day, the first view of the sea is always a revelation as if seen for the first time. The smooth pale sand and the sheer beauty of blue sea meeting blue sky; the intensity of the colour blue. On days like that the sight of the sea is simultaneously soothing and exhilarating.
The film 'A Matter of Life and Death' made in 1946 [by Michael Powell and Emeric Pressburger] includes a scene filmed at Saunton Sands. An airman, played by David Niven, lands in the sea having jumped from his burning plane. As he walks up the beach, looking around in awe, he assumes he must have died and gone to heaven.
Adding to the strangely surreal atmosphere, a young boy sits at the edge of the dunes playing a pipe and surrounded by goats! Happily, Sixty-six years after this memorable scene was shot, that spectacular stretch of shore remains unspoilt.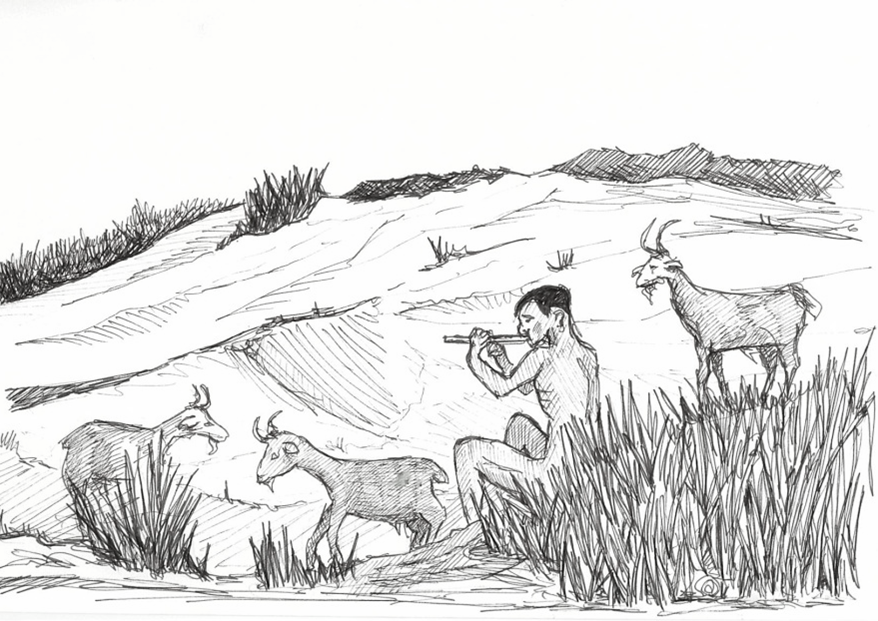 Illustration by: Paul Swailes
Even on days when the sea is rough and pewter grey it still exerts its magnetic pull. At Windy Corner on Ilfracombe's sea front it can be difficult to remain upright as the wind tries to force you back inland.
It was from there one late Sunday afternoon in April, as the boats 'Osprey', 'Kingfisher' and 'Jay Jay' were doing a brisk trade in fishing trips, that we noticed a large number of herring gulls circling over the sea - but not around the fishing boats. Their attention was concentrated on something round in the water close to the shore; the head of a grey seal. We watched it diving, catching and eating fish.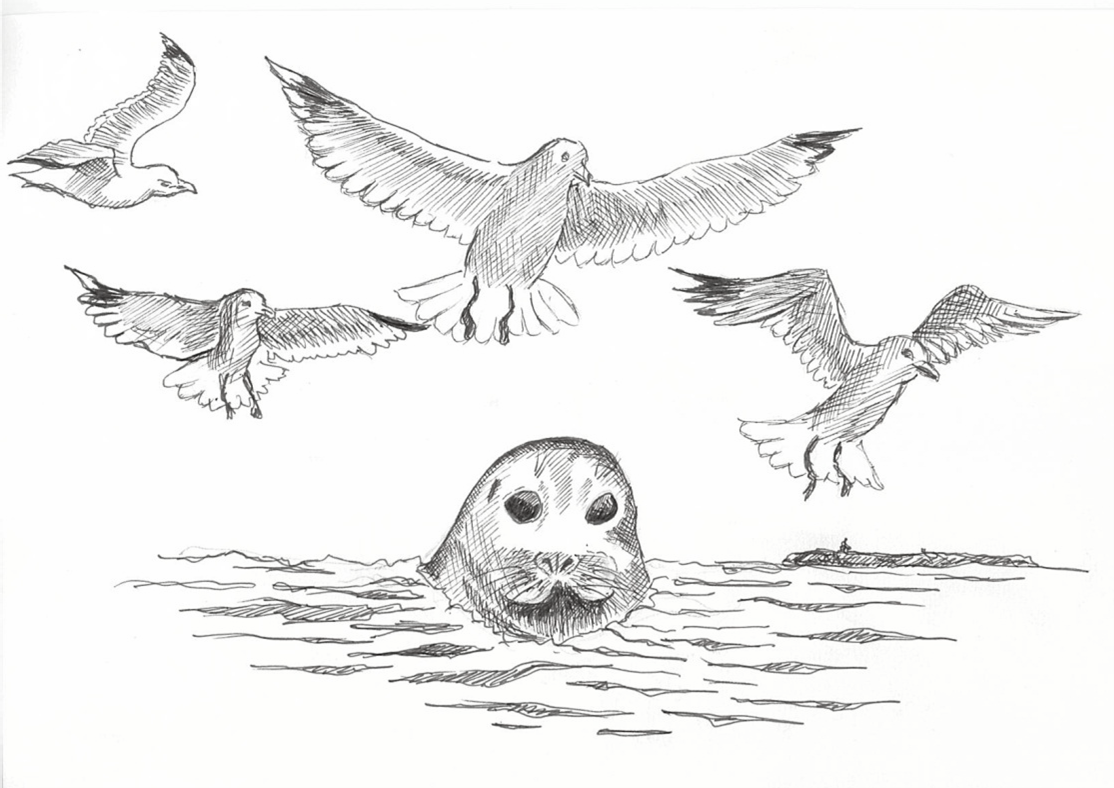 Illustration by: Paul Swailes
In his fascinating book, 'Land's Edge : A Coastal Memoir', the Australian author and environmentalist, Tim Winton, muses on his liking to be near the sea; to see it each day if possible, despite not feeling any great restless need to travel on it. He concludes, 'The sea is as disturbing as it is reassuring'.
Winton has a theory that west coasts tend to be lonely, wild and remote; that they are often the final frontiers whereas east coasts tend to be civilised, sociable and sensible. This he considers applies to the western and eastern coasts of Australia but he believes this contrast can also be seen in west and east coasts elsewhere. So glory be to our wild and remote coastline - our 'final frontier'.
Sue H
31
---
PETER TWISS - FLIGHT OF FANCY
A short while ago I read in the Telegraph of the death, at the age of 90, of Peter Twiss, OBE, DSC. Peter was a Test Pilot with Fairey Aviation in the 1950's and set the world air-speed record at that time.
On reading this, my mind literally 'flew' back to March 10th 1956, which I could recall as though it was yesterday.
I was at that time stationed on a radar base in East Anglia and was 'manning' Cabin 3 with two National Service Airmen and another WRAF colleague.
We loved the early mornings when we could study the civil aviation 'blips' on the screen, see if Prince Philip was flying in what was called the 'purple' lane [very necessary to ensure our fighter squadrons kept well out of his way!], and just enjoy the peace before the Fighter Command Squadrons took off on NATO exercises in that time of the Cold War.
We were suddenly aware that one 'blip' on our screen was leaping along the South Coast much faster than anything else. The intercom between the Chief Controller's Cabin and Cabin 3 suddenly came to life with the command "Get a speed on that aircraft Cabin 3!"
We were on the job!
There were no computers in those days, but we did have a thing called an ICAN calculator. This consisted of three or four cardboard discs. The inner one gave wind speed and direction [which we got from the Met. Office daily], another Radar gave us the aircraft height, and we had the time/distance between the 'blips'. So, with this information and various dubious mathematical calculations, we estimated the speed at approximately 1,130 m.p.h. On passing this information on to the Chief Controller we got shouted at that it was 'absolutely rubbish' - on which we had to agree - but the moment had passed and we had other things to do.
The next morning the Daily Mail had the headline: Peter Twiss breaks the World Air Speed Record with speed of 1,132.2 m.p.h!
The intercom went down again and the Chief Controller said:
"I apologise Cabin 3." What a fluke, but it felt very good.
Peter Twiss was the last Britain to hold the Air Speed Record as others then took the supersonic crown. But his achievement that day led the way for the development of aviation, into Concorde, and civil aviation supersonic travel, and we four were lucky enough to have been a few seconds of that day.
Yvonne Davey
32
---
D.J. REYNOLDS CONSTRUCTION
"Your Local Builder"
All aspects of building work undertaken:
Extensions, Conversions & Renovations
Block Paving - Patios and Driveways
Property Maintenance
All aspects of Landscaping
Professional and reliable service
with over 18 years' experience
Contact: Daniel Reynolds
Tel: [01271] 882724 mobile: 07717 669954
e-mail: daniel.j.reynolds@btinternet.com
Venture Cottage, Sterridge Valley, Berrynarbor, EX34 9TB
33
---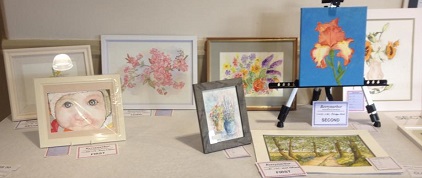 BERRYNARBOR HORTICULTURAL & CRAFT SHOW
25th August 2012
JUBILEE YEAR
For all florists, artists and photographers the details for your sections are:
Floral Art
Red, White and Blue 16" x 16" x 18" Coronation Crown 16" x 16" x 18"
Olympiad , 16" x 16" x18" Rock Garden , 6" x 6" x 6"
Art
Paintings should not exceed A3 [297mm x 420mm]
Red, White and Blue ] Work may be in any medium
Exmoor ] in any of these
Spring ] subjects
New Category A painted item on any surface but paper/card/canvas
Any subject e.g. glass, pottery, stone, wood, slate, etc.
Photography
Photographs must NOT exceed 5" x 8" and may not be computer enhanced
Red, White and Blue Crowning Glory
Sunshine City Life
Roof Top Movement
New Category Anything Goes! This may be digitally/computer enhanced, so let your imagination run wild!
34
---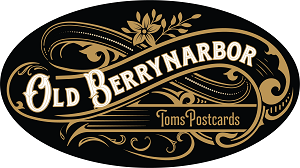 Artwork: Angela Bartlett
OLD BERRYNARBOR NO. 137
Diamond Jubilee
In this the Queen's Diamond Jubilee issue I have chosen three postcards depicting Queen Victoria's Diamond Jubilee.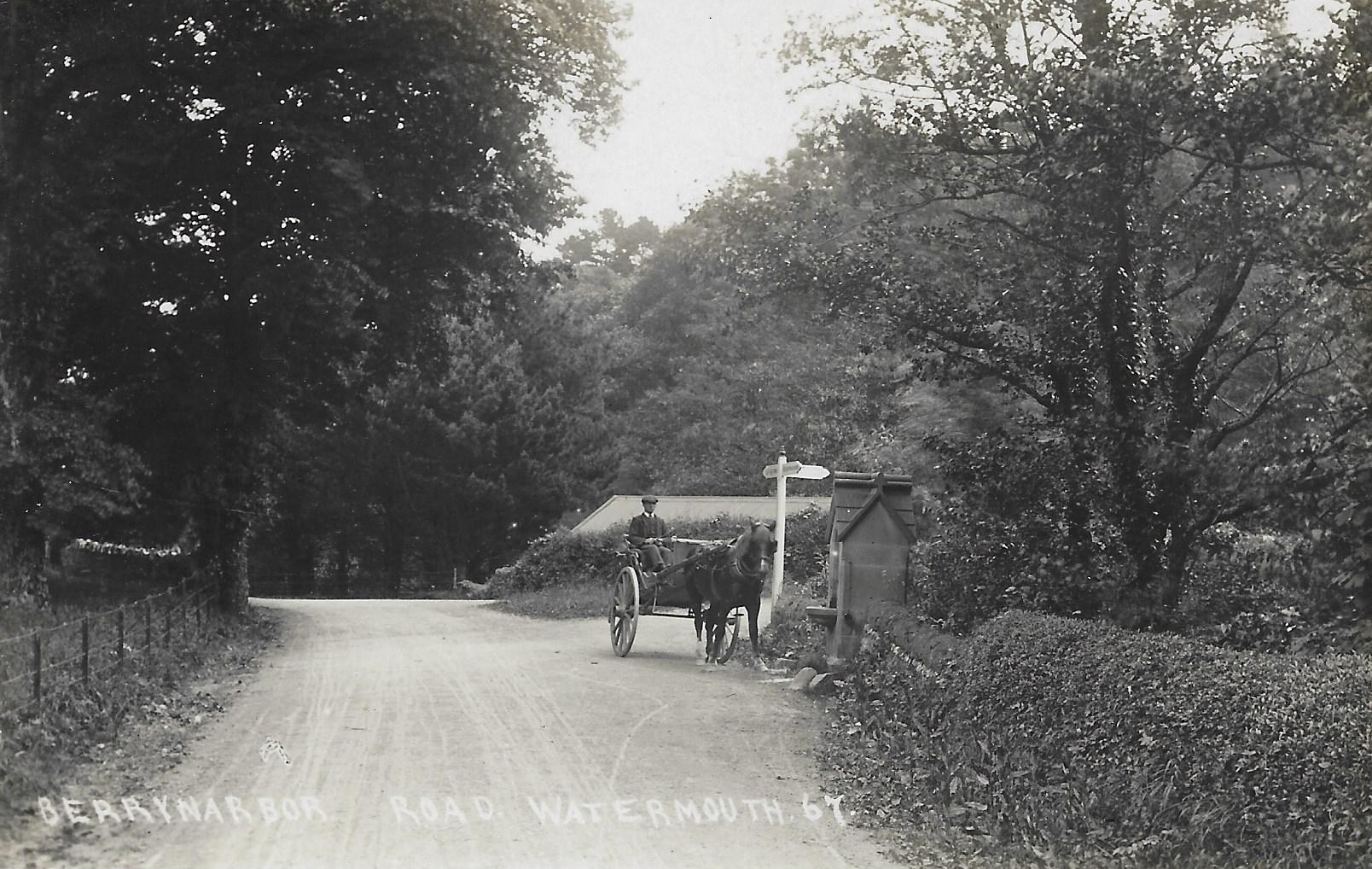 For Berrynarbor I have chosen Garratt's photographic postcard entitled 'Berrynarbor Road Watermouth' taken by him around 1907. It shows a dingle-type carriage beside the Diamond Jubilee fountain. The inscription on it read: 'June 22nd 1897 - This fountain was erected by Mrs. Bassett- of Watermouth in Commemoration of the 60th Year of the Reign of Queen Victoria. She wrought her people lasting good. Jan. 22nd 1901.
The front of the fountain was renewed in 2002 but I am pleased to see that the chain and fixing point remain on the right-hand side, although the original drinking cup no longer exists. The fountain was fed by water from the stream/mill leat upstream and was free-flowing through a nozzle at the font. The water flowed into the trough for horses and overflowing water drained off through the back and into the stream and thus the water was continually changed and fresh.
The renewed inscription remains the same with the additional wording: 'This monument was refurbished in 2002 by Berrynarbor Parish Council to Commemorate the Golden Jubilee of Her Majesty Queen Elizabeth II'. What a shame, however, that running water, whether from the stream or mains, has not been reconnected either then or in this Diamond Jubilee year of our present Queen.
It appears that many villages and towns in Devon erected drinking fountains/pumps in honour of Queen Victoria's Diamond Jubilee. One of the most memorable must be that in Bradworthy Square and for which Weighell of Launceston published the postcard around 1904. The wording in the diamond shaped inscription reads: '1837 Erected by Public Subscription to Commemorate the Diamond Jubilee of Her Majesty Queen Victoria by Permission of the Lord of the Manor 1897'.
The third postcard published by Francis Frith shows Queen Victoria's impressive Diamond Jubilee statue on Castle Hill, Windsor, just near the entrance to the Castle.
Tom Bartlett
Tower Cottage, May 2012
e-mail: tombartlett40@hotmail.com
35
---
MEMORIES
The Coronation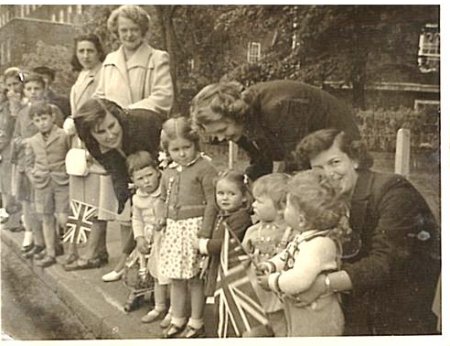 This is a picture of me [centre], with my mother and younger sister Sally to my right, taken on the day of the Coronation. We lived in London and we watched the Queen pass by in her open carriage on Hampstead Hill.
Jane Jones
36
---
The 1948 Olympics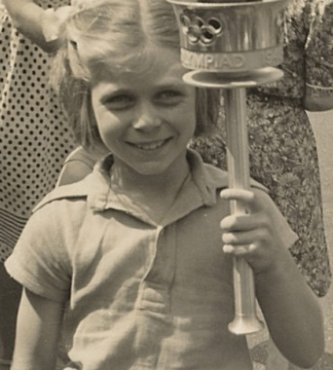 I remember standing on the corner of our street with my mother to watch the Olympic Torch relay pass and when it did, my mum stopped the person carrying the torch and asked if I could hold it!
This is the photo she took.
The torch is due to pass between Ilfracombe and Combe Martin on the 21st May, and I shall be there to see it again.
Jackie Pierpoint
When the Olympics came to London in 1948, the boarding houses at my school in Northwood were used for the female athletes and I remember watching them train and use the outdoor swimming pool.
'The star of the Olympic Games was a 30-year old Dutch housewife and mother, Fanny Blankers-Koen, a member of the Dutch women's team who stayed and trained at St. Helen's.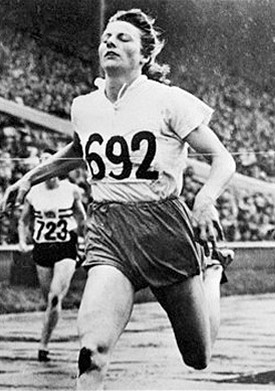 'Blankers-Koen was the oldest woman in the Olympic track events. The British team manager dismissed her as being too old to compete. In the Netherlands, critics believed she would be better employed looking after her children. Her detractors might have been even more vocal had they known that she was in the early stages of pregnancy.
'She won four gold medals in eight days and it is probable that she would have won six had she not been confined by the rules to competing in three individual events.
'Blankers-Koen, who died aged 85 in 2004 having revisited St. Helen's in 1988 to make a documentary about the Olympics was the first mother to win an Olympic medal and the first and only woman to have won four gold athletics medals at a single Olympics, a haul matched in Olympic history by just two other male competitors. In 1999, the governing body of track and field sports, the IAAF, voted her the greatest female athlete of the 20th century.'
Extract from 'Girls in Green, A Portrait of St. Helen's, Northwood'- 2009
Ed.
37
---
AT-A-GLANCE-DIARY
JUNE

3

St. Peter's Church: Thanksgiving Service, 11.00 a.m.

3-4

St. Peter's Church: Flower Festival
For Jubilee Celebrations please see Page 24

11

College & Primary School: Restart after Half Term

12

Parish Council Meeting, Manor Hall, 7.00 p.m.

`13

Mobile Library in Village from 10.55 a.m.

19

Primary School Sports Day [if wet, 21st]

21

Primary School Reserve Sports Day

24

St. Peter's Church: Christians Together, 6.30 p.m.

27

St. Peter's Church: Gift Day.
Mobile Library in Village from 10.55 a.m.
Friendship Lunch, The Globe, 12.00 noon

29

Primary School: Summer Fete, Manor Hall, evening

JULY

9

Deadline for articles for August Newsletter

10

Parish Council Meeting, Manor Hall, 7.00 p.m.

11

Mobile Library in Village from 10.55 a.m.

20

College & Primary School: End of Summer Term

25

Mobile Library in Village from 10.55 a.m.
Friendship Lunch, The Globe, 12.00 noon
Manor Hall Diary

Mondays

Upholstery, to

Craft Group, Badminton,

Tuesdays

N.D. Spinners [2nd & 4th] Yoga,

Wednesdays

Pilates Body Workout, 9.00 a.m. School p.m.*

Thursdays

Tai Chi,

Fridays

Toddlers Soft Play and Activity a.m. School p.m.*

Penn Curzon Room

Mon - Fri Mornings: Pre-School

Mobile Library - Assistant: Jacqui Mackenzie

Village Shop: Sterridge Valley:
*School, Pre-School and Toddler Group - Term Time only
38
---
TREV'S TWITTERS
All remembered by Trev
The Brook
I come from haunts of coot and hern
I make a sudden sally,
And sparkle out among the fern,
To bicker down the valley;

By thirty hills I hurry down,
Or slip between the ridges,
By twenty thorps, a little town,
And half a hundred bridges.

Till last by Philip's farm I flow
To join the brimming river;
For men may come & men may go,
But I go on forever.

I chatter over stony ways
In little sharps and trebles;
I bubble into eddying bays,
I babble on the pebbles;

With many a curve my banks I fret
By, many a field and fallow,
And many a fairy foreland set
With willow-weed and mallow;

I chatter, chatter, as I flow
To join the brimming river;
For men may come, & men may go,
But I go on forever.

I wind about, and in and out,
With here a blossom sailing,
And here and there a lusty trout,
And here and there a grayling.

And here and there a foamy flake,
Upon me as I travel,
With many a silvery waterbreak
Above the golden gravel,

And draw them all along, and flow
To join the brimming river;
For men may come, & men may go,
But I go on forever.

I steal by lawns and grassy plots,
I slide by hazel covers;
I move the sweet forget-me-nots
That grow for happy lovers;

I slip, I slide, I gloom, I glance,
Among my skimming swallows;
I make the netted sunbeam dance
Against my sandy shallows;

I murmur under moon and stars
In brambly wildernesses;
I linger by my shingly bars,
I loiter round my cresses;

And out again I curve and flow
To join the brimming river;
For men may come, & men may go,
But I go on forever.

Alfred, Lord Tennyson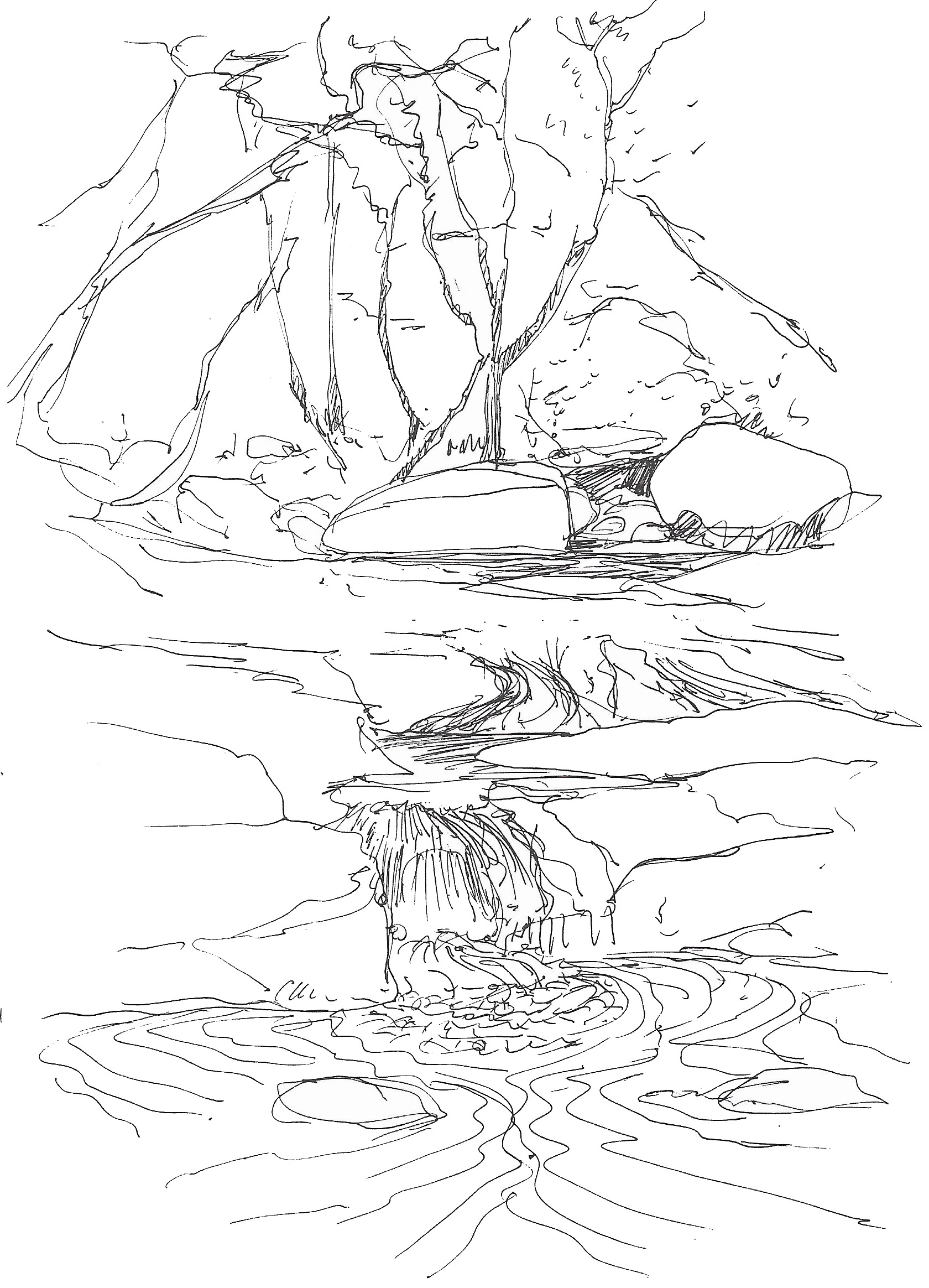 Illustrated by: Peter Rothwell
Under the Greenwood Tree
Under the greenwood tree
Who loves to lie with me,
And turn his merry note
Unto the sweet bird's throat,
Come hither, come hither, come hither:
Here shall he see
No enemy
But winter and rough weather.

Who doth ambition shun,
And loves to live i' the sun,
Seeking the food he eats,
And pleas'd with what he gets,
Come hither, come hither, come hither:
Here shall he see
No enemy
But winter and rough weather.
William Shakespeare
1564-1616
Song of a Traveller
I will make you brooches and toys for your delight
Of bird-song at morning and star-shine at night,
I will make a palace fit for you and me
Of green days in forests, and blue days at sea.

I will make my kitchen, and you shall keep your room,
Where white flows the river and bright blows the broom;
And you shall wash your linen and keep your body white
In rainfall at morning and dewfall at night.

And this shall be for music when no one else is near,
The fine song for singing, the rare song to hear!
That only I remember, that only you admire,
Of the broad road that stretches and the roadside fire.

Robert Louis Stevenson
1850-1894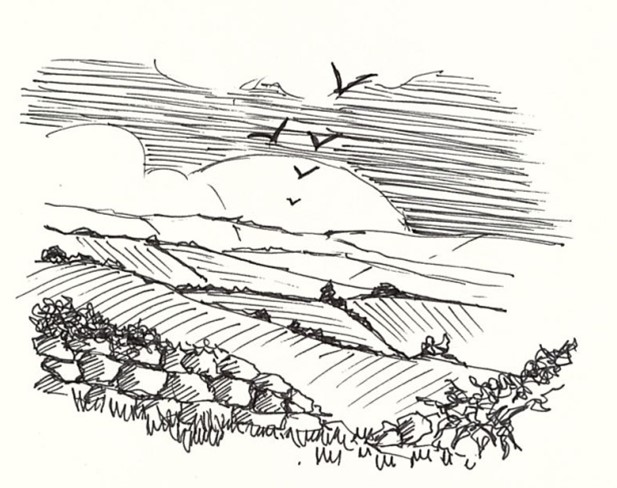 Illustrated by: Paul Swailes
from 'Through the Looking-glass', Lewis Carroll, 1832-1898
"The sun was shining on the sea,
Shining with all his might:
He did his very best to make
The billows smooth and bright -
And this was odd, because it was
The middle of the night.

The moon was shining sulkily,
Because she thought the sun
Had got no business to be there
After the day was done -
"It's very rude of him," she said,
"To come and spoil the fun."

The sea was wet as wet could be,
The sands were dry as dry.
You could not see a cloud, because
No cloud was in the sky:
No birds were flying overhead -
There were no birds to fly.

The Walrus and the Carpenter
Were walking close at hand;
They wept like anything to see
Such quantities of sand:
If this were only cleared away,'
They said, it would be grand!'

If seven maids with seven mops
Swept it for half a year,
Do you suppose,' the Walrus said,
That they could get it clear?'
I doubt it,' said the Carpenter,
And shed a bitter tear.

O Oysters, come and walk with us!'
The Walrus did beseech.
A pleasant walk, a pleasant talk,
Along the briny beach:
We cannot do with more than four,
To give a hand to each.'

The eldest Oyster looked at him,
But never a word he said:
The eldest Oyster winked his eye,
And shook his heavy head -
Meaning to say he did not choose
To leave the oyster-bed.

But four young Oysters hurried up,
All eager for the treat:
Their coats were brushed, their faces washed,
Their shoes were clean and neat -
And this was odd, because, you know,
They hadn't any feet.

Four other Oysters followed them,
And yet another four;
And thick and fast they came at last,
And more, and more, and more -
All hopping through the frothy waves,
And scrambling to the shore.

The Walrus and the Carpenter
Walked on a mile or so,
And then they rested on a rock
Conveniently low:
And all the little Oysters stood
And waited in a row.

The time has come,' the Walrus said,
To talk of many things:
Of shoes - and ships - and sealing-wax -
Of cabbages - and kings -
And why the sea is boiling hot -
And whether pigs have wings.'

But wait a bit,' the Oysters cried,
Before we have our chat;
For some of us are out of breath,
And all of us are fat!'
No hurry!' said the Carpenter.
They thanked him much for that.

A loaf of bread,' the Walrus said,
Is what we chiefly need:
Pepper and vinegar besides
Are very good indeed -
Now if you're ready, Oysters dear,
We can begin to feed.'

But not on us!' the Oysters cried,
Turning a little blue.
After such kindness, that would be
A dismal thing to do!'
The night is fine,' the Walrus said.
Do you admire the view?

It was so kind of you to come!
And you are very nice!'
The Carpenter said nothing but
Cut us another slice:
I wish you were not quite so deaf -
I've had to ask you twice!'

It seems a shame,' the Walrus said,
To play them such a trick,
After we've brought them out so far,
And made them trot so quick!'
The Carpenter said nothing but
The butter's spread too thick!'

I weep for you,' the Walrus said:
I deeply sympathize.'
With sobs and tears he sorted out
Those of the largest size,
Holding his pocket-handkerchief
Before his streaming eyes.

O Oysters,' said the Carpenter,
You've had a pleasant run!
Shall we be trotting home again?'
But answer came there none -
And this was scarcely odd, because
They'd eaten every one."

39