---
About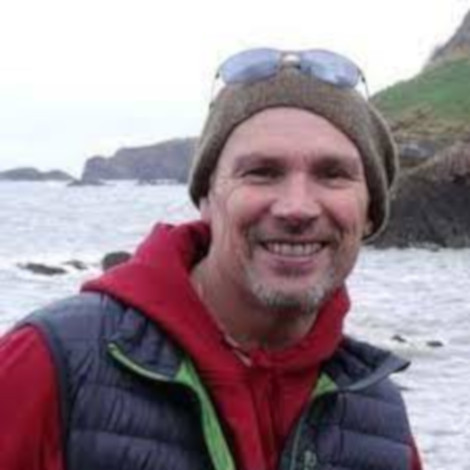 Paul was educated at Barnstaple Grammar School before going to the University of Leeds to study Geography and Economic History. He taught in Leeds for five years before returning to North Devon to take up a teaching post at Ilfracombe College in 1986. Although not formally trained in art, it clearly forms a major part in his life and this, together with travel, photography and collecting Victorian British stamps, are his main hobbies.
Paul was kind [or was it foolish!] enough to offer his services to the Newsletter in August 1990, and has continued to do so ever since, more often than not illustrating the Local Walk and poems, and always at short notice!
Biography
I am a contemporary artist living and working in North Devon. My artwork may already be familiar to local residents and visitors through my exhibitions, involvement in the annual Ilfracombe Art Trail and FortyThree, the Ilfracombe Artisan shop. For more than twenty five years I have also illustrated local magazines, including the Berrynarbor Newsletter.
I come from an educational background originally as a Geography teacher and latterly being responsible for the Arts. Six years ago I retired from The Ilfracombe Academy and this gave me the time I needed to concentrate on developing my art. I did not have far to look for my inspiration. I chose to celebrate our local environment highlighting the rich natural and maritime history of the coast and moors.
The past six years have seen me exhibit several collections of paintings and painted objects. I have also produced prints and greetings cards together with undertaking countless commissions.
What I enjoy about painting the sea and sky is that they are so dynamic. I find their raw power truly awe inspiring and I regularly return to the challenge of trying to capture these natural phenomena, always changing and always moving. The North Devon coast provides endless inspiration with a complex geology shaped by the might of the Atlantic Ocean.
I do feel that my background as a Geographer has given me a vital understanding of how the systems of water and air work and combine with the geology to form our coastal landscape. I have developed my own style which I like and which suits both me and the subject matter. It is somewhere between contemporary realism and impressionism!
I work with a very limited colour palette; Naples yellow, Payne's grey, raw umber, burnt Sienna, indigo, ultramarine, Titanium white and recently terracotta. I find the earthy colours fit well with the stormy sea and skies and indeed the rocks which make up our coast. It is surprising how many shades and hues can be made with so few colours.
I largely work from photographs. Each painting tends to be an amalgamation of several images and really is intended to be a visual snapshot of a moment in time on the North Devon coast rather than a literal representation of a particular rock outcrop. That said well-known physical landmarks such as Baggy Point, Morte Point, the Taw and Torridge estuary, Ilfracombe and Crow Point etc are recurring features.
My work is available both directly from me and through FortyThree, the Ilfracombe Artisan Shop. There is a range of original paintings, both framed on paper and box canvases, limited edition prints and greetings cards. I also have a range of hand painted wooden boxes which also depict our dynamic coastline.
To keep up to date with my new work follow me on Instagram: @paulswailes.artist
Tips:
Click on the thumbnails to view the full Hi-res image.
Click on the label to view the article relating to the image.