Edition 187 - August 2020
---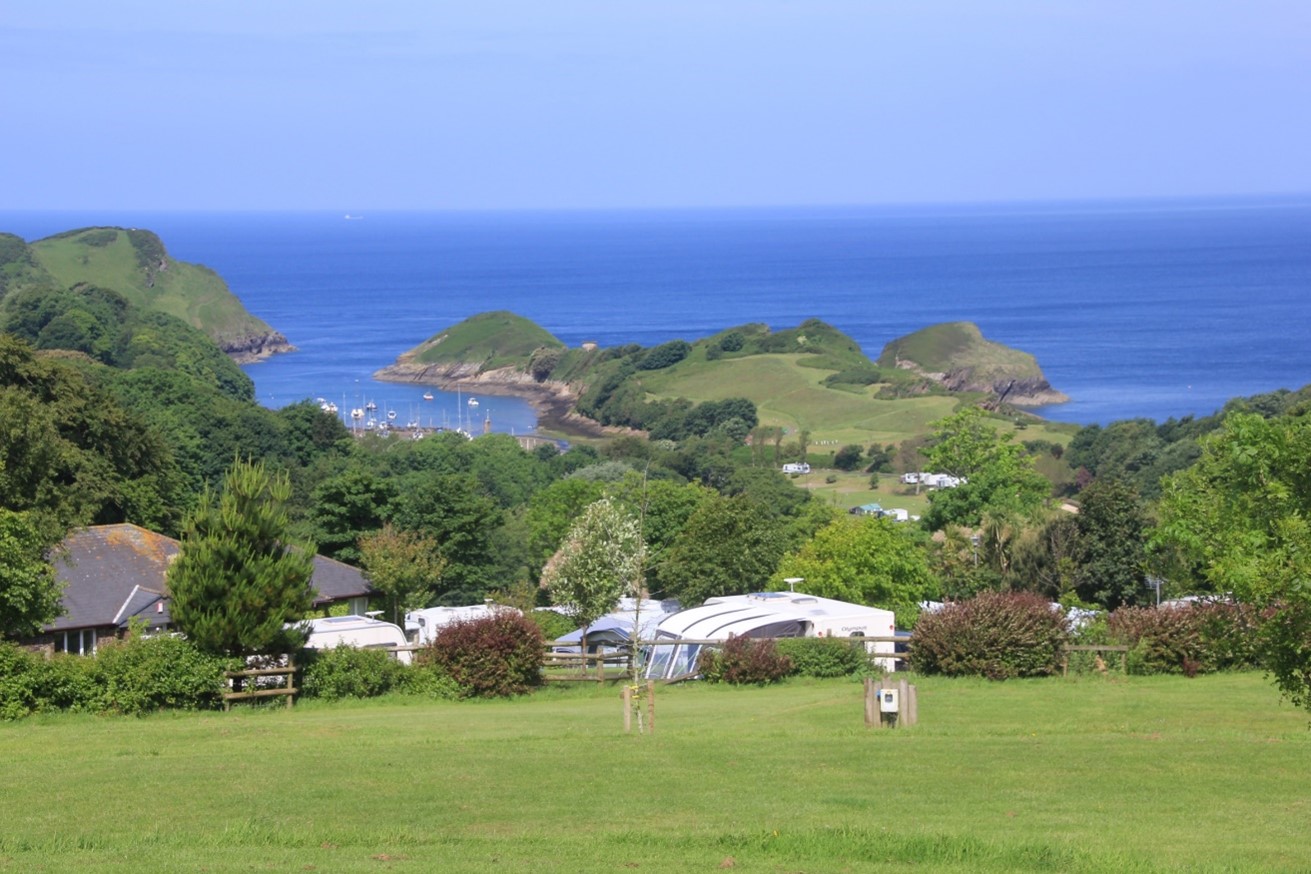 Photo: Susan Richards
Cover kindly sponsored by Sue and Mike Richards, Napps Touring Holidays
THANK YOU
We should both like to say a big huge sincere thank you to all our lovely neighbours and many friends in Berrynarbor and Combe Martin for all the love and help shown to us since I have been unwell.
The generosity of you all has been very overwhelming. The cards, good wishes and flowers, along with the goodies and meals have been so much appreciated.The ladies down at the shop have been so very good to us and nothing is too much trouble.
Thank you to all our many friends in the churches for your love and prayers. Lastly but not least our loving family, so patient and always here for us both. Our love and appreciation,
June and Gerry
---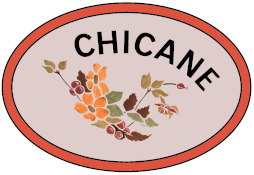 Artwork: Judie Weedon
EDITORIAL
First and foremost a big thank you for the incredible response and support for the Newsletter following my plea in the June issue. Your Newsletter will continue well into its 32nd year! I am happy and grateful that it is appreciated and gives so much pleasure.
Once again, I hope you are all keeping well as we continue living in these strange times. The community spirit in our village is alive and well and thanks must be given to all those who have helped to make the situation easier, giving their time, help and support.
Thank you to Mike and Sue for once again sponsoring the cover and all the contributors, both regular and new, to this extra full issue - lockdown seems to have spurred readers to put pen to paper! Don't put those pens away, as articles and items for the October issue - can it really be that time again already! - will be welcome as soon as possible and by the Friday, 11th September deadline. Thank you.
By the time you read this, things reported may well have changed and as lockdown begins to ease, continue to take care and keep safe.
Judie - Ed
1
---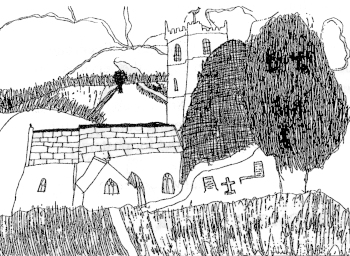 Artwork: Steve Angold [Aged 10]
ST. PETER'S CHURCH
Following the Government announcement that church buildings will be able to reopen for public worship from 4th July, it is hoped that in the weeks ahead we shall have more detailed information from the Diocese of Exeter as to how the shape of services will evolve for St. Peter's Berrynarbor, St Peter's Combe Martin and Pip & Jim's, Ilfracombe.
Obviously, there will be a continuation of social distancing and the sanitising of hands on entry and exit. and these arrangements will be made clear prior to entering the church for Sunday services. Notices will also be placed on the church gates and entrance porch for visitors wishing to enter the church building to ensure that social distancing and the sanitising of hands are maintained.
Weddings and funeral services will be able to proceed but with a limitation of 30 persons attending, but, as it stands at the moment, no singing of hymns will be permitted or the ringing of bells!
It is worth reflecting that the last three months have been an extraordinary time - the first period without public worship and sacraments in England for more than 800 years! There will be real joy as we come together again, even if at a physical distance.
We have now had approval from the Archdeacon of Barnstaple for our Faculty application to carry out all the repair work on the church building.
We continue to pray for our magnificent NHS, Ambulance Service and our Police Force. Our special prayers go to all those in our community who are unwell and recovering from treatment following their time in hospital, and those who are lonely and finding things difficult to manage, especially during this awful pandemic.
We also pray for the family of Mary Tucker BEM who sadly died following a short illness at her home in Lancashire. Mary was a wonderful lady who served our church and community with so much care and compassion during her time here in Berrynarbor.
Finally, a word of sympathy for our intrepid bellringers who are still unable to practice on Thursdays, and ringing for church services on Sundays. Due to the close proximity of ringers within the bell tower, they must be totally frustrated, and we can only hope that soon. all will be back to normal!
Stuart Neale
2
---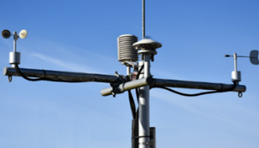 WEATHER OR NOT
May and June
How the weather can change so quickly in the U. K. with May and June no exception.
Mayday started with light showers totalling 3.0mm and cool with a minimum 7.8˚C. and maximum of 12.0˚C. The wind was light with a maximum of 4mph from the SSW. The barometer, which had been falling during the end of April, started to rise from 996.3mbars [lowest in May] and continued with one or two minor wobbles till the end of the 6th when it reached 1023.7mbars. The rest of the month was variable but managed to reach a high of 1037.3mbars on the 26th. Temperatures ranged from a low on 12th of 0.4˚C [average 3.55˚C] to a high on the 29th 26.4˚C [average 25.25˚C] making it the warmest day so far this year. We had more days when the wind was coming from the north than the SW which is unusual; the highest gusts were on the 23rd and 24th at 39mph [average 31.62mph] from the SSW. The lowest wind chill factor was -0.3˚C [average1.14˚C] from the north on the 14th. The total rainfall for the month was 17.0mm [average 71.36mm] which fell on ten separate days, the wettest day was the 22nd with 6.2mm. This May is the driest since my records started in 1994. Total sunshine hours were 185.58 [average for May 155.46 since 2003] making it the second highest, in 2015 we had 201.79 hours.
The first day of June started with a clear blue sky and a low temperature at 0600hrs. of 7.4˚C and by 1500hrs. had reached 24.2˚C with a gentle breeze from the north and the 2nd was very similar. The weather then changed to mainly unsettled until 22nd when we had four lovely days before it all went downhill again. Picking the bones out for June, the barometer stayed low [readings below 1013.25mbars] for a good part of the month; the lowest on the 5th at 1000.0mbars, and highest on the 22nd at 1023.4mbars. The lowest temperature was 6.5˚C [average 6.52˚C] on the 9th and highest 29.9˚C [average 26.13˚C] on the 25th making it the top temperature so far this year. We had a fresh wind throughout the month with a maximum gust of 35mph [average 28.91mph] from the SSW on the 27th. The lowest wind chill factor was on the 6th at 7.1˚C [average 5.18˚C].The total rainfall for the month was 130.2mm [average 74.0mm], well up on the average and contrasting with May being well down.The wettest day was on the 10th with a massive 37.8mm. Total rain so far for 2020 is 645.8mm. Total sunshine hours were extremely low at 128.58 [average164.05]. This is now the lowest in my records, the nearest was June 2012 with 142.48.
All for now and I hope an early solution can be found to end the Covid-19 problem.
Take care and enjoy the rest of the summer.
Observation
I was very sorry to see the lovely old blue iron railings outside the school building have been covered over with treated timber, a retrograde change to the character of our village?
Simon
3
---
THE GROCKLES
They arrived in a steady stream
Our sense of security now a dream
One or two at first
Then a steady convoy at its worst.
Fear and anxiety come with them
Spread of the virus we wish to stem.
And yet for some this is their second home
Weeks cooped up - why shouldn't they now roam?
Our businesses need the income
Boris says it's ok, so why should we stop them?
Whilst our safety and security we wish to maintain
Things really cannot stay the same.
Life goes on in a new kind of normal
But there are rules to uphold; keep things formal.
However we feel about the grockles' arrival
Let's respect each other and support our survival.
Whilst there are many more people in the village and around
Remember the rules, stay safe and sound.
We all have our different points of view
But let's be tolerant, and continue to support each other too.
Pam
4
---
QUICK QUOTES
"Sometimes you're the pigeon and sometimes you're the statue."
Claude Chabrol [1930-2010] was a French film director and a member of the French New Wave group of filmmakers who first came to prominence at the end of the 1950s.
"Doubt is uncomfortable but certainty is absurd." Voltaire
François-Marie Arouet, known by his nom de plume Voltaire, was a French Enlightenment writer, historian, and philosopher famous for his wit, his criticism of Christianity - especially the Roman Catholic Church - as well as his advocacy of freedom of speech, freedom of religion, and separation of church and state.
5
---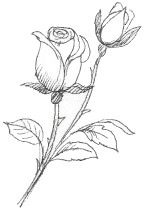 IN MEMORIAM
How sad it was to learn that three past villagers, Jean, Margaret and Mary, had passed away recently and our thoughts are with their families at this sad time.
JEAN PELL
29.4.1950 - 14.5.2020
Having suffered from cancer which she chose to treat in her own way, Jean passed away peacefully at home on the 14th May. A kind and generous lady with a ready smile and hearty laugh, Jean embraced life and even when she was unwell, she continued to embrace life to the full, counting each day as a blessing.
We are thinking of Peter and his family, and Jean's sons, Darren and Ben, and granddaughters Jazmin and Ellena.
Due to Corona virus restrictions, Jean's funeral was foreshortened and had a strictly limited attendance. When circumstances permit, it is proposed to hold a Service of Celebration of Jean's life in St. Peter's Church.
_______
Jean was born in Epsom, Surrey on April 29th 1950 to parents Walter and Winifred Rowland, growing up with her younger brother Tom. Walter met Peter Ede whilst working at the Post Office and straightaway thought he would be a good match for his daughter. Jean and Peter hit it off from the moment they met and married on August 1st 1970, settling in Woodley near Reading as Peter worked for British Airways at Heathrow. They soon welcomed the births of their two sons, Darren and Ben.
On leaving college Jean worked at The Bank of England but found the train up to London every day was not to her liking and a number of jobs followed, including market research but, although lucrative, her heart wasn't really in it. One of her dreams was to open a tea shop. At the time her father said, "How many cups of tea do you think you'll have to sell, to make any money?" But Jean followed her heart and opened The Tea Cosy in the Thames-side village of Sonning in the 1980s. It was hard work but she loved it. Although a great success, Jean closed the business and decided on another career change, going back to college where she trained and qualified as a nurse. It was a role she enjoyed, working in the NHS and also for the Marie Curie organisation.
As a family they shared long and happy holidays but in May 1996, the unthinkable happened - Peter had a heart attack and died and those who knew him had their lives turned upside down but through these difficult times Jean found help and strength through God and was reconfirmed into the Christian Church.
A year or so after Peter's death Jean was introduced to a new man, Peter Pell. From their first meeting, they found in each other, great love and companionship living together in North Hampshire.
Looking to make a fresh start, Peter and Jean moved to Berrynarbor in 2000, where they spent 18 happy years together, making many lifelong friends. They took up many pursuits with Jean loving walking and cycling, her favourite place to walk was Watersmeet.Her love of cycling led her to cycle, on her own, from Land's End to John O' Groats, on her old push bike, complete with shopping basket on the front! Her decision to undertake this challenge in her 60's was for no other reason than wanting to do it. It came as a bit of a shock for everyone but at the same time, knowing Jean it came as no surprise! Peter had shown her how to mend a puncture, of which she had quite a few, eventually running out of patches and spare inner tubes on her last day. Undaunted, she rode on the flat tyre until it shredded, then removed it, running on the wheel rim for the last four miles! Such courage.
It was a joyous occasion when Jean and Peter married in St. Peter's Church on May 8th 2010 with Jean gaining three step daughters, Sarah, Emma and Rebecca, as well as eight grandchildren; Lottie, Jack, Maddie, Denis, Oscar, Lilly, Alice and Martha, to add to her own two granddaughters, Jazmin and Ellena.
Another of Jean's passions was to go travelling in a campervan. After discussion a suitable 'van was found and great times were had, including one year when the house was let out, and she and Peter toured a great deal of the United Kingdom and Europe. Having stayed at a lovely site in Spain, Jean proposed the idea of buying a caravan and taking it to Spain, where they spent longer periods of time enjoying the relaxed Spanish pace of life, good weather and a great many new friends.
Jean lived life to its fullest. She had a bubbly spirit that always found the positives in everything. To her, life was a fluid plan; which occasionally challenged Peter's ordered way of doing things to its limit! Never the less, their love and support for each other always won through.
When Jean was diagnosed with cancer, her willingness to live her life fuller than ever was driven from a great determination and a positive mind. Jean approached her death with a humility, grace, peace and acceptance that is an example to us all. She was many things to many different people; a daughter, a sister, a wife, a mother, a grandmother and a friend but above all else, the way she approached and lived her life was an inspiration to all she met.

Jean was a wonderful organiser who enjoyed rallying her friends into many and varied activities, including cycling, walking, camping, yoga, table tennis and boules to mention a few.
She enjoyed her tea from a china tea set and always had a nice piece of cake as a treat after a walk, cycle ride or when entertaining friends.
When she and Peter moved to the Sterridge Valley in 2000 they took up golf. Her father had been a scratch player and would have been proud of his daughter's achievements aspiring to be Ilfracombe Golf Club's Ladies' Captain in 2005 and representing her Club and County on many occasions. At the Golf Club, we were all proud of her for cycling from Lands End to John O' Groats.
In 2010 she married Peter at Berrynarbor church, a joining of two lovely families - it was a joyous occasion. She had been a member of the church choir and a church warden, and both she and Peter were volunteers in the Village Shop.
Jean was diagnosed with breast cancer and despite her best efforts to improve her lifestyle with diet, exercise and healthy living, she passed away on the 14th May. It is a tribute to her determination that just a few weeks before she died, she cycled to one of her favourite villages in Spain and back, a distance of some 20 miles. Steph L.
MARGARET LUDLOW
Following a fall and a short stay in a care home, Margaret passed away peacefully on the 1st June. As she wished, her ashes, like those of her late husband Ray, will be scattered off the North Devon coast.
Our thoughts at this sad time are with her nephew Ken and his wife Wendy, and her great-niece and nephews.
_______
Margaret and Ray moved from Maidenhead to Glenbridge in the Valley in 1989. They soon became involved in village life, helping in the organisation of the Horticultural and Craft Show and the neighbourhood Watch Scheme, and Ray was also a member of the Parish Council.
The village was shocked when on the 18th July 2000, Ray suddenly collapsed and died whilst gardening. In his memory, the Ray Ludlow Award, a beautiful lead crystal bowl, is awarded for the Best Non-Horticultural entry in the Horticultural and Craft Show.
After several lonely, but happy years in the Valley with her dog Toby, Margaret decided to return to her roots and to be nearer her family, moving to Bishopsdown near Salisbury in 2004.
A very loyal supporter of the Newsletter, which she enjoyed reading until losing her sight just a year ago, Margaret kept in touch with many friends in the village. She will be sadly missed.
MARY TUCKER, B.E.M.
8.6.1939 - 9.6.2020
Having been diagnosed with throat cancer in January of this year, and electing to not receive invasive treatment, Mary's death on the 9th June was very peaceful. Her funeral took place on the 19th June and our thoughts are with her brother Peter and sister-in-law Margaret.
Mary and her husband Tom moved to Berrynarbor in 1986 and Mary's wish to serve the community soon saw her as a leading light at St. Peter's Church, serving on the Parochial Church Council as a Church Warden and Treasurer. Involving herself in church activities saw her flower arranging, cleaning, acting as a Deacon in administering the chalice and welcoming visitors and holiday makers into the church and until she moved north, acting as the Newsletter scribe, reporting on the many church activities. She also started and organised the monthly Friendship Lunches at The Globe for the elderly and lonely.
But, apart from her involvement with the church, Mary would regularly visit villagers who were lonely and sick, sitting and talking with them, shopping for them and even helping in the home. Always actively involved in village events, particularly fund-raising, Mary helped raise money to set up the Village Shop and Post Office.
For her services to the community, Mary was awarded the British Empire Medal in June 2012, the year of the Queen's Diamond Jubilee, and was later presented with her award by Her Majesty's Lord-Lieutenant of Devon on the 8th October. In May the following year, Mary was a guest at a Buckingham Palace Garden Party.
Sadly, in early January 2010, and after a brief illness, Tom died but Mary, in her inimatable way, carried on looking after others before herself.
In the autumn of 2014, Mary decided to return to the north to West Bradford, to be nearer to her family. Their gain was the village's loss - God bless you Mary!
If you would like to make a donation in Mary's memory, they are being given to Cancer Research and the Church and Christian Centre where she lived and may be sent to 18 Mather Avenue, Accrington, Lancashire, BB5 5AU. Cheques should be made payable to her sister-in-law, Margaret Capstick.

6
---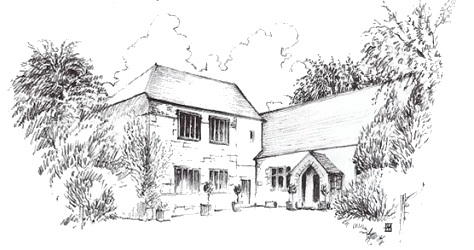 Artwork: Peter Rothwell
MANOR HALL NEWS
We recently sent out to our main user groups a survey as to when they would be comfortable to return along with the details of the necessary risk assessments they would need to complete and comply to. Most of the groups would like to start back in the autumn at the earliest if the government guidelines say it continues to be safe to do so and the guidelines are manageable. With understandably no current bookings, the main hall will remain closed until September.
The Pre-school continues to operate under strict guidelines until the end of the summer term.
The Snooker Club is able to start back under very strict guidelines and only after the Pre-school has finished. So good news for those who enjoy a game of snooker - play safe chaps!
Thank you very much to Berry in Bloom for continuing to care for the tubs at the hall, they look lovely, it is a great shame more people are not able to admire them this year.
We sincerely hope to bring you some better news in the next edition of this Newsletter. Until then keep safe and well and enjoy the summer.
The Hall Trustees
7
---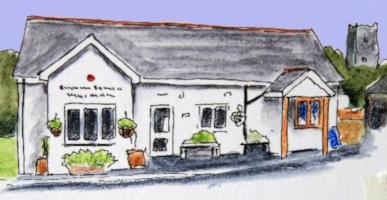 Artwork: Paul Swailes
NEWS FROM BERRYNARBOR SHOP & POST OFFICE
At your service It is hard to believe that it is nearly August and the lockdown started five months ago! Throughout, our village shop has been at the service of its community and we've been really touched by the wonderful messages of support and thanks we have received.
Karen, Annie and Susan have worked so hard in very difficult circumstances to ensure that all our customers' needs are met.It's not been easy for them and now that restrictions have started to be eased, and the local campsites and holiday homes have begun to fill, it's not likely to get any easier either. But we have begun to cautiously welcome back a number of our volunteers who are now helping out during our very busy times and we are really grateful to them for their support.
As you would expect, we continually review how the shop operates;firstly, to ensure the health and well-being of Karen and all of her team and secondly to maximise the service we can give to our customers in a safe and effective manner. With the new influx of visitors, we have looked closely at how we are currently operating.
We have concluded that the current mode of operation is working well and suits the needs of those we know rely on us - and they will always be our priority. So, the Shop and Post Office will be open in the mornings 8.30 a.m. to 1.00 p.m., Monday to Saturday, and open on Sunday mornings, 9.00 a.m. to 12.00 noon. You can phone orders through on 01271 883215, Monday to Saturday, and if you are self-isolating then one of our team of volunteers will arrange to deliver your order to you. If not, you will receive a call to say when you can come and collect it.
We thank all our customers for their support and understanding during these difficult times. If we have to make any changes to the above arrangements, we'll let you know by email, Facebook and shop and village postings.
Our new ales are local [and brisk]
'He's as brisk as bottled ale' is a wonderful old saying and we fully expect sales to be brisk for our new locally brewed bottled ales made by the Combe Brewing Company, just up the road at Mullacott. We have Harbour Amber bitter which has an earthy taste with a lovely blend of honey and spices;Beach Blonde Golden light ale which delivers a light citrus-filled beer with hints of biscuit and apricot fruit;and Dark and Stormy Premium Dark Ale which delivers a smooth but full-bodied, caramel-rich beer with rich fruit and bitter notes. Lovely!
8
---
FROM THE NORTH DEVON JOURNAL
PROPERTY FOR SALE
ILFRACOMBE, Worth Road area. Large
detached residence affording magnificent
views over whole town. Ideal for
conversion to flats or factory/premises with
modernised lean-to nearing completion. Full
central heating (summer only). Ample
kitchen space, sports facilities, office space
(little used). Locks in all parts of buildings.
Greenhouse, interesting garden ornaments,
fine collection of old masters. Plenty of
study space, slight damage due to gales.
Comprehensive outlook but rather windy.
Must sell £50,000 o.n.o. For details ring
Ilfracombe 63304 or 62290. 7620
DAY THE SIXTH FORM SOLD THEIR SCHOOL
FOR SALE: Desirable property, several acres, suitable for converting into flats or factories. Giveaway price: £50,000.
There was just one snag, the property has 1,300 "sitting tenants" - the children of Ilfracombe Comprehensive School advertised for sale yesterday by Sixth Form pupils in a local paper as an "end of school" joke.
It has become a tradition for departing pupils to organise a prank before they leave and this year it was the most successful ever. So successful, in fact, that several people were fooled into ringing the school to ask for further details.
The pupils' advertisement gave two numbers to contact. The first was answered by the headmaster's private secretary. She made a brave attempt at being serious when asked about the property, saying she could not give further details herself but that it was a very nice building before breaking into a giggle and admitting it was a joke by school pupils.
Fed Up
The second number was a direct line to the school and was answered by an obviously tired and very fed-up receptionist who had been turning down would-be buyers all morning.
The "For Sale" advert and numerous signs all over the school was the idea of the 35 members of the Upper Sixth, whose last day at the school is today.
Tim Stoneham, aged 18, said: "It was all done in good humour. All the teachers accepted it as a joke."
The Head of the Sixth Year, Mr. Alastair Crighton, said several people had been caught out, "But I think most people guessed it was the school by the wording of the advert."
In case you're interested, and the property does come on the market, the "desirable premises" include a large amount of study space - and a fine collection of "Old Masters."
This was the Year of 1982, and guess who got the giggles!
The following year the unsuspecting Journal readers were asked to write in and give their reasons why they should be chosen to have one of the 30 reserved places in the proposed nuclear bunker. Here are 2 of the requests!
_______
c/o The Ashram, Combe Martin
May 26th
Dear Sir/Madam
I have just read your advert in the NDJ. I would like to apply, if possible, for all 30 places. I know this may seem rather a large order, at first sight, but I feel you will understand that there are extenuating circumstances.
First, I suffer very badly from claustrophobia and for my own personal use I will require quite a lot of room. To move around, you understand. And also to get away from things when I begin to feel bad about all the people who won't be able to get in.
Second, although I have not lived in Ilfracombe all my life, I have every intention of spending, the rest of it, pre-N day in the town. I realise this may only be a short time but the intention is there.
Third, I would like my Mum and Dad and Auntie Lil to be able to come. They always have their hols in Ilfracombe and have done for some years. I realise that when we emerge there will be a lot of clearing up to do and my mate George is a window cleaner now but he used to be a bin man. He and his wife have ten children, so that's another 12 people.
I haven't quite sorted out the rest of the places. But I will be asking around other useful people, like plumbers, etc. and I don't think there will be much difficulty in getting the places filled.
Finally, I have maps of Ilfracombe which show the rights of way. This will be quite important post-N day. I hope you will bear this in mind. Thank you.
Alan Grimwood
P.S. R.S.V.P. - A.S.A.P
_______
Lytham St. Annes,
Lancs.
27/5/83
Dear Sir,
I consider myself to have been extremely fortunate to have been in North Devon this week and to have seen your advertisement in the local paper as I am moving to this area very shortly.
I think I am an excellent candidate for a place in the fallout shelter as I have fathered nine children by four different women, all of whom have proved highly intelligent. I assume that you will be accepting far more women than men so that we can repopulate after the imminent holocaust and I think I can contribute in this direction. I am happy to bring my wife if there is a place but I realise in extreme situations this may not be possible.
I am a demolition expert by trade so I think I will be useful when we clear up the mess.
Please send me an application form or acceptance to the above address but I shall be moving to Combe Martin in September.
Yours faithfully,
M. Webster
P.S. I believe in every man for himself - I am a Conservative, Parish Councillor and Free Mason. I trust you are one of us.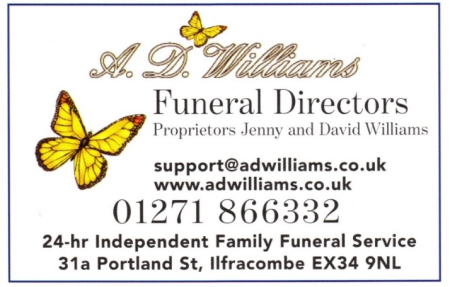 WOOLSCOTT CLEAVE
Walking in WOOLSCOTT CLEAVE,
Sterridge Valley - part of the North Devon AONB
Woolscott Cleave is a privately owned woodland under the aegis of the Forestry Commission, lying in the North Devon Coast Area of Outstanding Natural Beauty. The long-term plan is to convert it from the original evergreen pine forest into a mainly deciduous woodland. Some of this work has already been carried out and much more is in the planning stages.
We have recently attached sign boards to the gates of Woolscott Cleave that clarify people's rights of entry to these woodlands.
The new sign boards at the main entrance gates explain that there is no public right of way in the woodlands. This is a statement of fact. You may however enter permitted areas as a pedestrian but that is a decision you need to take. Additionally, you may take your dog(s) with you but they must be in sight and fully under your control at all times. This may require that they are kept on a lead, particularly during the bird nesting season (usually March-July). If the dog approaching you is on a lead, put yours on a lead too. Importantly, take your dog's waste home.
Acceptable uses of the rides and pathways do NOT include cycling, mountain-biking or any motor-driven vehicles of any description.
Additionally, the area alongside the Sterridge stream has been designated as an environmental zone and access to this area is now prohibited. The access from the Sterridge Valley road, adjacent to the stream crossing bridge above Harpers Mill has a notice to this effect. The same 'KEEP OUT' notice is repeated on the middle gateway halfway along the main ride. This whole area is gradually being upgraded by the removal of evergreen pine trees and the planting and natural re-growth of broadleaf trees such as oak, beech, hazel and rowan.
Following is an account by Tim Davis of the wildlife found in this area and the wider woodland during recent months. Considering that Woolscott Cleave was a black, dark and largely sterile area 30 years ago, it is steadily recovering with a green understorey that encourages wildlife.
If you enter the permitted paths of these woodlands, please behave in a manner that respects the wildlife, the trees, the plants and other pedestrians. If you cannot do this then KEEP OUT. A number of 'woodland wardens' are helping us with our 'rewilding' plans.
John and Fenella Boxall
WOOLSCOTT CLEAVE - Bursting with Wildlife
During the Covid-19 lockdown I have been walking the tracks of Woolscott Cleave - over the road from our home at Harpers Mill - on a regular basis, in part for much-needed exercise but also to monitor the continuing resurgence of wildlife since the felling a few years ago of all the larch trees (vectors of the fungal disease Phytophthora ramorum, also known as 'sudden oak-death') and the thinning of over-crowded conifers.
While the most obvious and immediate beneficiary of much of the conifer clearance was bramble, which quickly responded to the abundance of light after decades of dense shade, many of the open areas are steadily being colonised by broadleaved trees, especially birch, willow and hazel, along with oak, beech, rowan and especially sweet chestnut. Ash seedlings too proliferate but are unlikely to grow old owing to 'ash dieback', yet another new fungal disease that is gradually wiping out the UK's ash trees, with many of our local ash trees, including in Woolscott Cleave, showing severe symptoms, though there are hopes that a small proportion may prove resistant.
Mammalian life that I have encountered includes roe and red deer (including last autumn a rutting stag), with one recent sighting of a Sika deer (a Japanese native now widely dispersed in the UK and interbreeding with red deer), grey squirrel, fox, and signs of otter passing along the Sterridge River. One of the small spring-fed trackside pools annually has frogspawn, pondskaters and whirligig beetles. Wildflowers in the form of bluebells, primroses and red campion are increasing. On the downside, so too is the highly invasive Rhododendron ponticum, though efforts are being made to eliminate it before it gets a hold and begins to overwhelm the native vegetation. Time is of the essence, as a mature flowering shrub - though undoubtedly an impressive sight - can produce a million microscopic seeds annually. These drift on the wind to infest new areas, making removal an ever more daunting and costly prospect for landowners.
Along with butterflies (e.g. speckled wood, peacock, green-veined white and meadow brown), it is the birdlife that has really transformed the nature of a springtime walk around Woolscott, especially early in the morning when the dawn chorus is in full swing. Here's a list of the species known to be nesting in the wood this year: tawny owl (occasional day-time hooting denoting their presence), raven (one pair fledging three young), carrion crow, woodpigeon (many!), great spotted woodpecker (at least three territories), nuthatch (three pairs feeding young), treecreeper, great tit, blue and coal tits (the latter more of a conifer specialist so currently higher in number), chaffinch, siskin (at least two pairs), goldcrest (which sing, feed and nest mainly in conifers), many pairs of wren, dunnock, robin and blackbird all with fledged young, song thrush (two or three pairs, and fledged young being fed), and mistle thrush (males singing stridently from treetops at either end of the wood). Jays too are probably breeding this year.
Moreover, the presence of a greater number of warblers (all of them springtime migrants from African or Mediterranean wintering areas) markedly indicate the increased value of Woolscott for birds following the opening up of the once-gloomy conifer canopy. Chiffchaffs and blackcaps, the two earliest-arriving visitors in March, sing long and loudly in areas of birch, hazel, hawthorn and bramble (which provides perfect nesting cover), while three pairs of willow warbler (declining fast in much of southern England) sing mellifluously from the larger, more open areas of developing scrub, using the taller trees to feed on insects. It is also in these areas that a cuckoo has been present this year, singing its eponymous song sometimes into the late evening - only the third time we have heard (and finally seen) one in our 19 years at Harpers Mill. Other summer visitors that have stopped off in Woolscott on their way to breeding grounds elsewhere are spotted flycatcher and lesser whitethroat, the latter more commonly found in central and eastern England.
At one point a male crossbill - very much a conifer specialist, and an early breeder each year depending on seed availability - was coming to drink from the Sterridge at Harpers Mill, and later sightings of several birds over the wood suggested breeding may have taken place.
Woolscott Cleave also provides a winter home both for the resident birds and for woodcocks, which arrive in the UK from their Siberian breeding grounds 4,000 or more kilometres away. Very much a species in trouble, the director of the British Association for Shooting & Conservation (BASC) exhorted its members to forego shooting woodcocks during the winter of 2018/19 (annually some 80,000 are shot in the UK). Woolscott also provides night-time roosts for all or most of Berrynarbor's rooks and jackdaws outside the breeding season, mixed flocks of several hundred calling loudly overhead as evening gathers. At dusk in springtime too we have watched migrating swallows and house martins settle in the treetops to spend the night before moving on early the following morning.
The burgeoning wildlife at Woolscott Cleave shows what can happen when a dense, even-aged conifer plantation is partially
felled and thinned and natural regeneration (with some planting of broadleaf trees using native, local stock) takes place. To maintain - and further enhance - the variety and abundance of wildlife that has colonised the wood, ongoing careful management will be required. Self-seeding larch will need to be removed, while the mature nature of the remaining conifers (Douglas fir, western hemlock and Sitka spruce) means that opportunities to increase still further the proportion of native, wildlife-rich deciduous species will arise, whether through felling or windblow.
I'd like to thank John and Fenella for their continuing enthusiasm where Woolscott and its value for wildlife is concerned. I hope their desire to create a restricted-access zone where wildlife can get on with their lives largely free of human disturbance will be welcomed by all users.
Tim Davis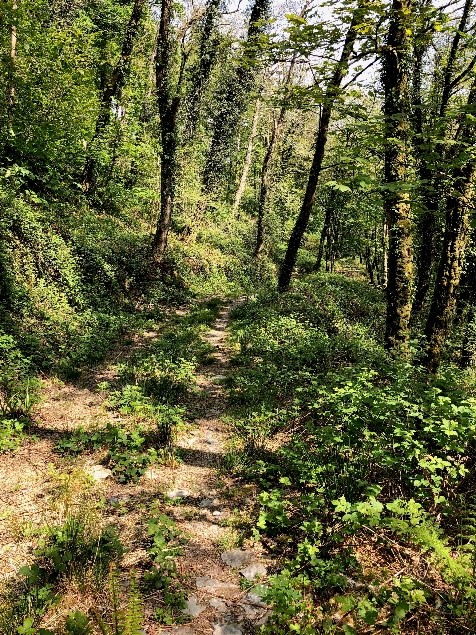 Woolscott Cleave in Early Spring [Tim Davis]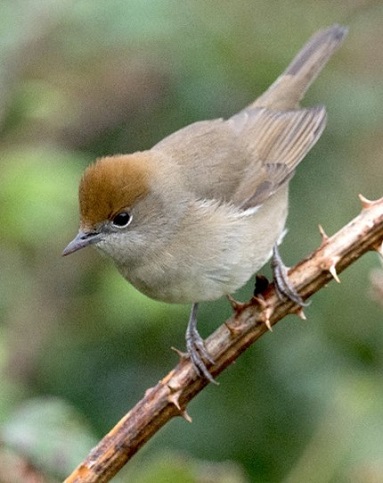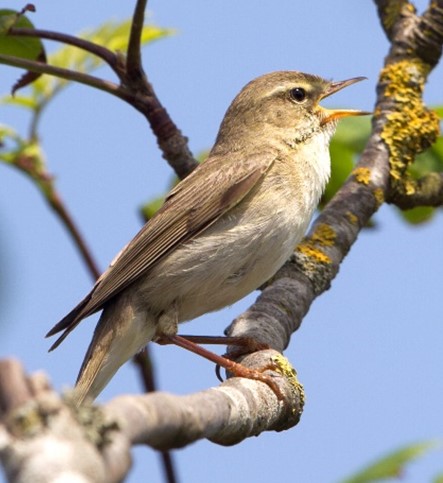 Female Blackcap [Richard Campey] Willow Warbler [Richard Campey]
Poo-bags can kill!
A small number of dog-walkers are still leaving their poo-bags behind in Woolscott Cleave, often beyond reach, hanging on branches or brambles.
Evidence shows that wildlife and some grazing livestock, especially horses and ponies, attracted by the smells and the cereal content of dog poo, will ingest the plastic along with the poo, resulting in an agonising death. Not only do discarded poo-bags persist in the environment, taking years to break down, they are an unsightly reminder of the thoughtlessness of those who leave them. They are particularly disrespectful of the vast majority of dog-owners and walkers and particularly of the woodland's owners who freely provide a valuable amenity, especially in these difficult Covid-19 times.
The message: PLEASE take your dog's poo home with you.
A LESSON ON LIFE FOR ADDICTED CAPITALISTS
A successful London City trader came to Ilfracombe for a few days holiday and was horrified to find a fisherman lying down in the sun, snoozing on his boat.
"Why aren't you out fishing?" asked the rich London trader.
"Because I have caught enough fish for the day," said the fisherman.
"Why don't you catch some more?"
"What would I do with them?"
"Well, you could earn more money. Then you could have a new powerful motor fitted to your boat so you can go into deeper waters and catch lots of fish to make more money. You could earn enough to buy strong nylon nets. These would help you catch even more fish to sell and make more money. Soon you'd have enough money to own two boats, maybe even build a fleet. Then eventually you would be a rich man like me."
"What would I do then?"
"Well, then you could sit back and enjoy life."
"So, what do you think I'm doing right now?"
MM
GREETINGS!
Gardening, gardening and more gardening, but greatly enlivened over the hedges, to left and right, by chatting to my kind and caring neighbours. Also, it's great to meet [at a distance] friendly passers-by who must be convinced I spend my time sitting in the sun on the bench in my front garden drinking coffee!
In reality, I'm thinking how fortunate I am to live in Berrynarbor. Jill McCrae
To all our friends and neighbours, we hope you are all keeping well and safe in our beautiful village. We are missing seeing everyone and being at Fuchsia Cottage, but we hope to be 'in residence' as soon as the rules allow.
Maureen and Pat
Pam and Alex wish to thank all their neighbours and friends for help given during this wretched pandemic. May we soon return to some form of normality!
Thank you to the Hagginton Hill Team and the Village Shop for their help during lockdown.
Barry and Rosemary
Thank you to our wonderful Village Shop, Lesley for shopping, Nic and The Globe for meals, Berry in Bloom for a beautiful village, Simon for a nicely kept churchyard and the children delivering their painted stones. All making lockdown more bearable. Barbara and Alan - Old Roost
To all our friends in Berrynarbor, we have been missing you. We are both well, as is our family. Hoping you are all safe and in good health. Cheers, Vicki and Jeremy Elden
We are very grateful to live in lovely Berrynarbor and should like to say thank you to everyone who has helped in so many ways to keep the village a safe haven in these difficult times.
Colin and Wendy - Bessemer Thatch
We should like to say a big Thank You to the lovely family from Watermouth who walked around our village every day leaving us beautiful decorated stones. You brightened up the village and our lives. Also thank you to Ted and Gareth from Cross Park for your amazing stones. You are all very kind people. Thank you.
Jane and Keith Jones - Rose Cottage
We hope everyone is keeping well and are looking forward to seeing everyone and getting back to some form of normality.
Phil and Chris - Holmleigh
WHATEVER HAPPENED TO LOCKDOWN?
It went by in a flash. All sorts of things were planned to pass the time, clearing out the cupboards, organising the family photos and putting them in albums, doing more family history research, the list was endless.
Then the sun shone, our big garden needed a good sort out and then perfect weather for walking. So we went for miles and had flasks of coffee on a seat on the coast path above Watermouth harbour with stunning views. Then we walked through carpets of bluebells and wild garlic in the woods above Hagginton Hill, the silence was magical and the birdsong glorious. For the first time in years we heard the cuckoo, saw deer and watched sparrowhawk and peregrine falcons from our garden and a very noisy wren woke us early, too early, from her nest by our bedroom window sill.
The world seemed to be holding its breath and Berrynarbor was in a bubble, suspended in space and seemingly isolated from the world's health problems. It was very surreal. We were lucky, very lucky, to live in a place such as this, have a garden and be fit enough to leave out house and enjoy the outdoors and benefit from passing chats with friends and neighbours as we took our daily exercise. So not isolated at all really unlike many less fortunate than us.
And then it rained. So there was some relief for the old aching body and time for those indoor jobs. Now the charity shops will benefit from the tidied cupboards, friends from all over the world will get replies to their e-mails and the old family black and white photos will be sorted in time to have a nostalgic visit with family.
Lessons can be learned from this experience. The value of small things, the beauty of nature when it isn't dominated by mankind, enjoyment of silence and a slower pace of life plus the kindness and caring of society.
Jill Massey

Lockdown! A word unknown to us until a few months ago, and not appearing in either our Concise or Pocket Oxford English Dictionaries has made unimaginable differences to all our lives. Yet we both feel genuinely very lucky. Shortly after that renowned word was imposed on us, posted through our letterbox was a message from 'Team Hagginton', two doors up the hill, offering to shop for us, which we gratefully accepted. Thankfully, to date, it is still continuing. Our village shop has done an admirable job in fulfilling twice weekly orders, for which we sincerely thank them.
It must have been - and still is - a very tiring commitment. We hope that everyone who has benefitted from their help will continue to shop there when the panic is over. Further up the hill, Lesley has not only donated a selection of fresh fruit and vegetables, but offered to shop at Mike Turton's and any other Ilfracombe shop. A mop [which we'd worn out doing housework!] was replaced, and our window boxes have never looked so good with plants that appeared from her, unsolicited, on our doorstep. Janet across the road, and her daughter Sarah, have added some items from Tesco to their delivery service for us. Our problem will be when it's all over, having to do our own shopping! Oh, and the Bell family next door have not only offered help, but brought round some delicious pieces of chocolate cake to celebrate Avril's birthday. Finally, we're very grateful to John and Fenella for letting us wander in their forestry, largely undisturbed. We have even done the 'full circuit', and were very pleased to ease our limbs on 'Pam's Seat' on the way back!
For months of glorious weather, we have sat on our terrace admiring the view of our lovely village, whilst enjoying breakfast and lunch. And we have thought often of the different lives of folk who live in city centre flats, possibly contending with fractious children. Thanks to our many helpers, it's no wonder we feel so lucky!
Pam and Alex

As Nora and I reached our 80's just as the Corona Virus was emerging as a threat to seniors, we took to lockdown pretty seriously. The first steps taken were to shop a little more and draw out some money in case there was a run on the banks. Thankfully neither were necessary, as our wonderful Post Office and Shop continued to provide, and a morning walk to the shop became a pleasure of sunshine with chats to neighbours from near and far.
As lockdown continued, Nora took to solving crosswords, sharing jig saws, and recovering the garden from winter. We now have the beginnings of a wild flower lawn rather than a green desert. In the evenings we played Bridge with family, often just after downing a delivered most welcome meal from The Globe.
I took to improving my model railway, concentrating on a military theme prompted by buying a Boche Buster 18" Rail gun. Many weeks later, this activity has developed into swapping models via eBay, including two new pals in New Zealand. Here again, I have to thank the Village Shop and our postmen who have continued to serve as essential workers. But also, I must thank here the most under-thanked of all, the Electricity Generation and Supply Service - without whom hardly anything we rely upon would function. Imagine, no lighting, no mobile or other phones, no computers, TV, fridges, garage petrol, sewage, mains water, etc., etc., no model railways and NO NHS!. I'll say that again-NO NHS.
Alan

Are there enough words to describe our wonderful village shop? Throughout these very uncertain and worrying times, the staff and volunteers have cared for us so very well. No empty shelves or frustrating delivery slots to concern ourselves with.
Within minute it seemed that a very slick plan was put into place to cover every eventuality. The weight of feeding ourselves through this unprecedented time was lifted off our shoulders and before we knew it, we were assured of our needs being met with the least possible hassle to ourselves. Every detail was thought through from social distancing and cleanliness to delivering to the door of those isolating and shielding. The ordering system of click and collect has worked a dream in the safest possible way.
We just can't begin to thank you enough for all of your hard work, thought and care and for lifting our burdens and our spirits with a smile and caring attitude.
We look around our beautiful village as we are slowly emerging from lockdown, to see hanging baskets full of colour and gardens a joy to behold. A smile and cheerful greeting from friends and neighbours in the village cements the sense that this is truly a caring community and a wonderful place to live.
Thank you to all.
Kath and Brian Hely - Rockton Cottage
9
---
DATE AND RHUBARB CAKE
[An Allinson's Recipe]
6 oz S.R. Flour 3 oz Butter or Margarine
4 oz Demerara Sugar 4 oz Chopped Dates
8 oz Sliced uncooked Rhubarb
1 Egg beaten with 4 tablespoons of Milk
Rub butter or margarine into flour. Add sugar, dates and rhubarb and finally the egg and milk mixture. Put in a greased shallow tin and cook at 180° until firm and golden, approximately 30-40 minutes.
An ideal recipe for people who are not very keen on rhubarb, especially if the amount of rhubarb is halved making equal proportions of dates and rhubarb! The recipe says serve dusted with icing sugar, but this is not essential. SH
10
---

NEWS FROM BERRYNARBOR PRE-SCHOOL
a first taste of education
We managed to re-open our Pre-school on the 3rd June after cleaning, changing the room lay out, removing soft toys and furnishings, implementing regular cleaning routines and completing risk assessments; complying with government guideline to include social distancing - if that can be done with children aged 2, 3 and 4 years!
We were only able to open to key worker families and to children due to start school in September. Initially Pre-school felt empty and strange, but once the children came back and began to play it felt like it was back to normal! We had lots of outside play, ball games, water play, drawing chalk pictures, ride on toys, hide and seek games, exploring the garden, as well as bringing stories to life in role play. The Manor Hall Committee kindly allowed us to use the hall on wet days, giving us extra space to play.The children have roared, giggled, sang, counted and shouted "I've found you"! This must have been very entertaining to all our neighbours.
The children have been very good at understanding why Pre-school had to close, about the Corona virus, that it makes people poorly, that you have to keep your distance and you have to wash your hands lots! This is a real credit to all our parents and carers who have explained the situation to their children. We continue to have a duty of care to ensure that all our children and their families keep well, physically, mentally and emotionally. During lock down it was so lovely to receive messages and pictures from the children about their home learning, gardening projects, walks as well as lots of cooking and baking.
Thank you to the rainbow fairy who left this beautiful rainbow stone outside our Pre-school. It is very much appreciated.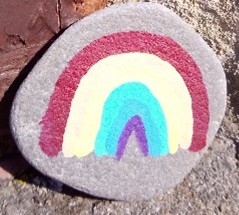 We want to wish all our children who are due to start primary school in September all the very best and to enjoy their new learning journeys.
We plan to open as normal in September, on the 7th, but we are aware that we need to keep an eye on Government guidelines and ensure we follow them correctly.
Continue to keep safe and well and we wish everyone a lovely summer holiday. We look forward to a positive start to our new academic year in September.
Best wishes from the staff at Pre-school
Sue, Karen, Lynne and Emma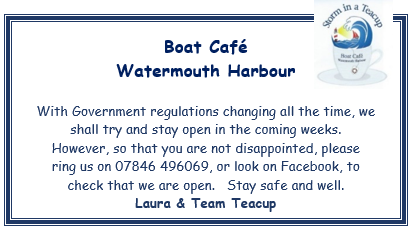 11
---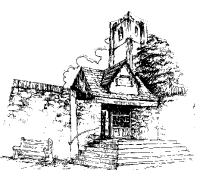 Artwork: Peter Rothwell
VICAR'S VIEWS
To everyone in Berrynarbor
I hope that you are keeping safe in these strange times.
Even if you are physically healthy, I think many people are feeling a bit fatigued by it all now - me included.There's only so long we can keep up the feeling of innovation or so many hobbies one can take up! I find that I have to often remind myself at this time that this is not forever, that it is ok to find things stressful, and to feel out of control. It's important at this time to be reminded that, although we may feel out of control, God is in control. Part of the good news of Jesus [the gospel] is that He is good and holds our future.
One thing that people have been asking for is to be able to access our church building. Unfortunately, St. Peter's Berrynarbor is unable to open its doors safely at this time, but I am pleased to say that our sister churches are now open for private prayer:
St. Peter Ad Vincula, Combe Martin: Sundays 2.00 - 4.00 p.m. Thursdays 10.00 a.m. - 12.00 noon
Pip and Jim's, Ilfracombe, Saturdays 9.00 a.m. to 12.00 noon Tuesdays 1.00 to 4.00 p.m.
Please be aware that as government advice changes, and as circumstances arise, we may need to edit these times.
When you enter the church buildings you will notice a few differences. As you enter please clean your hands with the alcohol gel provided, follow the arrows to a seat - marked 2 metres apart - where you can sit and pray, and once you are ready to leave, please follow the arrows to the exit and use the alcohol gel by the exit, this is a different door to the one you entered.When you come to pray, you may like to bring your own Bible and/or prayer resources too. At the entrance you will find QR codes linking to helpful resources, or you can access them via these website addresses:
Prayers: www.churchofengland.org/prayers-for-the-moment
Light a virtual candle: www.churchofengland.org/light-a-candle
Read the Bible: www.biblegateway.com
I also want to clarify that private prayer is the only reason the church building can be used at this time. All church services are still online or by telephone only, and tourist visits are not currently allowed. However, this is under discussion and we will let you know once we are able to meet in person again.
www.combetocombechurches.co.uk
I'd also like to invite you to join us for our services online.
A video goes live on our website each Sunday at 10:30 a.m. [but can be watched at any time], along with a chat-box to join in with others watching and sharing at the same time. It's a great way to
dip your toe in and experience a little of church. Why not take time to explore what goes on.
To end, I'd just like to give my thanks to everyone taking part in the amazing work going on in the village.This attitude of care is nothing new in the village of course, but speaks volumes at this time.
May you know the peace of God at this time especially.
Rev. Peter, and all at St. Peter's Combe Martin
revchurcher@gmail.com / 07803253286
12
---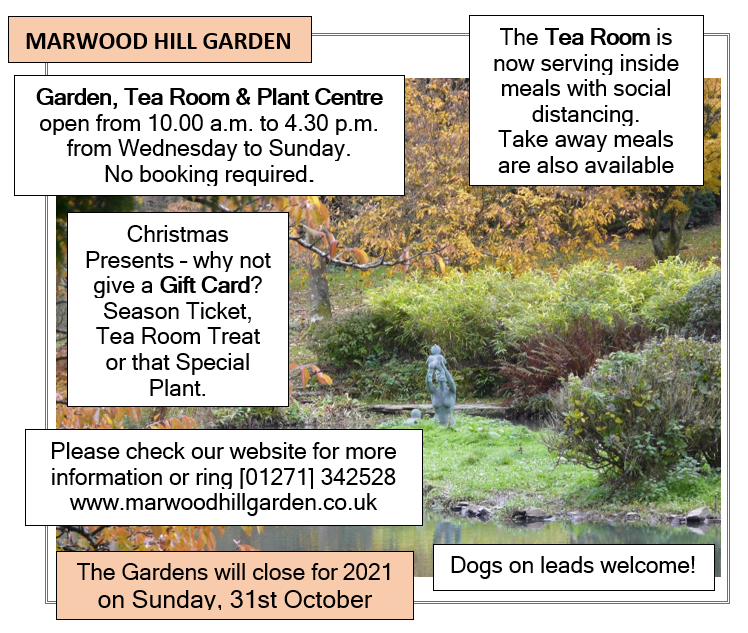 BREAKING NEWS . . .
There's been a fight in the biscuit tin. A lad called Rocky hit a Penguin over the head with a Club, tied him to a Wagon Wheel with a Blue Ribbon and made his Breakaway in a Taxi.
Police say Rocky was last seen just After Eight in Maryland with a Ginger Nut known to the police as Rich Tea. They didn't leave a crumb of evidence so the Jammie Dodger got away with it!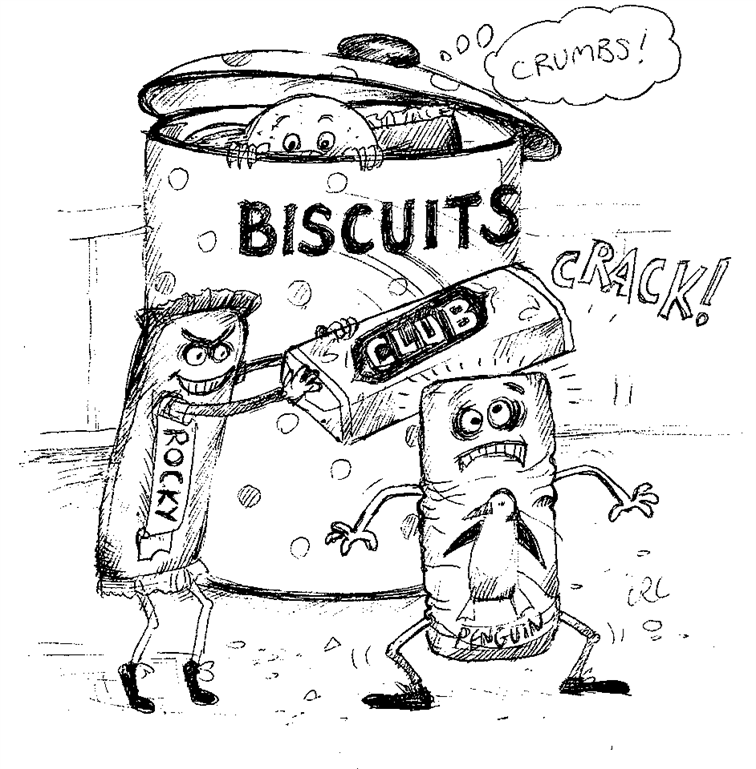 Debbie Rigler Cook
13
---
BAILEY'S BLOG

Tails of a Dog's life in Lockdown
I have done it! I have secured my place on the sofa and now I sneak on every evening. Before this lockdown malarkey, I was not allowed up. It was the floor or my bed for me. Ridiculous really as everyone knows you don't go to bed during the day. It was also very unfair as Alfie the cat was allowed up on the Mrs. knee every evening without fail! It was a real case of prejudice. Nobody rallied to fight for my rights! I was being discriminated against every evening! Quite unfair. Dog's rights matter too you know.
Anyway, I don't quite know how I've accomplished it but I have.I am up on the sofa every evening now and sometimes I even sneak on during the day. I think that maybe the Mr. and Mrs. are getting a bit sick of only having each other for entertainment night after night.The Mr. succumbed quite quickly. He pretends to be tough but is a push over with me. I just have to nestle my head on his knee and look up at him with my puppy dog eyes and he is putty in my hands . . . or rather I am putty in his. He knows how to stroke and tickle my ears. I love it. The Mrs. was tougher to crack . . . reckon it's cos she has to clean the sofa or it could be that since lockdown she has definitely put on a few pounds that she is eagerly trying to hide. Maybe she thought my weight and hers would break the chair. Anyway, she has given up saying 'No' and I now take my spot between them every evening. The only one getting their tummy tickled now on that settee is me!
There are a couple of problems I have had to adapt to with my new seating arrangement. Firstly, that settee moves. I am just getting comfy and the Mrs. presses a button and it elevates her feet so she is horizontal. No warning, off she goes! Then a little while later when she needs a wee or a cup of tea, it moves again. I will be lying in a really comfy way and my head is jet-propelled down to the ground. No consideration whatsoever! Up down all evening. It's like being on a seesaw. I can tell it annoys the Mr. too although he never complains if it includes a cup of tea... Just wish I could work out how to chew that button and stop the mechanism. Give me time!
Then there is the problem with Alfie the cat. It really is tough for us dogs when we have to share our homes with cats. They are under the illusion that they are the superior race. Don't get me wrong, I love Alfie. I always get overly excited when I see him. I just can't help myself. My tail starts wagging and I feel the need to lick him to death. Alfie doesn't seem to appreciate it. Odd really, as all he seems to do is lie around sleeping or licking himself all day. I am simply saving him a job. Anyway, as I said earlier, he has the cheek to sneak onto the Mrs. knee every evening, like a king taking up his throne. Sneak is probably the wrong word as he proclaims his entry into the room with a loud 'Miaow'. This gets me excited and I can't help myself, so I launch in to welcome him and it ends in a flurry of hair, hissing and excitement, [all on the Mrs. knee]. Believe you me she is not amused and I always end up in the dog house!
Finally, there is the issue of my sleeping habits. You see I dream a lot. I can be dreaming about running across the beach and my legs start racing much to the annoyance of Mr. and Mrs.
I can't help it and if it's really such a big problem they should go and sit in the armchair.
Anyway, I best sign off now, but before I go, I must say thank you for all the lovely compliments you gave the Mrs. about my last blog. I am glad my blog makes you smile. It's important we keep our spirits up during these strange times. Be assured I would lick you each personally if I could, but social distancing prevents me. Maybe one day soon . . . in the meantime stay safe.



14
---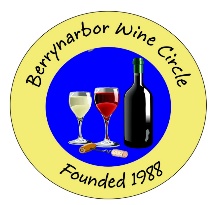 BERRYNARBOR WINE CIRCLE
As pubs, clubs and restaurants have re-opened, life is beginning to look more familiar. It was good to be able to support The Globe, recently, and as it was a sunny evening, we grabbed the opportunity to eat and drink outside 'over the road', once again. We didn't recognise anybody else, perhaps because it was a Monday evening, which proves that the camp sites and other hospitality venues, locally, are also open. All local facilities need the trade, after enforced closures.
I'm sure everybody is hoping that we do not become a regional lockdown and village events will start to happen again. That said, I know Wine Circle members have not joined the Temperance Society since our last meeting, which was February!
I also know that groups of friends have met up outside, socially-distancing, of course, but enjoying a chatty atmosphere over a glass or two . . . or three! The Wine Circle hopes to use the Manor Hall once again, on Wednesday, October 21st, 8.00 p.m. We look forward to seeing new and 'old' faces, for the 2020-21 season.
Judith Adam
15
---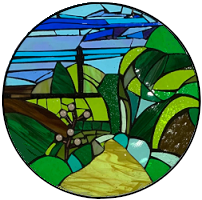 Artwork: Helen Weedon
RURAL REFLECTIONS - 95
In the June 2019 Newsletter, Jenny Williams compared the day-to-day life of a butterfly to one that is lived solely in the present moment. She then added that this is something that we can all experience with enjoyment and reward during our time on this earthly plane. My last article was testimony to this, the piece featuring the various bird activity I had observed whilst sat in my back garden. By doing so, I had been able to appreciate my natural environment at a time when, due to the COVID19 outbreak, the government had initially put in place strict safety restrictions on our movements;limitations which as a consequence inhibited usual explorations of my rural locale.
Interestingly, my observational practice did not just achieve the goal of bringing the countryside to my doorstep. It also encouraged me to remain focused on the here and now;for it was not just my visual radar that remained on red alert - all of my senses became instinctively honed in on my surroundings.This in turn helped distract my thoughts away from the coronavirus.No longer did I dwell on previous news bulletins or fret over possible negative outcomes. Moreover, it helped me maintain a healthy outlook - something I have continually encouraged others to do by seeking out positive new items whilst the crisis continues.
Positive thinking is good for one's well-being.It was therefore interesting that when the initial lockdown was imposed the government were keen for people, if they could, to still go out once a day for a non-essential walk, cycle or run for the benefit of their physical and mental health. I found it a curious choice of terminology. Whilst I cannot doubt the physical benefits that can be gained from undertaking these pursuits, I feel that any psychological gain, in particular from walking, is dependent upon the participant's mental attitude. For if a walk is to be mentally advantageous it is vital that, like a butterfly, the walker enjoys the present moment by taking in their surroundings and drawing upon the positive features that they notice within their environment.
This practice is similar to the concept of mindful walking, something Robert McFarlane adhered to on numerous walks that he undertook in his book The Old Ways. On one trip, he recalled how he had just set out on a hike with a Spanish friend along a Calzada Romana [Spanish Roman road] when he noticed what looked like a large jay feather [he later discovered it had come from an azure-winged magpie.] "You see," his friend commented, "I don't need to walk miles to find things out.Six paces will do well for me." He then added, "There is a Spanish saying, Caminar ses atesorar!, which means to walk is to gather treasure!" What a beautiful metaphor; for if you mindfully walk in the present moment, you will indeed see things you have never discovered before.
When writing his book, McFarlane was keen to emphasis how Edward Thomas [b1878] was his guiding spirit.Thomas was a singer, soldier, poet and essayist who from a young age was both a keen walker and writer.After making a reputation with travel logs, natural history books and biographies, he turned to poetry in the winter of 1914, writing 142 poems in just over four years.Yet throughout his life - one that was curtailed when he was killed on the opening dawn of the battle of Arres in 1917 - he had battled with depression.Walking was Thomas's therapy and in particular tracking along ancient ways which in his view were 'potent, magic things . . . worn by the trailing staves of long dead generations.'
On each walk, he would internalise the features of its path-filled landscape; every corner, junction, style, finger post, fork, crossroad, each small track that led off the path and all that beckoned from a hilltop.Thomas not only thought on paths; he thought of each path and with each path, allowing him to make what he called 'time as nothing'. But most critically, paths gave form to his melancholy and hopes.
The Downs were his heartland, being at the centre of his 'South Country'. For this was an area he had walked on far longer than any other. On one occasion, whilst he and his wife Helen were staying in Wiltshire, they were walking along an old track when they noticed the prehistoric White Horse figure in the hills at Uffington, formed from deep trenches and filled with crushed white chalk.Helen immediately became thrilled by what she proclaimed as 'discoveries upon the ancient ways' that allowed her to 'have a sense of being connected by footfall to history and tradition.'Her comment pleased Thomas, now satisfied that he had fulfilled his ambition to teach his wife to walk differently; not just with her legs, or even with all of her body - but to feel the landscape as she moved over it.
Like Thomas, the writer George Borrow [b1803] was also a depressive. Although he took to tramping in the 1820's, he cut a distinctive figure in the countryside, always dressed in a black cloth suit, white stockings and sombrero.He had an awesome stamina, walking thousands of miles across England, Wales, France, Spain and Russia.To help manage his depression he would study with intent his vista as he walked. When reading his prose one can sense him feel the breeze in his face, study the stars for his ceiling and use the hedgerows to philosophise. In time, this form of what Borrow regarded as 'open journeying', led to a growing cult of 'leisure vagabondage' which, by the end of the 1800's, had led to the foundation of the first walking clubs. It also inspired the writer and ornithologist W.H. Hudson [b1841] to pioneer psychogeography - the concept of walking and waiting - which he regarded as 'the charm of the unknown.'
Meanwhile across the Atlantic, the mountaineer John Muir [b1838] achieved a walk of 1000 miles from Indianapolis to Florida Keys in 1867. Fifteen years later, the Sierra Club Foundation was conceived, inspired by Muir's conviction that 'the walker's bodily contact with the wild world benefits both walker and world' and that, 'going out . . . was really going in'.
The Scottish writer and poet Nan (Anna) Shepherd [b1893] was especially expressive about her bodily connection with the land upon which she walked, in particular placing emphasis upon the union between the soles of her feet and the ground beneath them. 'Walking barefoot has gone out of fashion', she wrote in 1945. 'But sensible people are reviving the habit.'In his book, McFarlane recollects the occasions when he too walked barefoot detailing the terrains' textures, sensations, resistances, planes and slopes. He regarded these episodes as occasions when 'the skin of the walker meets the skin of the land', adding that such contact provides a tactile detail of the landscape that can go so easily unnoticed when walking.A truly mindful approach - and one that Nan Shepherd would greatly approve of.
Shepherd is best known for her seminal mountain memoir The Living Mountain, based on her experiences of hill walking in the Cairngorms. She brings the book to a close by stating that 'on the mountains I am beyond desire . . . I am not out of myself but in myself. I am.' In other words, she celebrated what is known as the metaphysical rhythm of the pedestrian - put simply, the beat of the lifted and placed foot.This is the true definition of mindful walking;and for people who, despite their attempts to take in their surroundings still have difficulty diverting their thoughts from the past or future, focusing on one's footsteps should do truly bring one's attention into the present moment.
Personally, however, I find that studying all that I see around me suffices - and by undertaking close observations, I find that I see new things every day even on the same walk. It was the same for the American essayist, poet and philosopher Henry David Thoreau [b1817] who found that great happiness could be gained from the prospect of going for a regular walk and noticing something new. As he put it, 'a single farmhouse which I had not seen before is sometimes as good as the Dominions of the King of Dahoney.'
So why not try it? Or if you have difficulty getting out, maybe studying a pictorial book or magazine? Either way, you will be bringing your attention to the here and now - and in so doing, allow your fears and worries to ease away.
Stephen McCarthy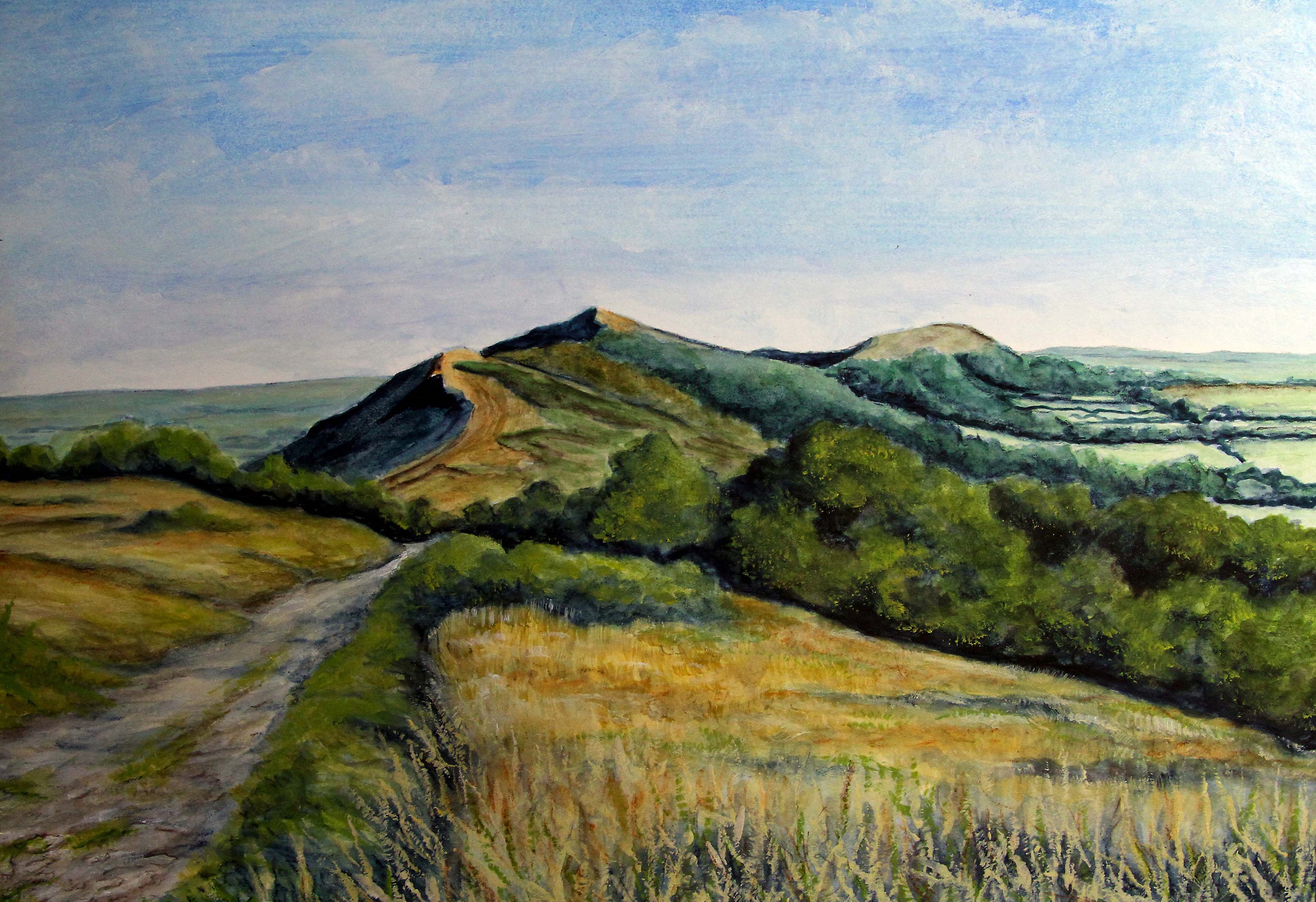 Paul Swailes
16
---
LOCAL WALKS
Having travelled hundreds of miles and telling of them in 180 articles over a 30-year span, our Local Walker has decided that the time has now come to hang up her boots and other walking gear.
I wonder how many miles have been walked and how many flora and fauna have been described? Churches and other interesting and special architectural buildings have been visited, encouraging us, the readers, to walk and go and see them for ourselves.
Over the years, Paul has enhanced the walks with his charming illustrations.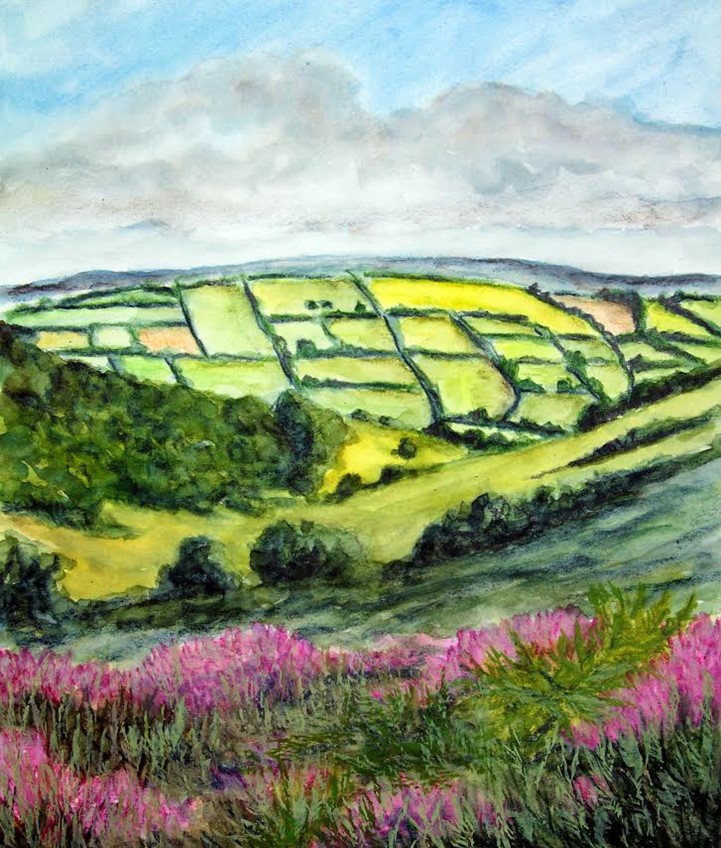 Illustrated by: Paul Swailes
I am sure that, like me, readers will miss these delightful articles and I give a sincere huge thank you to both walker and artist for their incredible and generous support of the Newsletter.
Thank you both and with my very best wishes for the future.
Judie - Ed
17
---
MOBILE LIBRARIES RETURN TO THE ROAD
By the time you read this, Kate and the Tiverton Mobile Library will be back on the road and will have visited us here in Berrynarbor. For the time being there will be a new type of contactless service, called Choose and Collect.
Opting for Choose and Collect means that library staff will ask you about reading likes and dislikes and will select up to 5 books for you based on your preference. The books will be issued to your library card, placed in a bag and you simply collect them from your regular stop.
Users of the mobile library should have been contacted and if you have not and would like a Choose and Collect delivery, please contact the Tiverton Library by e-mail: tiverton.library@librariesunlimited.org.uk or call 01884 244644.
Kate hopes to be able to allow readers safely back on the mobile library to choose for yourselves in the not too distant future.
The Library will be at the Village Shop from 11.40 a.m. to 12.10 p.m. and the Sterridge Valley from 12.25 to 12.50 p.m. on Tuesdays 25th August and 22nd September.
HEDGEHOGS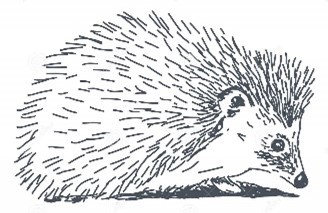 Did you know that hedgehogs are being lost from the parks and gardens of Britain at a rate of around 5% per year?!
We are very lucky to have hedgehogs here in The Sterridge Valley. A couple of years ago we released a pair of rescued hedgehogs for Anni at North Devon Hedgehog Rescue. We support-fed them with specialist hedgehog food for a number of weeks before they disappeared out into the wilds!
A couple of our neighbours have seen hedgehogs visiting their own gardens, and so we know that they are doing quite well and seem to be thriving here.
If you would like to help by supporting our hedgehogs there are a number of things that you can do:
Firstly, hedgehogs roam between 1-2km each night when they are active, and it is therefore critical that they can access a wide range of gardens and habitat, making the Sterridge Valley ideal. If you're lucky enough to see hedgehogs in your garden, then please help by logging this information on the Big Hedgehog Map - www.bighedgehogmap.org .
It is not usual to see hedgehogs out during daylight hours, so this could possibly be a sign that something is wrong.
Putting out food and water for hedgehogs can be very helpful as hedgehogs can struggle finding enough to drink, so a shallow dish of water, NOT MILK, as hedgehogs are lactose intolerant, will help them if they are struggling.The majority of a hedgehog's diet is made up of invertebrates, but they can benefit from extra supplementary food - meaty cat or dog food or specialist hedgehog food.
Making ponds safe is another important thing you can do. Hedgehogs are brilliant swimmers, but like everything, they can't swim forever, so make sure they have an easy escape route, a plank of wood or gradual slope will work!
Be Careful When Mowing/Strimming And Always Check First because hedgehogs will not run away from the noise, they will just curl into a ball, and if not seen, could face some VERY serious injuries! And it's not just hedgehogs, other types of wildlife could be sheltering or nesting there too.
Talking of safety, Bonfires are another thing that should be checked carefully first, or if possible, moved to a different location altogether! Again, this is because a bonfire is the perfect nesting or foraging area for hedgehogs and can be a dream home for other animals. When it comes round to bonfire night, use the hashtag - #RememberHedgehogs on social media, and remind others to check before they light!
And finally, try to avoid using chemicals and pesticides as they take away many animals' food supply! Ways to help keep slugs away whilst not using chemicals:
1. Encourage natural predators into your garden!
2. Seaweed is a slug deterrent due to its salt content. Use plenty of dried seaweed around the base of your plants, being careful for it not to touch the stems. The sharp texture will also make it difficult for the slugs to crawl over!
3. Use broken egg shells or coffee grounds around the base of the plant as slugs do not like the texture!
4. Planting garlic next to your crops will help as this is a repellent.
Finally, I should just like to thank Anni at North Devon Hedgehog Rescue for doing an amazing job of helping these beautiful and fascinating little animals through her voluntary rescue work.
If you see a hedgehog that is injured, unwell or you are concerned about, please contact Anni for advice on 07964522359
Thank You for reading this and helping wildlife!
Ruby Reynolds [13]
PLEASE NOTE!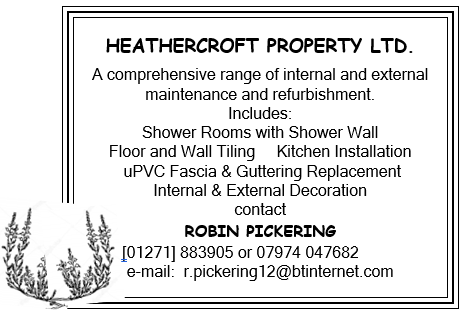 OLD MEMORIES
In 1943 I was working for Claude and Gladys Richards, the owners of Hammonds Farm, Berrynarbor. They employed two workmen, myself and a man from Berrydown called Jack Coats.
Claude had five Red Ruby fat bullocks he wanted to sell at Blackmoor Gate Auctions. At that time, transport would have been expensive or non-existent, however, Claude went along to see a farmer who owned a field next to the cattle market. His plan was to take the bullocks to Blackmoor Gate and put them in the field the day before the market in order to avoid them suffering from any stress. He would then take them out the next day ready for auction. The farmer agreed, no doubt for a handshake or a small fee!
Early one morning he said to me and Jack, "I want you to fetch two ponies from the field and to drive the five bullocks to Blackmoor Gate and put them in the field for auction the next day."
So, we saddled up the two ponies and off we set, at a slow walking pace, on our way. I rode in front and Jack followed behind. There was little or no traffic on the road then and it took us about four hours. Claude gave us one shilling and six pence to buy lunch when we arrive at the Blackmoor Gate Hotel.
The hotel in those days was mainly open to farmers with a long dining room. The only menu was cold meat, pickles and mashed potatoes, with apple tart and custard for afters and a cup of tea or coffee. By the time we had had our meal and rode back home, there was not much time for anything else!
The following morning, we had to leave home early and ride to Blackmore gate again, round up the bullocks and take them from the field into the auction ring, ready for auction - all very time consuming, but in those days, time did not seem to matter.
The hotel burnt down in 1970 with the tragic death of a young maid. I don't know who the landlord was but I do know in the 1950's the landlord was Ron Meredith who later took over The Globe Inn from Charley Blackmore. My brother, Ken Draper, worked for him at The Globe when he was demobbed after the Second World War, before he went back to his trade as a baker and confectioner for Southcombes and later Lees of Ilfracombe.
Maurice Draper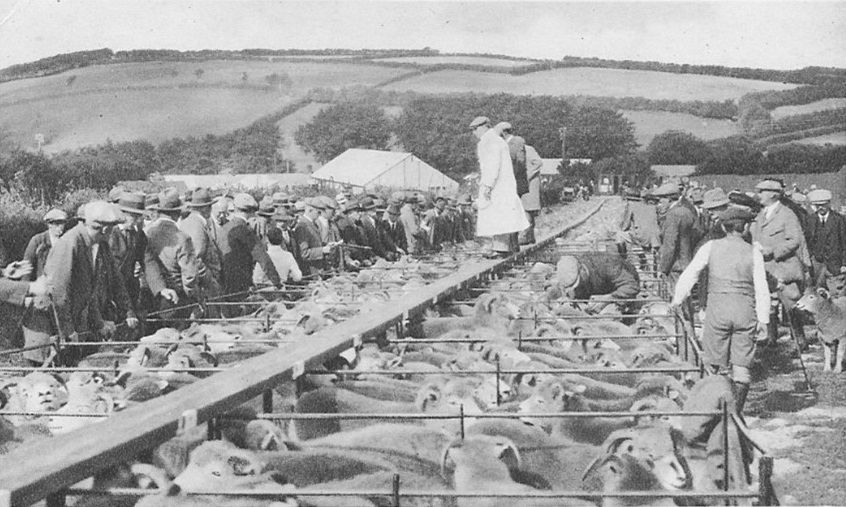 Auction Day, Blackmoor Gate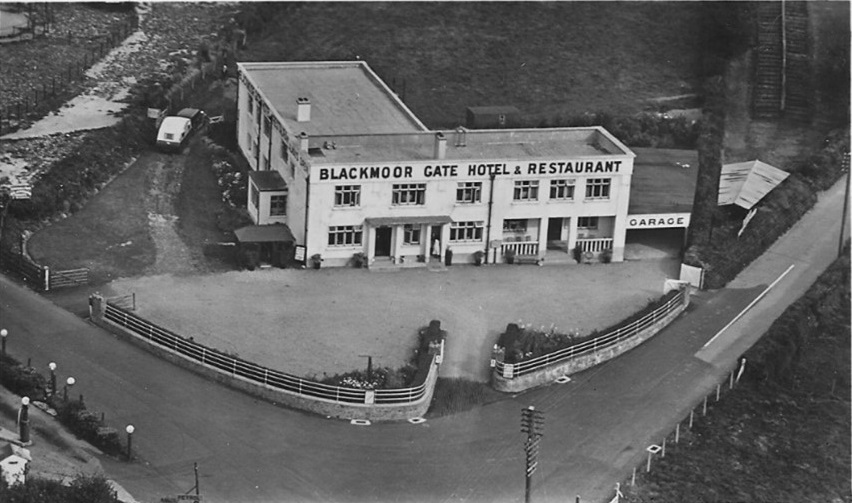 Aerial View, Blackmoor Gate Hotel & Restaurant
Pictures: From the Tom Bartlett Postcard Collection
18
---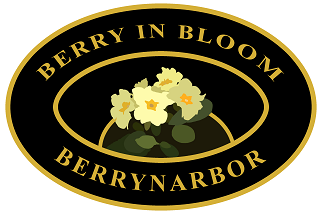 Artwork: Harry Weedon
BERRY IN BLOOM
Thank goodness for beautiful Berrynarbor we are so lucky to live in this lovely village and never more so than in these difficult times.
This year because of the corona virus, all competitions were cancelled. However, this has not stopped the group from planting up the tubs, and hanging out the hanging baskets around the village. We had already put in our orders for plants and we do it for the love of our village not just to win the competition.
We did have problems though as Grow@Jigsaw who supply our plants were unable at the last moment to fulfil our order because of social distancing - they work with many who are in the at risk group. We had to put in a last-minute order to St John's garden centre and although the plants were of a good quality, cost us more.
We managed all the planting out while socially distancing and even managed a cuppa and slice of cake 2 metres apart in the village square.
Wild flower planting in the small dog walking field has been completed. The seed and plug plants arrived in lockdown and at the beginning of 8 weeks of dry, sunny weather. The plug plants were tiny so we potted them up [300 plugs] and waited. We have only planted approximately a quarter of the small field, an area to the left and right of the lower half of the field on either side of the new path. The seed has also been sown which comprises annual and perennial wild flowers. We waited until the dry spell of weather ended or the seed would otherwise have been expensive bird food!
To fund this project we had a donation of £227.00 from a couple of generous villagers and that was matched by a grant from the North Devon District Council. We now await the results in hopeful anticipation of a glorious display of wild flowers. We do not intend to do anything in the large dog walking field as the grass there needs to be kept shorter.
Unfortunately, we are not able to hold any fund-raising events this summer but hope we will be able to nearer Christmas or in the new year when hopefully life becomes a bit more normal.
19
---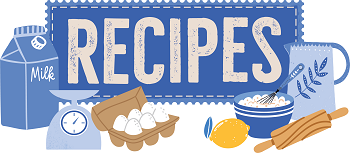 Artwork: Angela Bartlett
Fresh Apricot Cake
Apricots are in season at the moment and this is a lovely moist fruity cake but peaches would work just as well if you prefer. The recipe says 2lbs of apricots but I used 2 punnets from the supermarket, slightly less. Cut the apricots in half and remove the stones.
1 dessert spoon lemon juice
4oz/110g butter at room temperature
6oz/170g golden caster sugar
1tsp vanilla extract
4 large free-range eggs
9oz/250g plain flour
3 level tsp baking powder
good pinch of salt
1tsp ground cinnamon
Icing sugar and apricot jam to finish [optional]

Pre-heat the oven to 350F/160C. Grease the bottom and sides of a spring form or loose bottomed 9-inch cake tin and line the bottom with baking parchment/greaseproof paper.
Using a food processor or stick blender, puree one punnet [or half] of the raw apricots with the lemon juice. If you don't have either, chop the apricots very finely and set aside.
Sift the flour, salt, baking powder and cinnamon together and set aside.
Cream together the butter and sugar until fluffy. Add the eggs one at a time with a spoonful of the flour mix to prevent curdling. Add the vanilla and mix again. Now mix in the flour mix and lastly the pureed apricots. Transfer the batter to the tin, smooth the top and place the halved apricots from the second punnet in a pattern over the top.
Bake for 55 - 60 minutes or until a skewer inserted into the middle comes out cleanly or with just a few crumbs adhering. Cool in the tin for 15 minutes then transfer to a cooling rack. A little warmed apricot jam brushed over the apricots intensifies the flavour. This cake is lovely served warm dredged in icing sugar or cold with a generous drizzle of water icing or again dredged in icing sugar with a big blob of clotted cream! Yummy
Wendy
20
---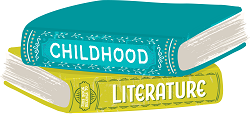 Artwork: Angela Bartlett
CHILDHOOD LITERATURE
Tomorrow I will begin", thought Katy, as she dropped asleep that night", and that's What Katy Did!
What Katy Did is an 1872 children's classic following the adventures of a twelve-year-old American girl, Katy Carr, a tall, untidy tomboy, always getting into scrapes, but wanting to be beautiful and loved. Invalided by a terrible accident, her four-year recovery gradually teaches her to be as good and kind as she had always wanted to be. Her adventures follow in What Katy Did at School [1873] and What Katy Did Next [1886]. The title is a play on the katydid, a family of insects, which explains the insects on the 1st edition book cover. The adventures of Katy's younger siblings appear in Clover [1888] and In The High Valley [1890].
The Katy books were the work of American author Sarah Chauncey Woolsey, who wrote under the pen name Susan Coolidge.
Sarah Woolsey was born in Cleveland, Ohio, on the 29th January 1835, the eldest of the five children of wealthy and influential New England parents, John and Jane Woolsey. The family later moved to New Haven, Connecticut in 1852.
During the American Civil War [1861-1865], Sarah worked as a nurse, after which she began to write, not only the Katy books but many other short stories, poems and other publications.
The fictional Carr family was modelled on her own, with Katy inspired by Sarah herself, and Katy's brothers and sisters on her own younger siblings: Jane Andrews Woolsey [25.10.1836] who married the Rev. Henry Yardley; Elizabeth Dwight Woolsey [24.4.1838-1910], who married Daniel Coit Gilman; Theodora Walton Woolsey [7.9.1840], and William Walton Woolsey [18.7.1842], who married Catherine Buckingham Convers, daughter of Charles Cleveland Convers.
Sarah Woolsey never married, always living in the family home until her death in Newport, Rhode Island, on the 9th April 1905.
21
---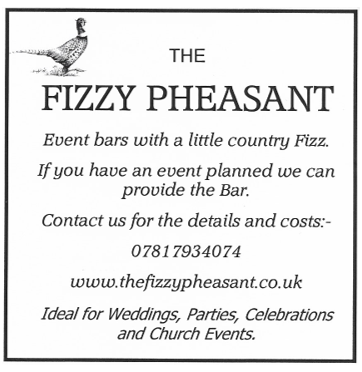 22
---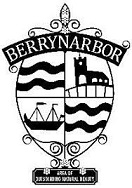 FROM THE PARISH COUNCIL. . .
With more of us returning to the new "normal", we hope you are managing to stay safe and up-to-date with the latest information. Devon County Council, and NHS Devon Clinical Commissioning Group and the Police and Crime Commissioner's Office, recognise that not everyone has access to the internet and digital information and have therefore commissioned a one-off newspaper, for news and information related to coronavirus. It will be delivered to around 300,000 households across Devon over the next week or so, delivered door-to-door to households that they know are less likely to have digital access to news and information. There is also a digital copy and further information on DCC's website https://www.devon.gov.uk/ The Government has now advised that play areas can re-open, the Parish Council has completed risk assessments which are available on the website and is awaiting appropriate signage for the Manor Hall and Recreation Field Play Areas which, once erected, will allow the play areas/equipment to be re-opened. The Parish Council is also investigating how it can safely re-open the public toilets and is seeking advice on cleaning regimes.
The Parish Council has received complaints about the cars parking along the bridleway and blocking access to Broadsands Beach along with the amount of litter that is being discarded on the beach by those visiting. These concerns have been discussed with the County Councillor and the Public Rights of Way Officer and it is the intention under the P3 scheme to instalLbollards for public safety to enforce RTA S34(1) 1998* and provide safe access for emergency vehicles at all times to BridlewayNo13, Old Coast Road, Berrynarbor.
*RTA S34(1) 1998 states it is a criminal offence to drive a mechanical vehicle on a footpath, bridleway or restricted byway without lawful authority.
It is with regret that our Clerk, Victoria, has decided to resign.
Victoria is already the full-time clerk at Fremington and together with her family commitments, feels that she no longer has the time to commit to an additional parish.
Victoria has had a profound effect on the way our Council operates. She has been instrumental in implementing so many positive changes and as a result enabled us to win the foundation level under the local council award scheme for the way the council is run. She has been successful in winning grant funding which, in turn, has improved the fabric of our parish.
Her knowledge of the workings of parish councils is second only to her professionalism and she will be sorely missed by all of us.
We wish Victoria all the very best in her future career and family life and thank her for all her help.
Berrynarbor Parish Council is seeking a
PARISH CLERK & RESPONSIBLE FINANCIAL OFFICER
Berrynarbor is an active Parish Council looking for someone with a 'can do' attitude who is self-motivated and conscientious. Applicants will need to be computer literate and able to prepare council agendas and record minutes; they should also be familiar with financial procedures and able to communicate effectively with a range of organisations and members of the public. The ideal candidate will have prior experience or knowledge of Local Government. The salary is in line with NALC's scales and is dependent on experience and qualifications. The position is 25 hours per month to include attendance at monthly evening meetings [currently held virtually]. For an application pack or informal chat please contact: Cllr Adam Stanbury, Chairman on 07788668903 or
e-mail adamstanbury@berrynarborparishcouncil.org.uk
23
---
MOVERS & SHAKERS NO. 88
DAVID LEWIS OLIVER
30.6.30 - 20.6.18
Founder [with his wife Patricia] St John's Garden Centre, Barnstaple
In the troublesome days of Lockdown during the Covid-19 crisis, there has been a blossoming of interest in our gardens, partly through fear of shortages of vegetables, but mainly that it has been a healthy and rewarding activity at a time when we were confined to our homes. Gardens have never looked more cared for - even if no one else can see and appreciate them! But now, thankfully, garden centres are back in business. North Devon's leading Garden Centre, St John's, and its offshoot at Ashford, are both seeing increasing sales. But how did St John's Garden Centre come about?
Well, we need to go back to 1958, when David Oliver and his wife Patricia, already having two baby sons, Nicholas and Simon, started a nursery as a smallholding, growing and harvesting flowers and vegetables for sale in the area.
David was used to the horticultural side of this business. He moved to North Devon in 1942 when he was 12. His father, Colonel John Oliver was in the British Army, stationed at Chivenor at that time. He was based at the Imperial Hotel and the rest of his family lived in Hele. He was de-mobbed in 1945 and looking for a settled home for all of them. His brother lived at Pickwell Manor, Georgeham, and offered one of his cottages to the family, and a bit of his land to grow vegetables and flowers. Colonel Oliver jumped at the idea. He had a large family to feed: four boys and two girls. So, he started a market garden, producing mainly tomatoes and cucumbers as well as flowers. The business was a great success, particularly the flowers.
Nick, David's oldest son, remembers his grandma picking bunches of polyanthus, anemones and other flowers which were sent by train from Braunton to Covent Garden. Their salad produce and other vegetables were popular locally.
After National Service, David went to Bicton Agricultural College to pursue his interest in horticulture. There he met Patsy and they married in 1956.
All four sons continued the market gardening, but by 1958 David decided to splash out on his own. He and Patsy set up a smallholding, growing harvesting and selling vegetables and flowers, on a site that had been his potato field. This is now home to the Rose Lane Tesco supermarket.
Not many years later, they acquired the piece of land adjoining them. This came about due to the upheaval caused by Dr Beeching in 1963, closing the railway between Barnstaple and Taunton which ran through what is now the site of the garden centre. When the land along the line came up for sale, a consortium of Adjacent Landowners was set up between Barnstaple and East Anstey, each tendering for his piece of land. Nick recalls that his father paid £100 for his bit - and £130 to his solicitors to complete the job!
By 1971, the enterprising couple expanded their business calling it St. John's Nurseries, where they grew mainly salad produce. Nick recalls that the family lived at one end of the packing shed and the fruit was housed at the other! He also remembers that he had a childhood diet of split tomatoes and odd-shaped cucumbers!
St John's Garden Centre opened in 1981 at its present site in Newport. Initially it was fairly small but has been added to over the years to become the thriving business that we all love.
David's ambition didn't stop there. In 1989 he opened a branch in Taunton which ran for 11 years. During that time, however, it was hard to run, mainly because of the difficulty in finding the right staff. The Hydrological Centre and a national bank mopped up the good folk. When a Pensions Company approached him asking if he was willing to sell, he agreed!
By 2007, David and Patsy made a nominal handover of directorships to their three sons, Nick, Simon and Tom. This gave David more time to enjoy his hobby of sailing - his special interest. In 1971 he had helped found the Watermouth Yacht Club. It is still open to local members and visitors. Watermouth harbour, as we all know, dries out at low tide, resulting in yachtsmen having to stay at sea or not sail at their convenience, so eventually David moved his boat to Plymouth. Here he became interested in the RNLI and ended up as President of the Barnstaple and District branch.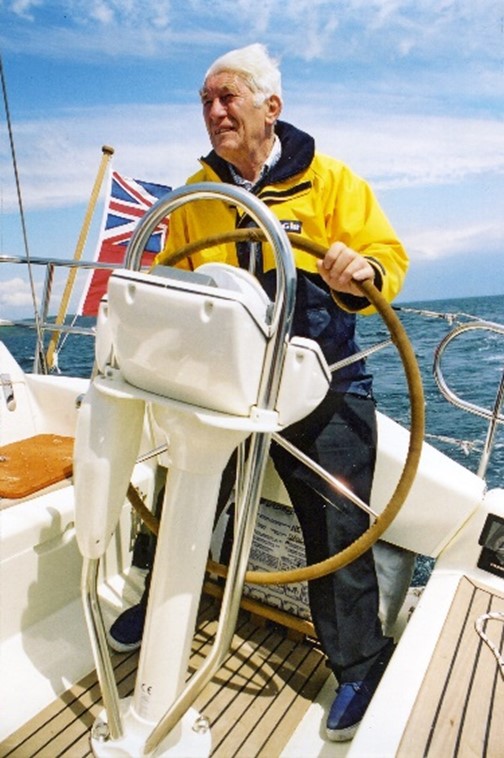 All his activities didn't stop him from keeping a friendly eye on the Garden Centre and he visited most days when available.
Expansion is still continuing. In 2018 the former Wyevale Garden Centre at Ashford became another branch of St John's. It is going well, and doesn't detract from the main Barnstaple branch whose sales are still increasing. St John's now employs a sizeable 120 staff.
Most of the forthcoming events have been cancelled due to the virus, but it is hoped that by the end of October, the annual Pumpkin Carving Festival [open to all ages] will still be held at Ashford.
All is positive news at St John's Garden Centre. It has now been trading for 62 years. This, says Nick, is largely due to its founder's philosophy. He says, "David was an inspiration to his family and to his business. He wanted people to enjoy their visit to his Garden Centre. Then they would always come back". He also instilled in his staff an ethic of enjoying work, meeting and talking to people.
David Oliver died on 20th June 2018 after a short illness, but Patsy, now in her 90's is still enjoying life and is visited most days by one of her sons. Thanks to this enterprising couple starting the business, we can all keep our gardens, patios and homes well supplied with vegetables, fruit and flowers, buy the necessary gardening products and furniture to relax in afterwards, treat our pets, watch the happy faces of the young ones as they explore Jungleland, enjoy a coffee and homemade scone or more substantial meal in the Conservatory Cafe, or even buy a wooden mousetrap. It's all there!
Thank you, David and Patsy.
Special thanks to Nick Oliver for information and use of family photographs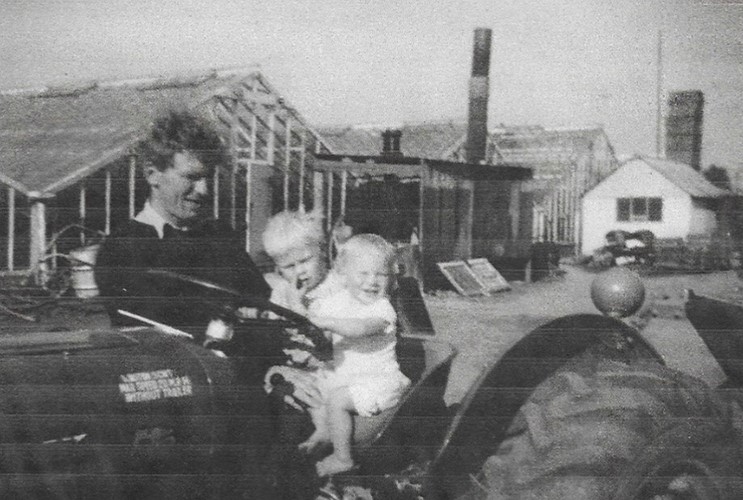 David with Nick and Simon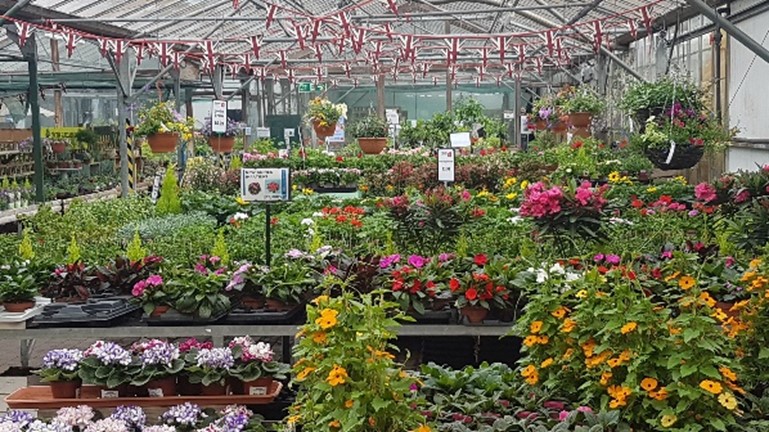 24
---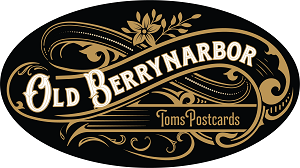 Artwork: Angela Bartlett
OLD BERRYNARBOR NO. 186
Sterrage Valley
This month I have chosen two cards of the Sterrage Valley. The first a Frances Frith No. 63954 first published 1911; the second published by E.J.B. and given the number 504.02, which has been printed in Saxony, Germany, c1903.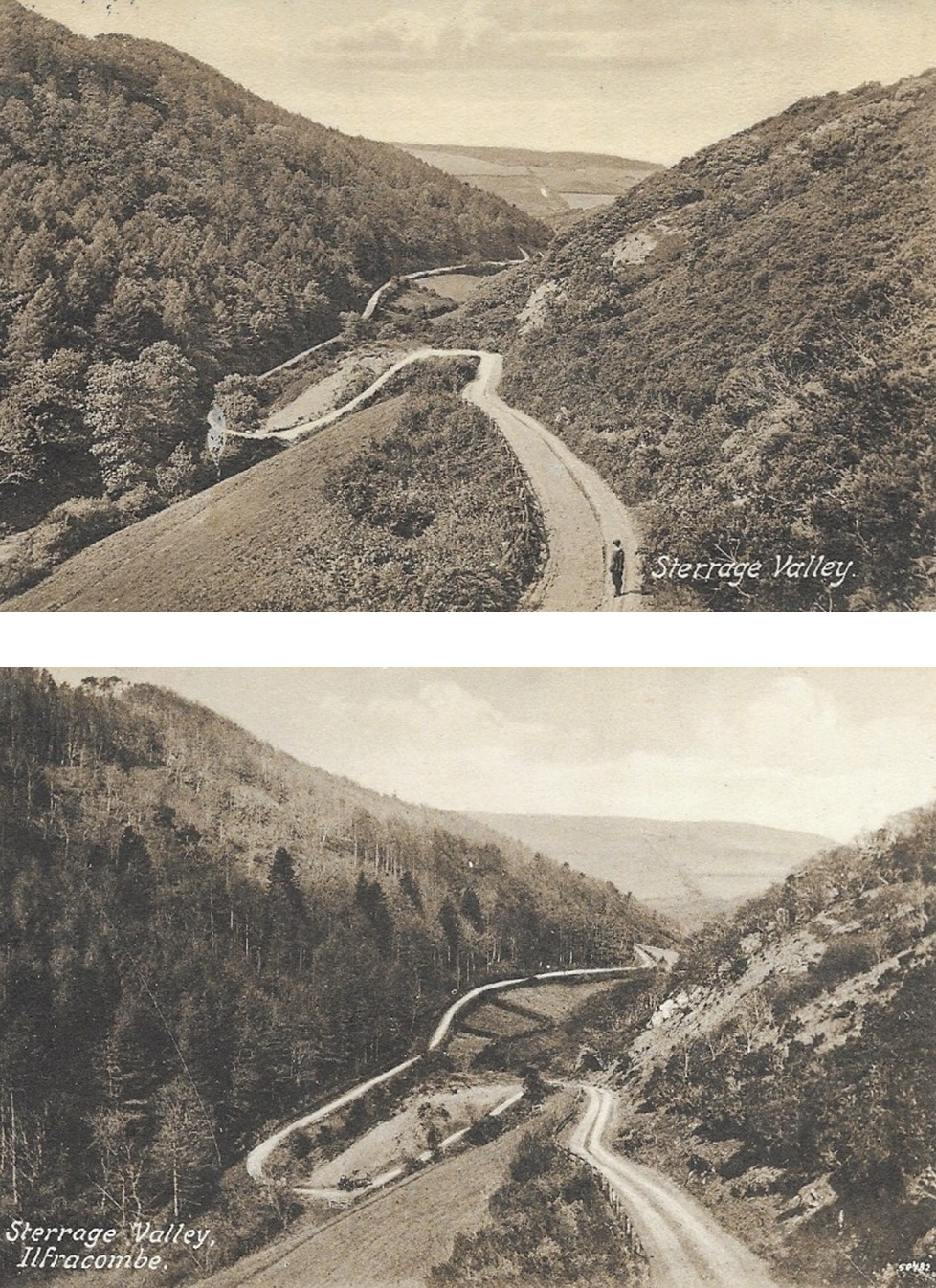 Both sepia cards, virtually the same view, show just how steep and twisting the road is. These days the trees have grown so high on both sides that the road ahead is hidden from view.
In the case of the Frith card, there is a person in the foreground, but as with Frith cards, this could have been added to enhance the view! The card has an Ilfracombe 4th July 1918 postmark with a red one penny stamp, and has been sent to Nurse N. Butler, Nursing Home, Manor Park, Lee, London S.E.13. The message reads: "We are going to drive round this track one day, it is very dangerous part good for the nerves. Love from S. Spence."
All our village roads would have been just scraped stone, so very dusty in the summer and very slippery in the winter or when it rained! Tarmacadam did not appear on our roads or lanes until after the First World War.
Tom Bartlett
Tower Cottage, July 2020
e-mail: tomandinge40@gmail.com
25
---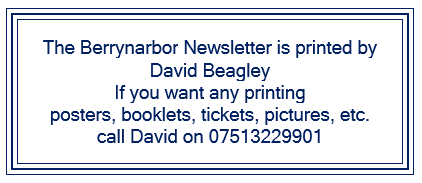 26
---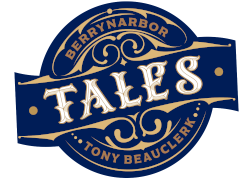 Artwork: Angela Bartlett
THE PUNISHMENT FITS THE CRIME!
The Headmaster of a small, private school, Prime College, used to have pupils back to his house for special tuition when taking exams.
He would leave the key to his home under a stone so that if he was late to come in, the boys could let themselves in and sit and wait for him to arrive.
However, two boys, Brian and Vic, knew that on that afternoon he would be attending a fete, so they decided to go and have a look in his house.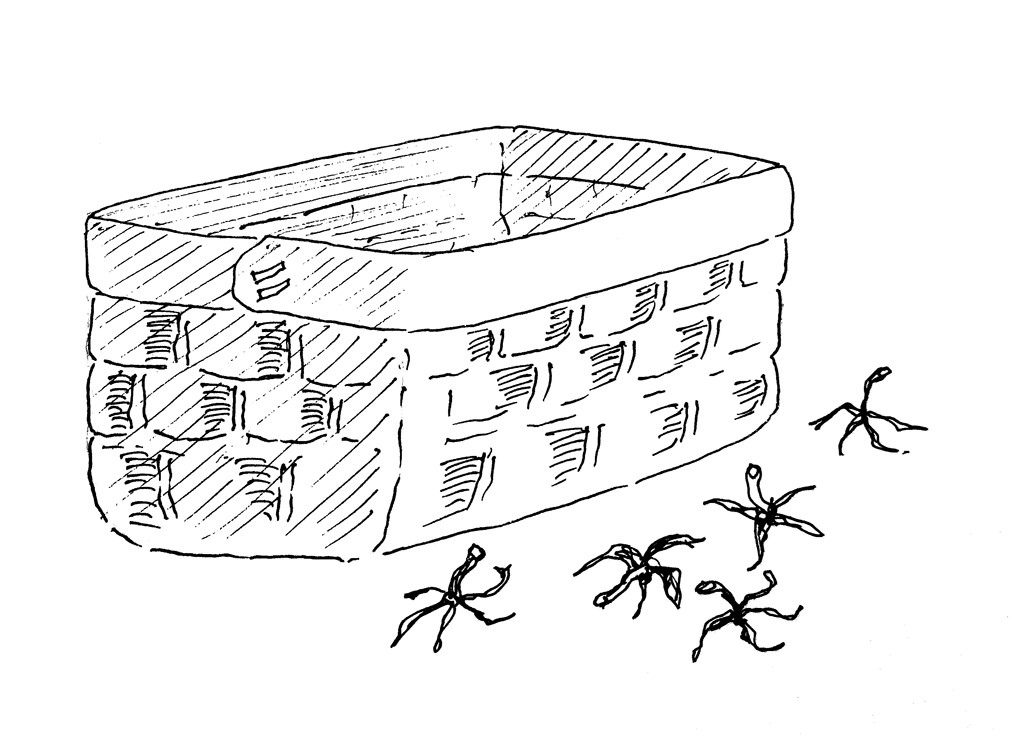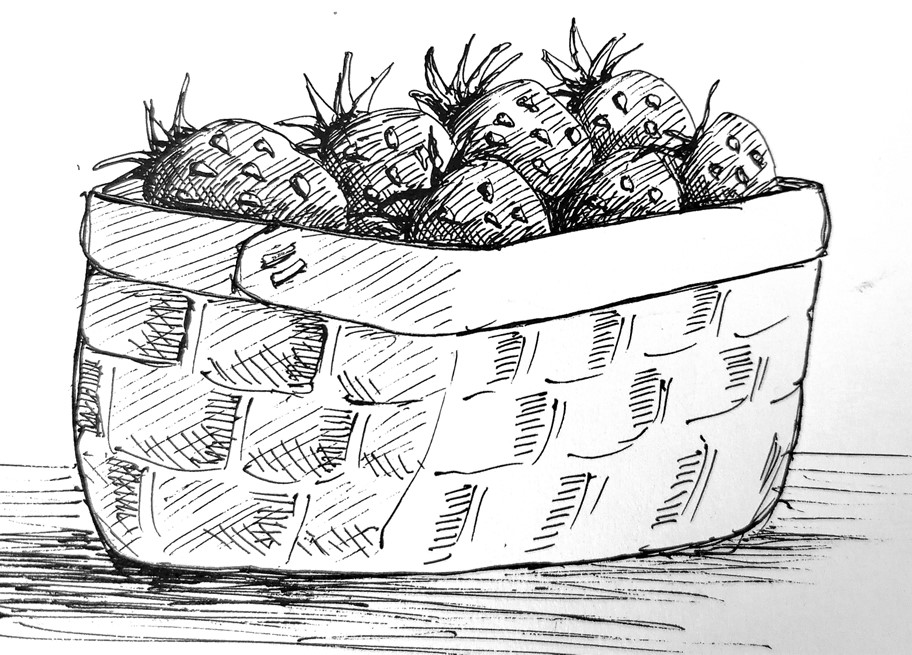 Illustrated by: Paul Swailes
They let themselves in and saw a large punnet of ripe strawberries on the kitchen table. The temptation was too great! They scoffed the lot and left.
The next morning at assembly the Headmaster demanded that Brian and Vic attend his study.
"I have brought you here to punish you for taking my strawberries." he said.
"Sorry, Sir" the lads said together. "But how did you know it was us?"
"Well you both have strawberry juice down your shirt fronts." the Headmaster replied.
"I think six of the best for both of you." And with that he took out his cane and justice was done.
Tony Beauclerk - Stowmarket
27