---
PROPOSAL IN THE SAND
Dean [Hawker] and Steve [McCarthy]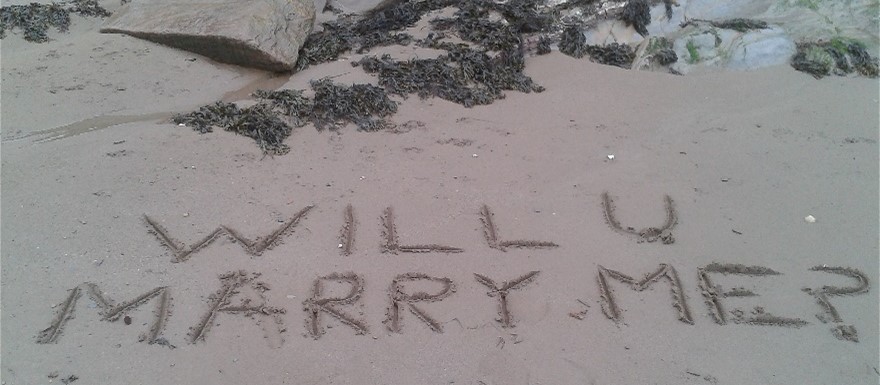 You might like to know that Steve proposed to me at Combe Martin bay where we have both spent many happy hours together, also with parents, friends and family.
As you can see from the photo, it was done in the sand and I had no idea. Of course the answer was 'Yes' - after 26 years together - we won't forget this leap year!
Congratulations and best wishes to you both.
---
I'M STILL STANDING
The North Devon Group of Epilepsy Action is putting on a charity concert, called "I'm Still Standing", at the Ilfracombe Pavilion Theatre on Friday, 24th October, doors open
At the event, Guy Stoker, a successful songwriter who has epilepsy and attends the North Devon group, is reuniting to perform with his brother and acclaimed guitarist, Gavin Richardson, for the first time in 10 years. The band will play an eclectic variety of music including rock 'n' roll and songs from the shows, so there will be something for everyone. There will also be supporting artists.
Guy has previously recorded a charity CD with renowned opera singer, Suzannah Clarke and has organised concerts in the past but this one is very relevant to him because of the charity for which it is raising money. The name of the concert sums up his story perfectly. Although having suffered setbacks in the past, he is still standing and able to do something as big as putting on a concert. Guy is keen to show to others who suffer from epilepsy that despite having the condition you can still shine.
Guy has had epilepsy since he was twelve years old. He wasn't aware of Epilepsy Action or its services until he attended a conference in Exeter last year, an experience he found quite moving as it was the first time he had been in a room full of people who knew exactly what he was talking about. At last he felt he was not the only one. After that he joined the North Devon Group and found it helped him enormously.
The group provides support through monthly meetings in Barnstaple Library, where people with epilepsy and their carers can come together to discuss and share their experiences. Our members also attend excursions and meals, in turn providing a social outlet for those who, due to the severity of their condition, might not otherwise participate in such activities. Both the outings and the hire of the room for group meetings are paid for out of branch funds.
The funds are also used to assist members in attending seminars and conferences on epilepsy. Our own regional seminar is taking place on Saturday, 1st November and hopes to increase awareness of epilepsy in the North Devon area.
Guy's aim is to raise in excess of £1,000, monies which will go towards the cost of our seminar, the North Devon Epilepsy Action branch funds and the Southwest Epilepsy Action Regional Forum, a recently formed group of which we have become an active member. Bringing together all the Epilepsy Action branches in the Southwest, it is hoped that as a larger body we can improve services for people with epilepsy in our region.
Some of the money raised will also help fund the vital advice and information services provided by Epilepsy Action. Last year the charity directly helped over 660,000 people through a range of services including its Helpline, Advice and Information Centre, Branch Network and Accredited Volunteering Scheme.
Tickets for the 'I'm Still Standing' concert cost £10 and can be obtained by telephoning the Landmark Box Office on 01271 324242.
For more information about the concert or the North Devon Group of Epilepsy Action, please contact me, the secretary, on [01271] 863087.
Steve McCarthy
---
THE FATE OF RED SALLY
[may be sung to the tune of 'Oranges and Lemons']
'Help' cried Red Sally
'I am stuck in the Valley'.

'How did she get stuck?'
Asked a Combe Martin Bay duck.

'By growing too big',
Said an Ilfracombe pig.

'What was her fill?'
Asked the Hagginton Hill.

'All of my cream teas',
Said a cottage in The Lees.

'What will be her doom?'
Asked the waves of Woolacombe.

'Let's starve her 'til Sunday',
Said the Island of Lundy.

'She might get too thin',
Said the old Hunters Inn.

We have a good plan',
Said Little and Big Hangman.

'What might that be?'
Asked the fuchsias of Lee.


To grant her a wish,'
Said a Watermouth fish.

'Free me from the Valley
Is my wish', cried Red Sally.

'But a promise you must say',
Said the trees of Woody Bay.

'To look after these lands',
Said the bright Saunton Sands.

'From the streams to the harbour',
Said the hills of Berrynarbor.

'I'll care for you all',
Red Sally cried out her call.

Now you'll live for ever',
Said the Exmoor root heather.

'How do you know?'
Asked the church at Mortehoe.

'Look at us!' the fields said
'We have all turned deep red.'

For Red Sally had a rebirth
And is now Mother Earth!

Stephen McCarthy
---
HEAVEN VALLEY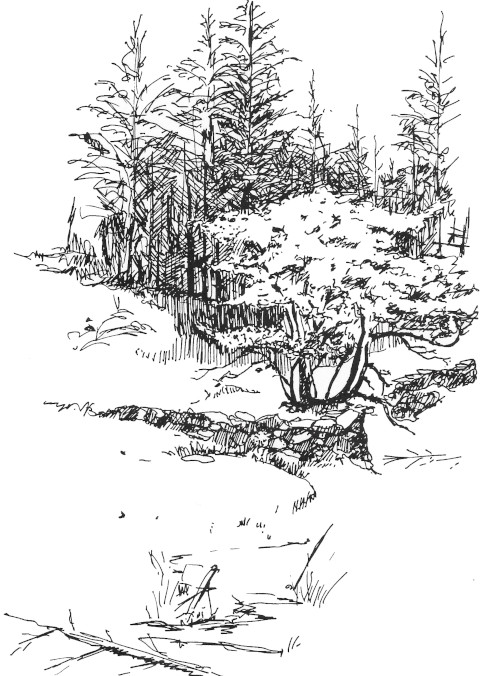 It was back in nineteen-ninety
When we first came down this way,
To a bright and cheerful guest house
Nestled in Combe Martin Bay.

Soon we had a motor caravan,
And then set ourselves a goal
To find the perfect site to stay on -
That's how we met 'Mr. Mole'!

Through the seasons we'd keep coming
For a total hard to tally,
But each time just fell more in love
With the village tucked in Sterridge Valley.

Work colleagues thought we were quite odd
Whenever we took holiday.
"What a surprise, they've gone off again
To that village in Devon," they'd say.

Yet who can resist such scenery,
With its air of tranquillity?
For us, it's our own little sanctuary
Hidden from all the stress of the city.

Its people are so warm and friendly
Whenever through the village we'd roam,
So we soon bought a neat static van,
And Berrynarbor became our second home.

But the stresses and strains of the city
Made our holidays become even worse:
Each arrival here was such a blessing,
Each return home became a real curse.

But now we've made our dreams come true,
As we begin our new life here in Devon,
At first in our van on the Park,
Up the Valley that we call our heaven!

Stephen McCarthy
Berrynarbor Park
This poem is self explanatory. Stephen and Dean Hawker, after nine years holidaying here, have now moved down from Brighton and are buying a home in Ilfracombe. They are both involved in 'Care' work. Welcome and good luck!
Illustration by: Peter Rothwell