Old Berrynarbor

Postcards featuring views of the village from times gone by.
by - Tom Bartlett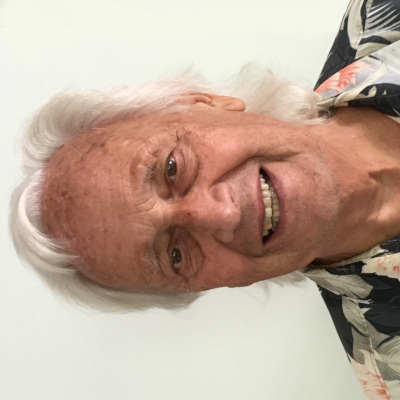 ---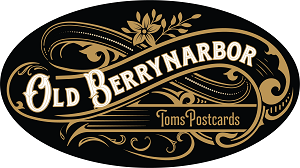 Artwork: Angela Bartlett
OLD BERRYNARBOR - VIEW NO. 199
Pitt Hill and Hagginton Hill
For this October issue I have chosen two early upright postcards of Pitt Hill and Hagginton Hill, both taken by William Garratt.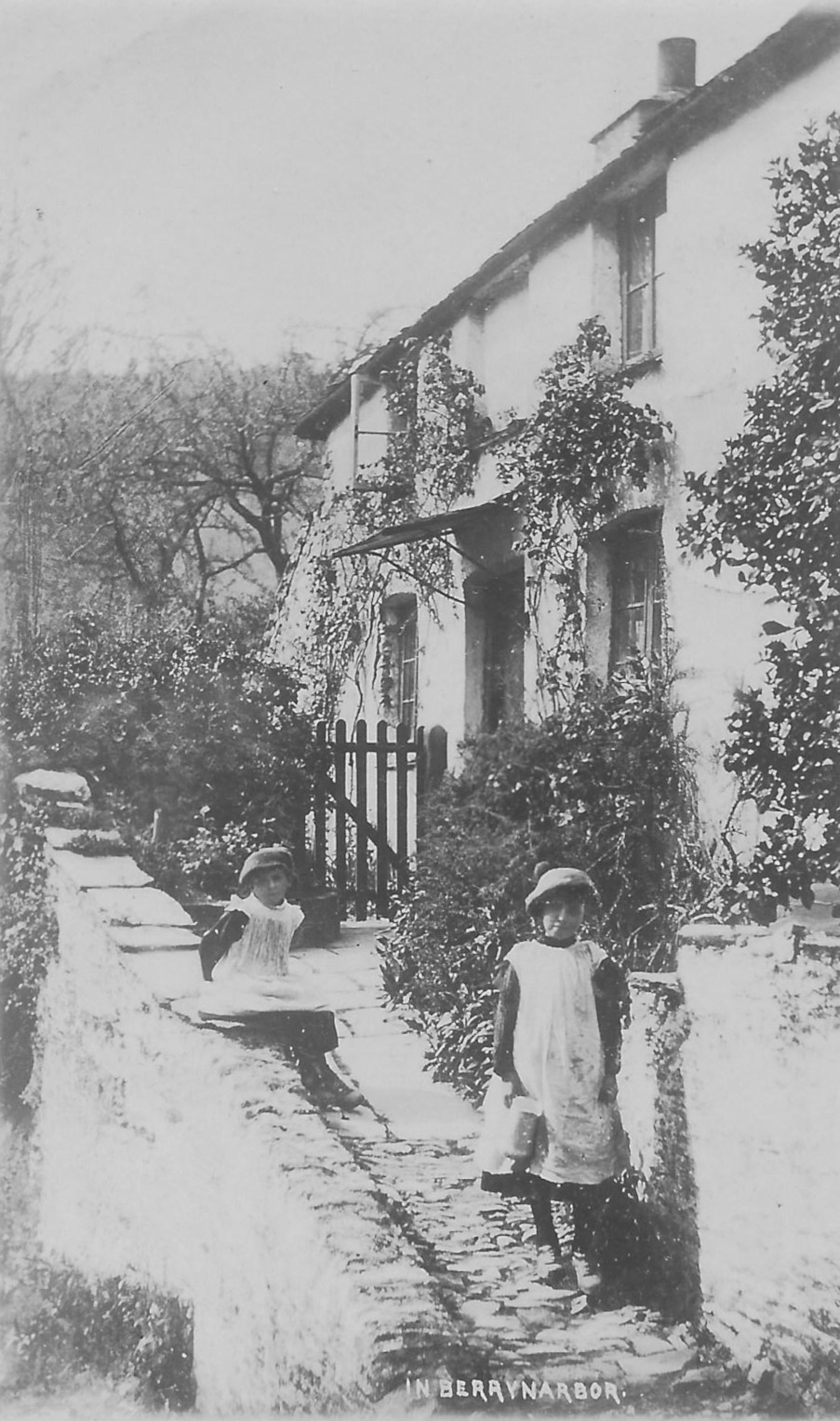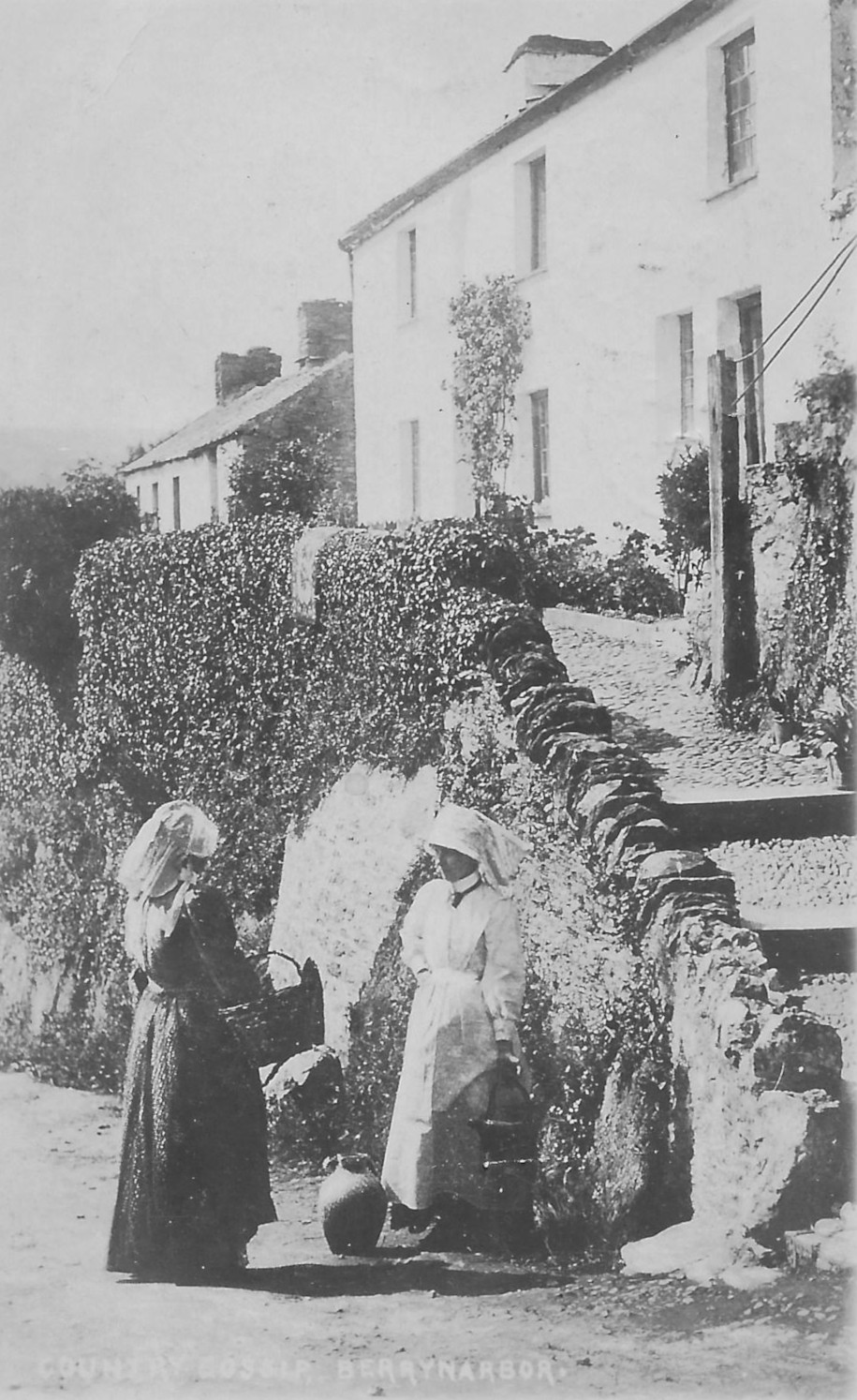 The first card, numbered 37, shows two young girls outside Whitecote, 33 Pitt Hill. This is the first cottage on your left as you come up Pitt Hill into the village, and looks much the same today. The older girl is holding a jug and I presume waiting for the milkman to arrive!
The postcard has an August 27th 1904 postmark and has been sent to Miss Hicks, 30 Egerton Rd, St. Judes, Plymouth.
The message reads:
"Dear Em This is N Leys house that use to be. don't think I have sent it before. Thanks so much for hat & jacket it fits lovely. When you have finished with that other hat Aunt E told me about that you was going to give me. I will pay the postage. With love to you all Em."
The second postcard, numbered 31, shows two ladies standing outside a cottage on Hagginton Hill, with the heading 'Country Gossip'. One lady is holding an earthenware jug with another jug on the ground, presumably for water; the other lady is holding a large wicker basket.
It has an October 12th 1904 postmark and has been sent to Miss J. Jennings, East View, North Road, Bradworthy.
The message reads:
"Dear J. Thanks very much for P.C. but please when you send one again you must put 1 [penny] stamp instead of an 1/2 one as we have to pay the other end. Love to all R Hope you will like it."
This being the final Newsletter, I should like to thank Judie for all her hard work editing, compiling and effort put in since our very first Newsletter way back in August 1989.
Tom Bartlett
Tower Cottage, September 2022
e-mail: tomandinge40@gmail.com
---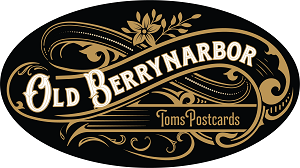 Artwork: Angela Bartlett
OLD BERRYNARBOR - VIEW NO. 198
Pitt Hill
For this issue I have chosen two early postcards of Pitt Hill. The first shows Fuchsia Cottage on the right, whilst opposite we see Forge Cottage, 37 Pitt Hill and finally the Old Post Office, with the steps leading up to the entrance.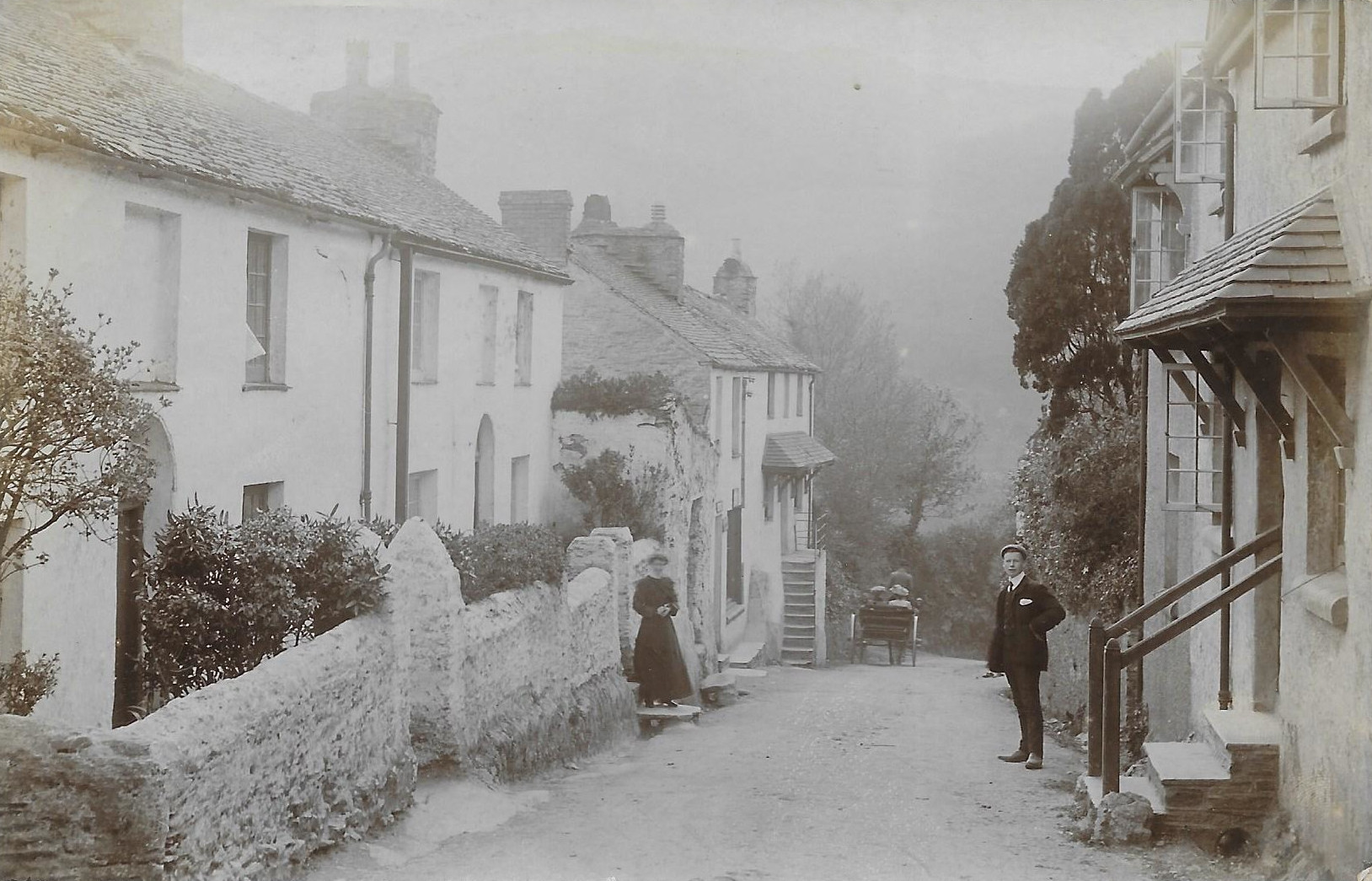 The card was addressed to Mrs. Hicks, 30 Egerton Road, St. Judes, Plymouth and is postmarked Berrynarbor May 14 1906 as well as Ilfracombe 5.45pm May 14 1906. The message reads:
"DM I had this taken Good Friday have sent you one
to see - hope you are all well with love from AH"
Sadly I am unable to name the two people shown nor the couple being driven down the hill in a horse-drawn open carriage.
The second postcard is another photograph taken by William Garratt, numbered 34, and shows the view up Pitt Hill. On the left is Fuchsia Cottage, No. 39. Note the sign for The Globe Inn.
The young lady in the picture is Em Hicks and the following message is written on the address side of the card:
"Dear Em I suppose you know that Em Harding is
engaged. Will Poole told us but we don't know who to
I expect you will recognise me in this picture from Em"
Written in red ink, the card is addressed to Miss Hicks, 30 Egerton Rd, St. Judes, Plymouth. The two postmarks are Berrynarbor MR 23 1904 and Ilfracombe 7pm MR 23 04.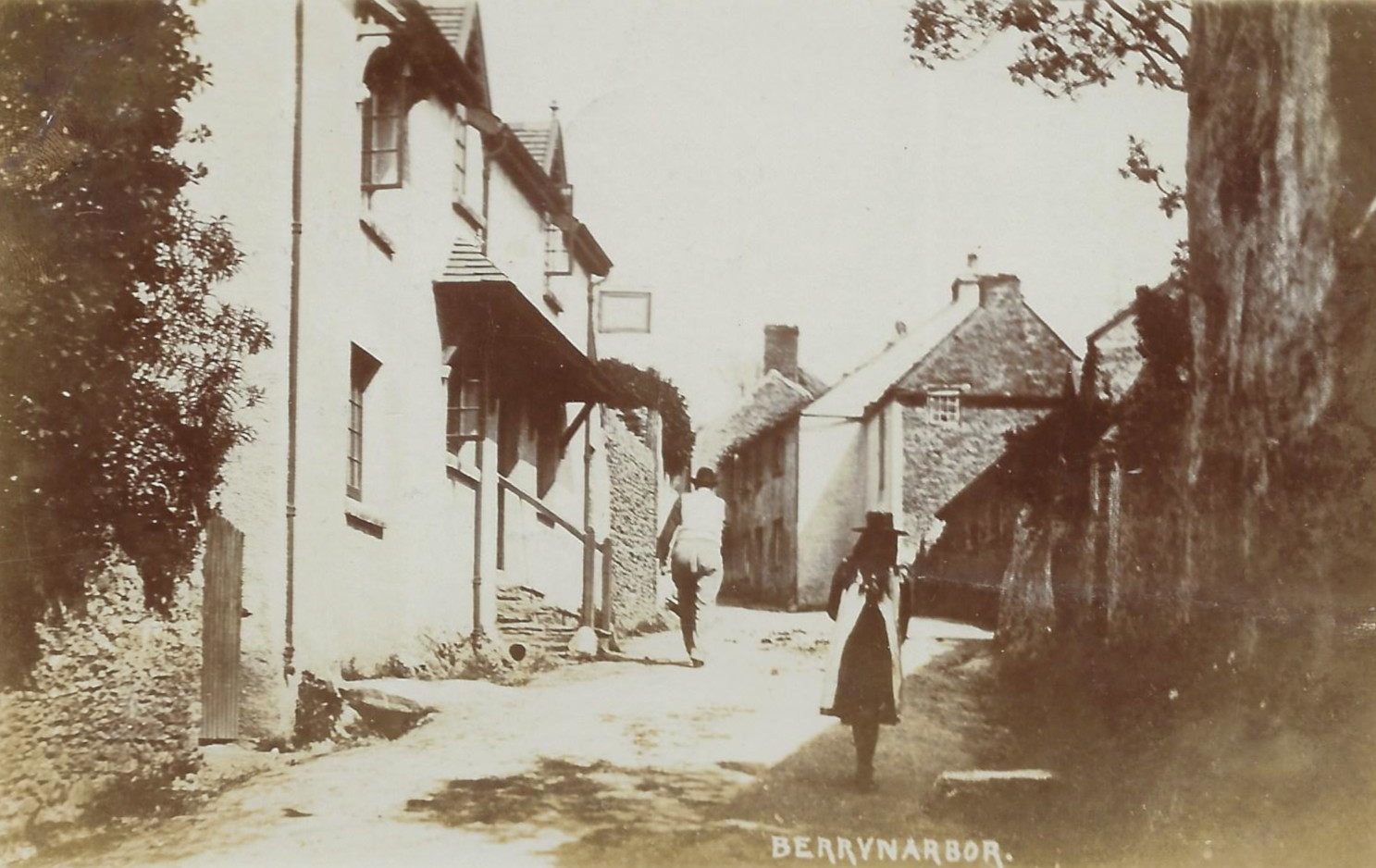 Tom Bartlett
Tower Cottage, July 2022
e-mail: tomandinge40@gmail.com
---
In his article for Edition 42, June 1996, View No. 41 - Berrynarbor Post Office - Tom wrote:
The first entry relating to post in any directory for Berrynarbor is that in White's 1850 Directory for Devon, where the following information is given: FOOT POST: Geo. Burgess, to Ilfracombe. Foot post indicated that the named person would accept and deliver letters/post received from the named Postal Office, in this case Ilfracombe. George Burgess, a resident of Berrynarbor, would walk to Ilfracombe first thing in the morning and then walk back to Berrynarbor to deliver any post/letters he had picked up. He would walk in again in the afternoon, taking the post/letters from Berrynarbor for onward consignment.

Roger Morgan in his book on Devon Post Offices stated that the Berrynarbor Village Post Office commenced in 1855 and remains to the present time. This is reinforced by Kelly's 1856 Directory, Billing's Directory, the Post Office Directory of 1866, Morris's Directory of 1870 and Harrod's 1878 Directory. Each gives William Hicks as either 'the receiver', the 'Sub-Master' or the 'Post Master'. William Hicks continues to be mentioned as Sub-Postmaster in all directories up to Kelly's 1902, when the following entry is given: "Post: M.O. 7 T.O., T.M.O., S.B.

Express and Parcel Delivery & Annuity & Insurance Office - William Hicks, sub-postmaster. Letters through Ilfracombe, received at 8.45 a.m., despatched at 5.00 p.m. He is also listed as Parish Clerk and tailor.

William Hicks was born in 1825 and died at the age of 80 in February 1905, having served as sub-postmaster for over half a century, and Church/Parish Clerk for 54 years! His wife, Jane, died a year earlier in 1904 at the age of 85, and their son, Thomas born in 1861, took over as sub-postmaster, a position he held until his death in August 1922. 

The picture, taken by Garratt, shows the original Berrynarbor Post Office. It was included in the first Watermouth Estate Sale on 17th August, 1920, and under Lot 48 sold for 350 guineas, a figure that the then tenant and postmaster, Tom Hicks and his wife Sarah, could not afford.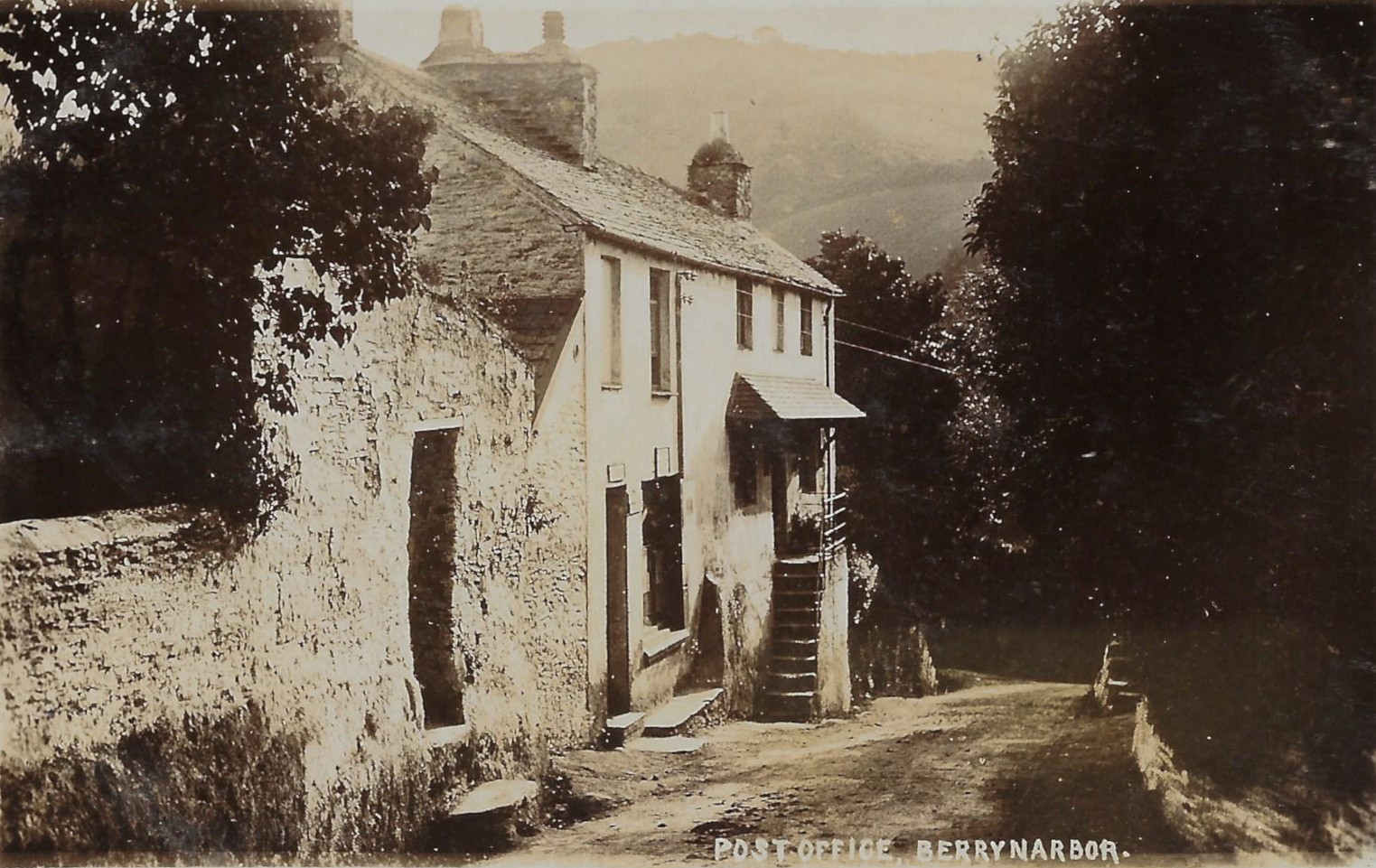 ---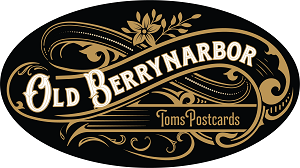 Artwork: Angela Bartlett
OLD BERRYNARBOR - VIEW NO. 197
For this the June issue I have chosen two postcards of our Parish Church, St. Peter's. Both pictures have been taken by William Garratt around 1907.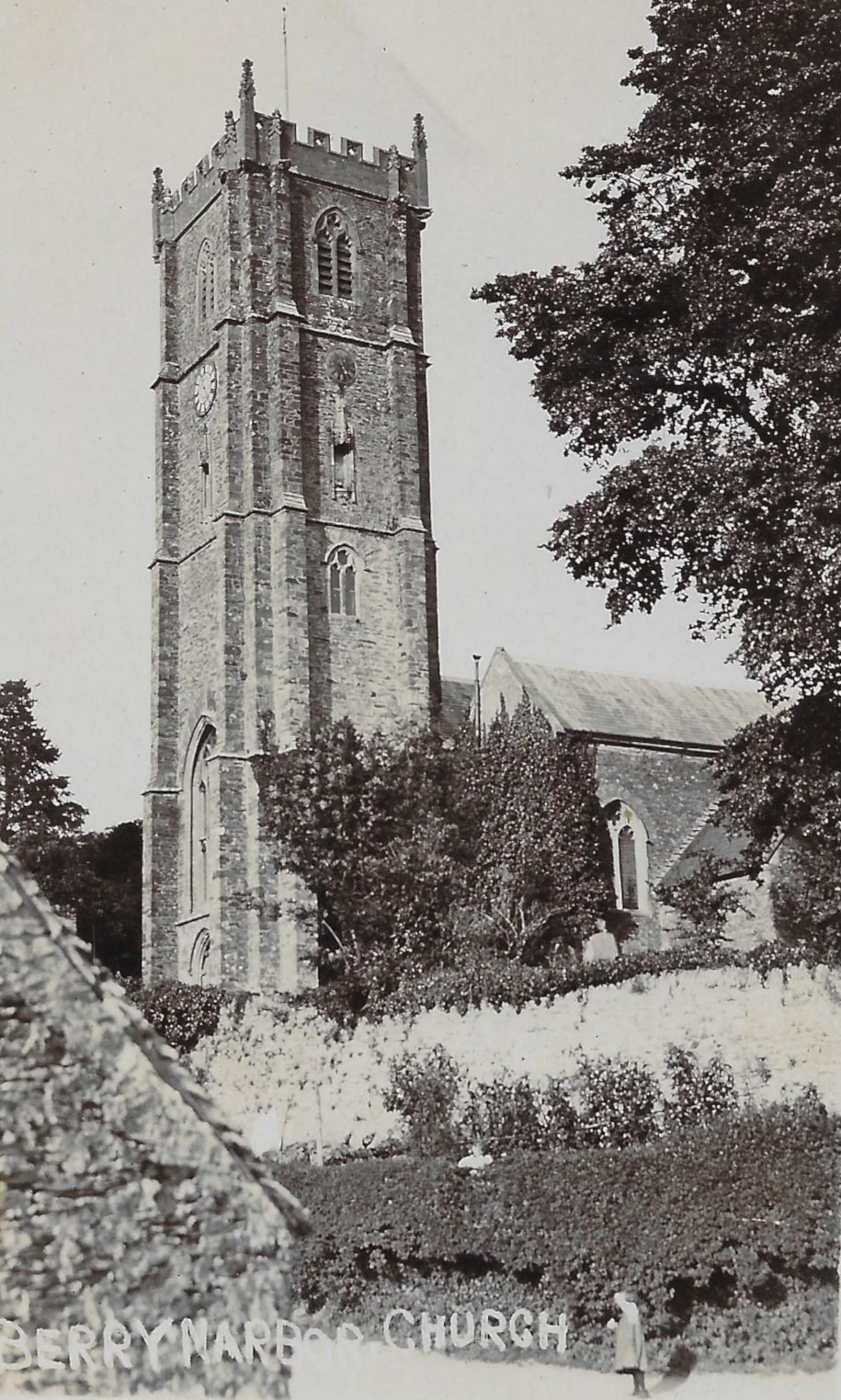 The first card, No. 47, shows the church and tower and includes part of our garden and church wall at Tower Cottage. The structure on the bottom left is the wall of our garage which lies adjacent to The Globe public house. On the right can be seen a young girl wearing black or dark stockings.
The second card shows the church, lychgate and steps leading up to it from the village centre and is numbered 49. The slate inscription set into the roof gable above the lychgate states:
March 13th
Ano Dm. 1671
GEORGE WESTCOTT
Rector
THOMAS TUCKER - JOHN
REED - CHURCH WARDENS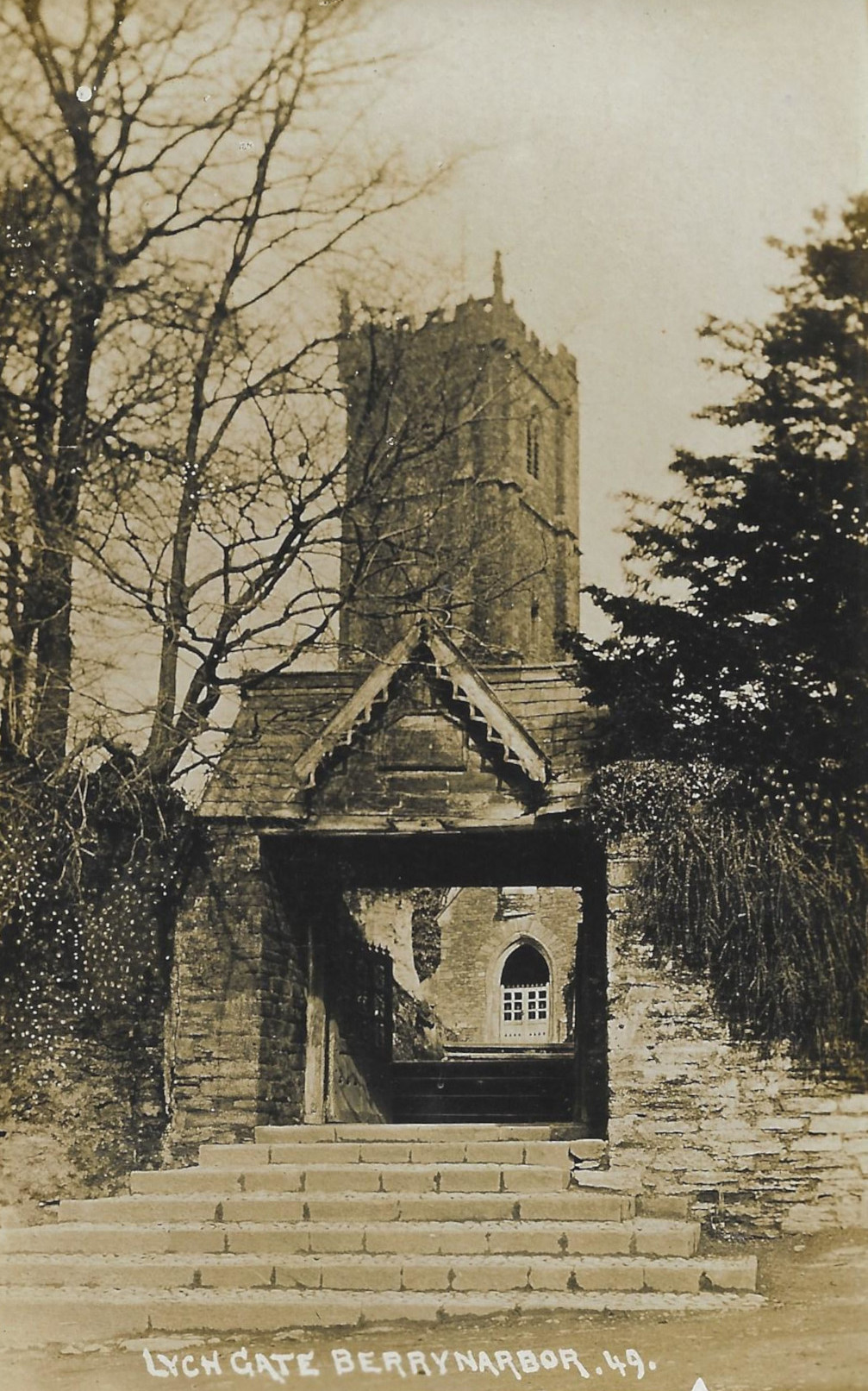 The Rev. George Westcott was the Rector of St. Peter's from 1630 until 1674 and he, like most North Devon clergy, was a true Loyalist. However, his second wife, Grace Wychalse, was the sister of John Wychalse, the Parliamentary Commissioner given the task of ejecting Loyalist clergy!
Note: A ychgate is a wooden structure with a roof and open sides place at the entrance to churchyards to provide space for the reception of a coffin. The word lych is Saxon meaning a corpse.
Tom Bartlett
Tower Cottage, May 2022
e-mail: tomandinge40@gmail.com
---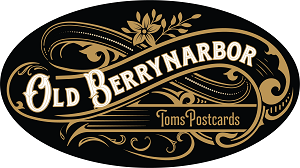 Artwork: Angela Bartlett
OLD BERRYNARBOR - 196
Easter Wishes
This year for Easter I have chosen four early postcards from my collection.
The first, Happy Easter, was printed in Germany exclusively for Post Card & Variety Stores Ltd., London, N7, Series 825 in around 1910. It shows a young girl dropping the four coloured eggs she is holding on a tray, and two little chicks that have just hatched.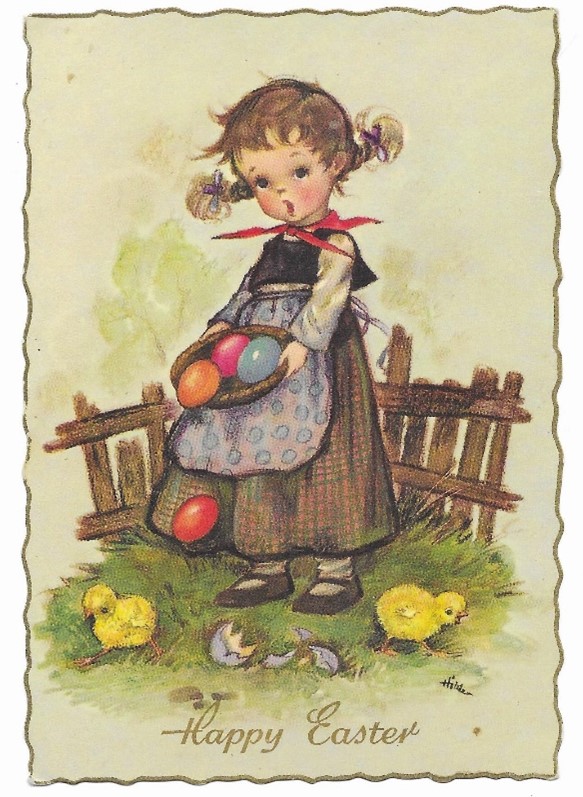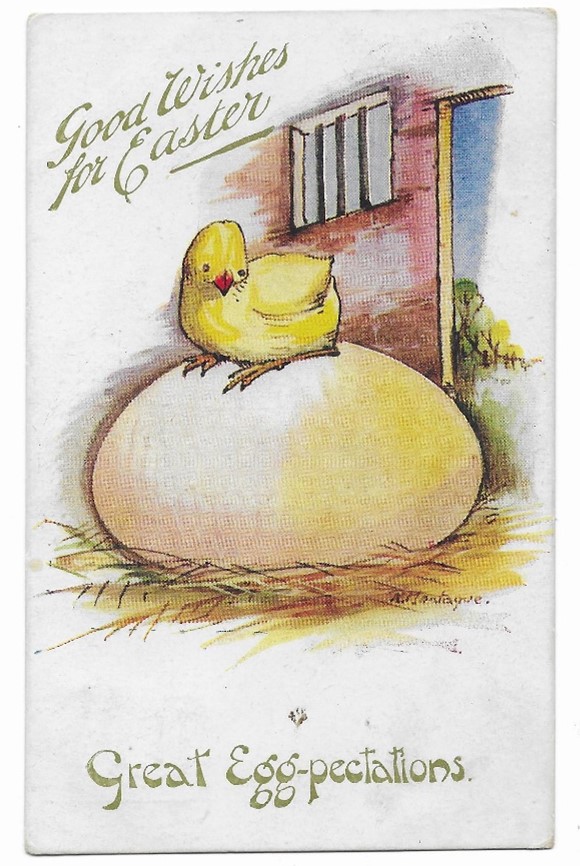 The second card, Good Wishes for Easter, Great Egg-pectations, was printed and published by J. Salmon of Sevenoaks, Kent, England. It was sent from Petworth in Sussex to Southsea, Hampshire, and is dated April 11th 1926. It shows a small chick on a very large egg!
J. Salmon Ltd., founded in 1880, was a UK-based printing and publishing firm, the oldest established postcard and calendar publisher in Britain. It ceased trading in 2017.
This third card, A Holy Easter, which shows an angel surrounded by snowdrops, was published by Misch & Company in their Easter Praises Series No. 1711. It is postmarked 5.15 p.m. April 15th, 1911. It was sent to Master Alex Hinchy, Main Street, Birr, and reads: Wishing Sandy a very happy Easter. Don't take too many eggs.
Birr is a town in County Offaly, Ireland. Between 1620 and 1899 it was called Parsonstown, after the Parsons family who were local landowners and hereditary Earls of Rosse. Birr is a designated Irish Heritage Town with a carefully preserved Georgian heritage.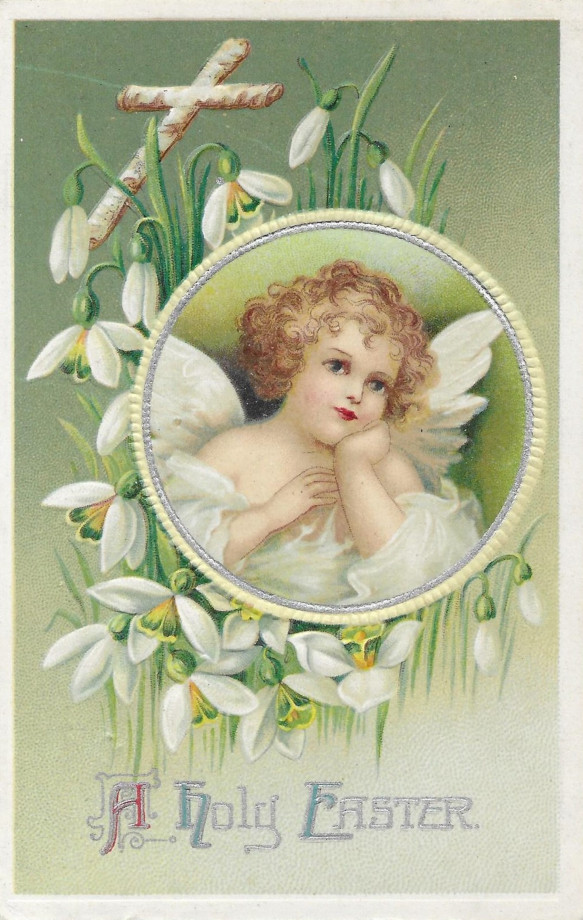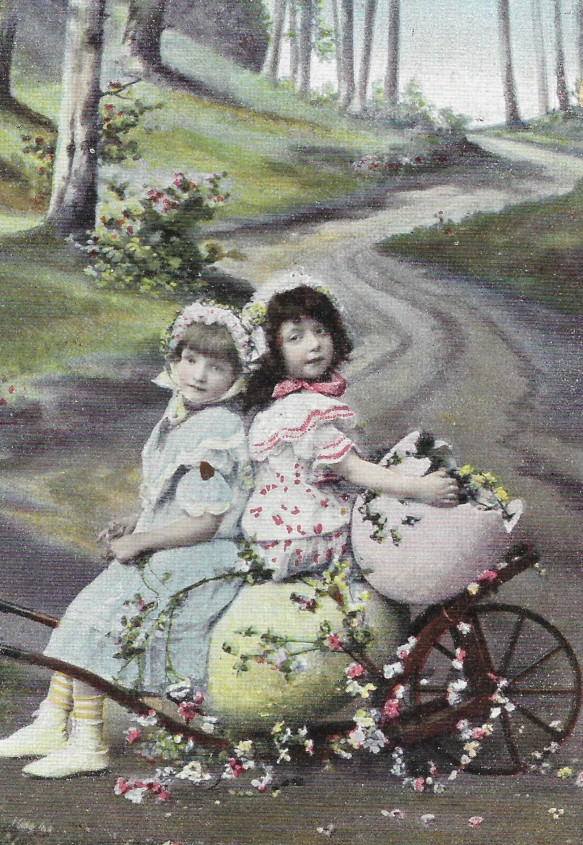 This last card, printed in Germany, shows two little girls sitting on a large egg on a barrow. One little girl is clutching a broken egg which is filled with flowers. Sent to Master Conrad Young in Walpole St. Andrew, Near Wisbech, Norfolk, in June 1918, it reads: My Dear Conrad, I am wondering what has happened that you have not written. Please write soon. In haste, Love to all from Jessie.
I wonder what had happened!
Tom Bartlett
Tower Cottage, March 2022e-mail: tomandinge40@gmail.com
---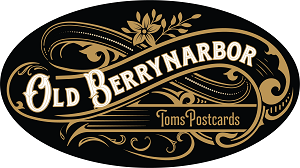 Artwork: Angela Bartlett
OLD BERRYNARBOR - VIEW NO. 195
Watermouth, Berrynarbor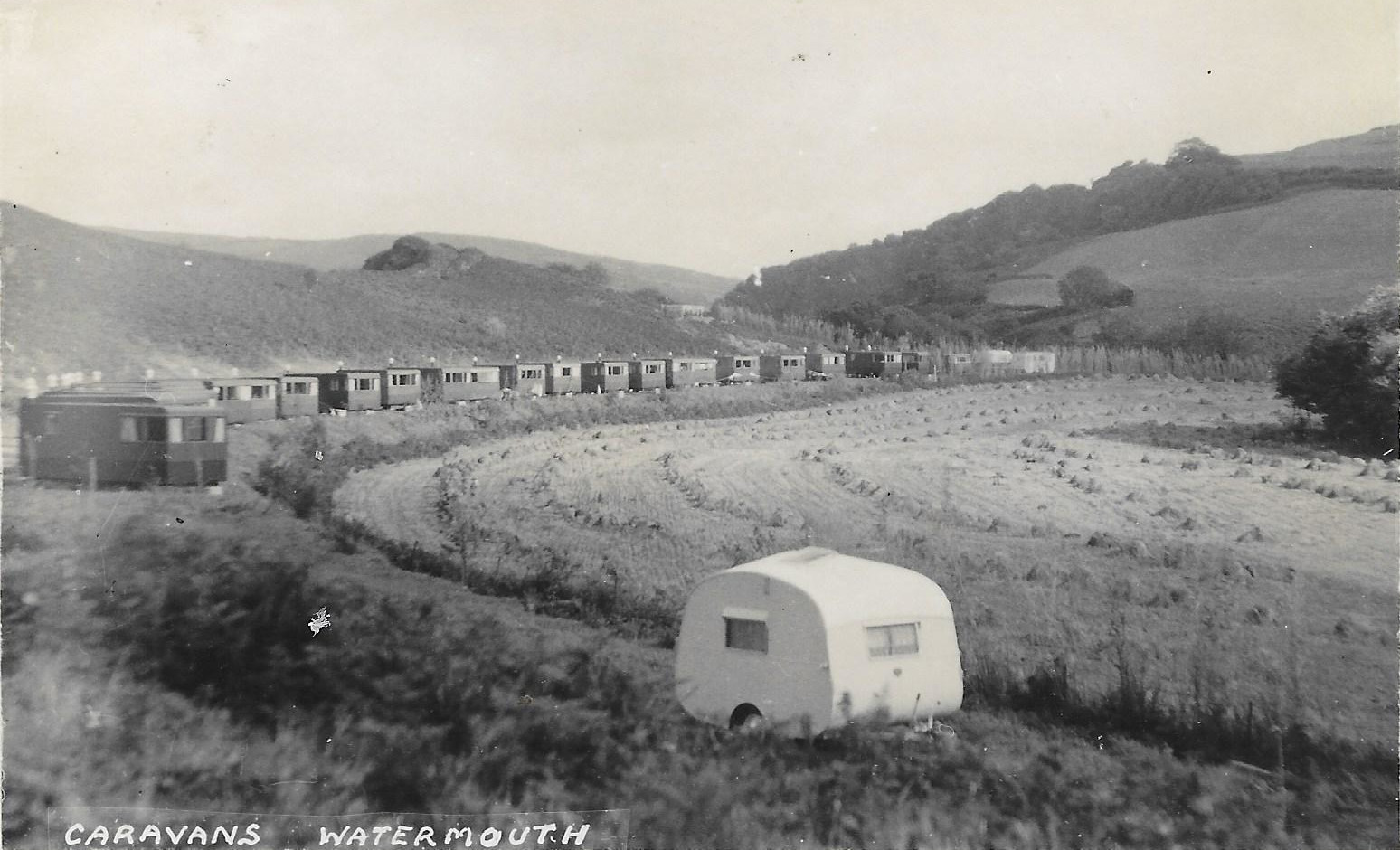 This photographic postcard was published around 1955-60 by an unknown publisher, who used purple print for the words POST CARD on the reverse.
It shows a long line of identical caravans and one small white portable caravan in the foreground. I should think that it had been taken in July or August, as the field on the right has been recently mown and the hay has been left in small piles to dry.
This second card, showing Smallmouth Cave, Watermouth, is in colour and has been published by The Knight Collection and is numbered 235/4.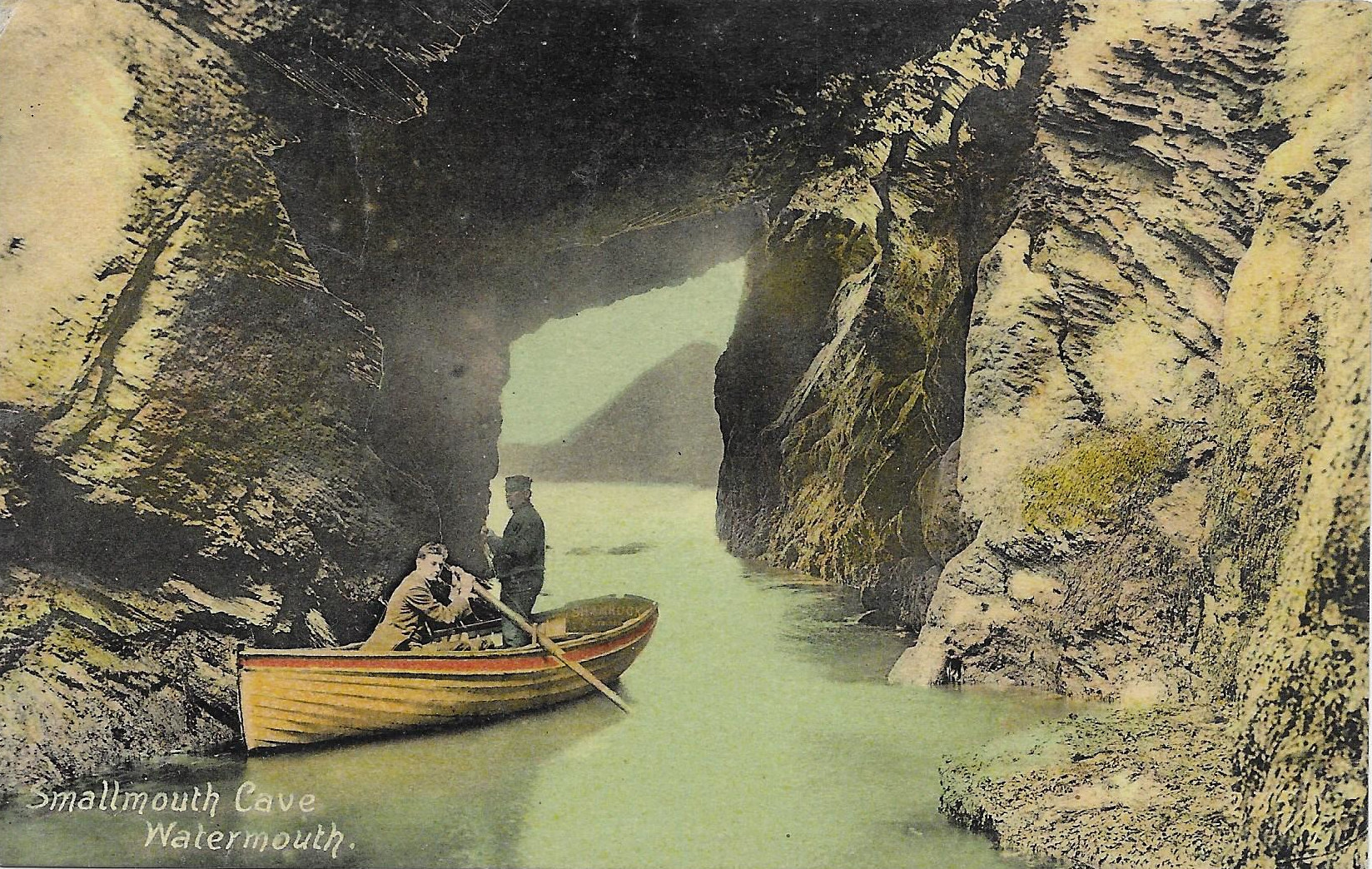 The card, which has a Bideford postmark of 7.15 PM 12 Jan 1915 shows a young visitor rowing a small boat with the local owner holding the boat steady for the photograph to be taken. The message on the reverse side reads:
My dear Jinnie
I shall be very pleased to see you & Pippy to-morrow & very pleased for you both to stay the night & will meet the 4.30 train. Sorry Sissie cannot come.
Love Dorothy.
The card was sent to a Miss Simmonds at Cranleigh, a village and civil parish, about 8 miles southeast of Guildford in Surrey, claimed by some to be the largest village in England.
Tom Bartlett
Tower Cottage, January 2022e-mail: tomandinge40@fmail.com
In my collection I have more than one original copies of postcards of Berrynarbor, anyone is interested in purchasing any, please contact me on [01271] 883408. Tom
---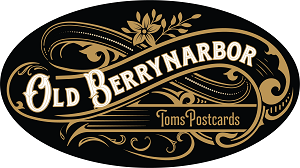 Artwork: Angela Bartlett
OLD BERRYNARBOR - VIEW NO. 194.
The Village Berrynarbor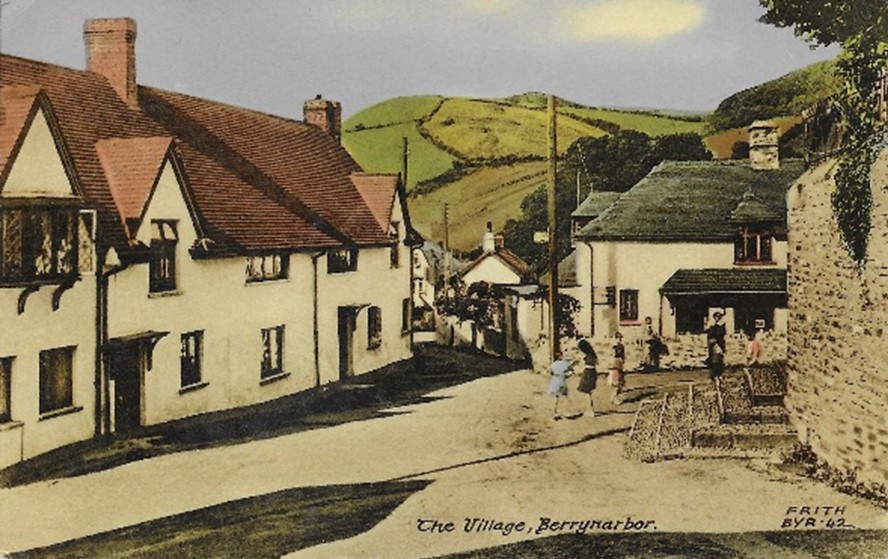 This photographic postcard was published by Francis Frith and numbered BYR.42 was posted from BERRYNARBOR on Wednesday 9th September 1964. It was addressed to a Mr. & Mrs. E. Oliver living in Guernsey, Channel Islands. The picture shows Bessemer Thatch with a tiled roof, as the original thatched roof burnt down on the 5th May,1937. My original article about the fire was given in Newsletter No. 66, way back in June 2000.
The following morning, an article appeared in the Western Morning Newspaper:
"Two Brigades Fight Fire - Berrynarbor Hill House Destroyed - Outbreak starts in thatch".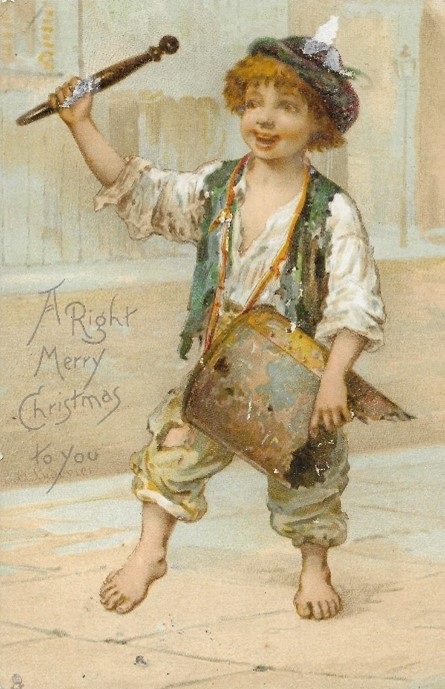 Known to thousands of visitors the picturesque Bessemer Thatch House was destroyed by fire last evening. The damage is estimated at nearly £1,000.. The lower portion of the house, with its modern interior, is owned by Canon Jolly of the Deanery, Southampton. Every summer he visits the place and has done so for a great number of years, At the time he was not in residence, but the news of its destruction was conveyed to his wife, who told the Canon, who, it is understood, had left hospital only yesterday after an operation. The higher portion of the Thatch is owned and occupied by Miss L. C. Veale, head mistress of the Berrynarbor Council School. She was home at the time."
Summarised, the article tells us that a spark from a nearby chimney caught the thatched roof on fire shortly after five o'clock. The first to notice it was Mrs. D.Toms who lived almost opposite at Dormer Cottage. She at once sent for the Ilfracombe Fire Brigade.
Bessemer Thatch was originally three separate cottages, Nos. 47, 48 and 49 the village, with Little Gables, No. 50, on the corner.
Following the fire, Canon Jolly became the sole owner and arranged for the rebuilding of Bessemer Thatch, alas without thatch! He remained as the sole owner/occupier right up until his death in 1972.
Dormer Cottage is also shown in this postcard with young children playing in front.
The writing on the back of the card ends: Wouldn't like to farm in Devon. Children well a bit hectic as you can imagine. Love P & J.
This second upright card shows a young lad striking a broken tin as a drum and states: "A Right Merry Christmas to You". This very early postcard, published by Raphael Tuck and Sons, was posted on 25th December 1904 when only the address was allowed to be written on the back!
Tom Bartlett
Tower Cottage, November 2021
e-mail: tomandinge40@gmail.com
---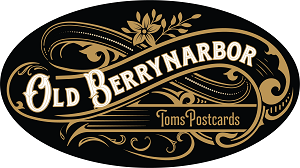 Artwork: Angela Bartlett
OLD BERRYNARBOR - VIEW NO. 193
In Berrynarbor, 63 Silver Street
This view of 63 Silver Street, better known as Brookside Cottage, was taken by John William Garratt c1904.
At that time, the cottage was thatched and the young girl seen would have been either Polly or Lucy Draper, daughters of Ben and Polly Draper, who also had a son Ephraim.
When the Watermouth Castle Estate went up for sale in 1920, No. 63 Silver Street was described as:
"Lot 58 - A Good Thatched Cottage with Piggery, Workshop, Garden & Premises situate in the village and being in the occupation of Mr. B. Draper as a Quarterly Tennant."
The property sold for £100 and was purchase by Ben Draper.
At a much later date, the thatched roof was replaced with corrugate iron sheets.Fortunately, the very old and rusted roof was replaced by a new slated roof in the 1980's for Mrs. Whitehouse, who then owned the property.
Vera and Fred Whitehouse moved into Brookside in 1948, having come from Hagley, Birmingham, shortly after their marriage. Fred, who was 22 years Vera's senior. Stalwarts of the church, Fred, who was a member of the Church Choir, died in 1970.Vera moved first into the Susan Day Home in Ilfracombe in 1989 and then Edenmore.She died on the 2nd January 1992.
The present owners, Mike and Jo Lane have done much to improve the property which now has a garage and parking for two vehicles.
Tom Bartlett
Tower Cottage, September 2021
e-mail: tomandinge40@gmail.com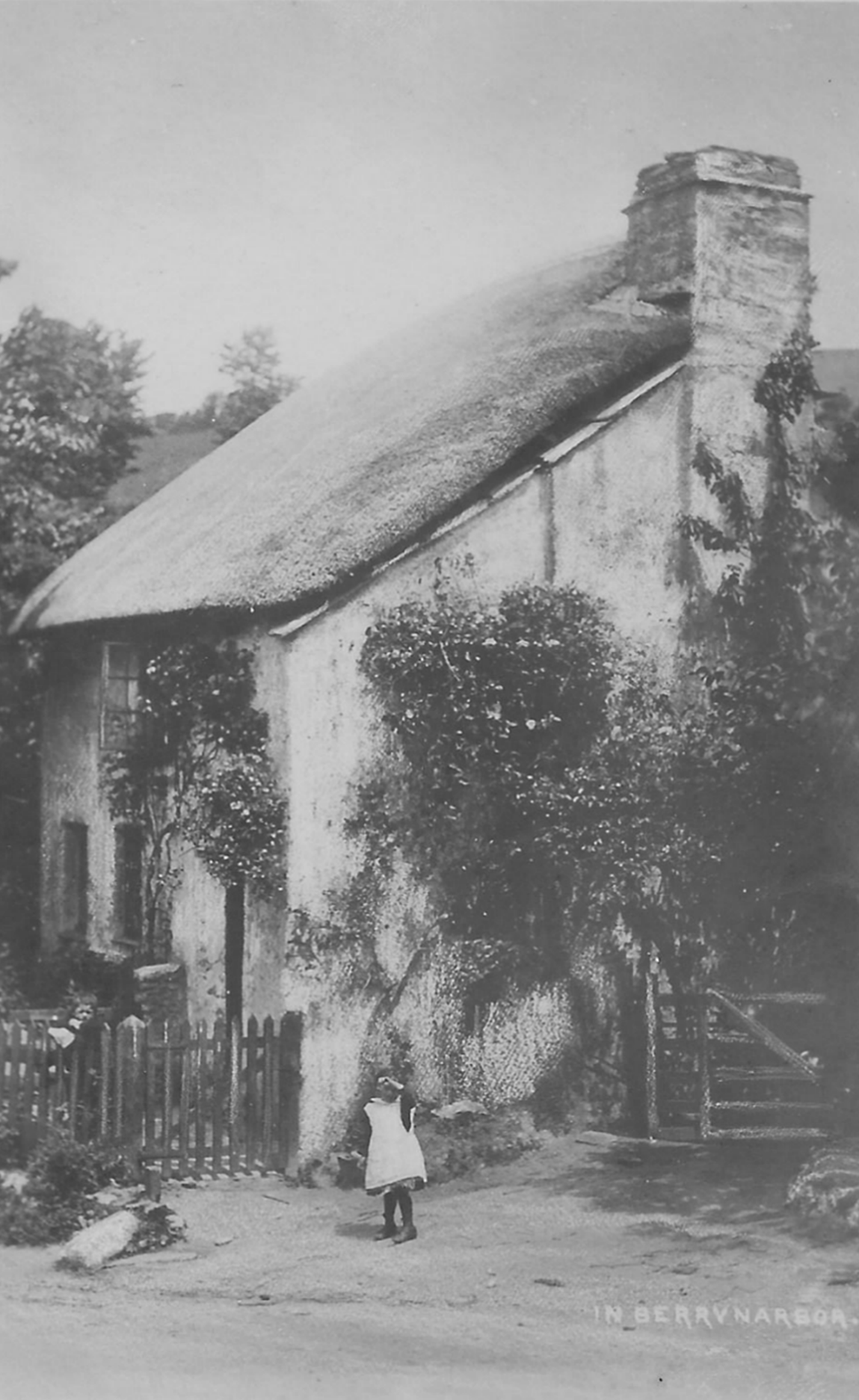 ---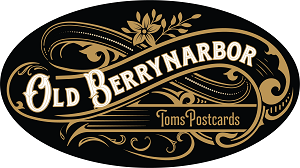 Artwork: Angela Bartlett
OLD BERRYNARBOR - VIEW NO. 192
In Berrynarbor [71 Higher Sterrage Valley]
This view was taken by William Garratt, the Bristol Photographer about 1904. It shows two of the Street family sisters, Tilley and Dorcas, daughters of Ephraim and Susan Street, outside their home in the Valley.
Ephraim, an agricultural labourer, horseman and gardener, was born in Marwood c1844, Susan in Berrynarbor c1854. They had nine children and where they all slept is a real wonder! They were: Mary [1873], Richard [1875], William [1878], Ellen [1880], Elizabeth [1884], Caroline aka Kitty [1886], Edward John [1889], Matilda aka Tilly [1894] and Dorcas Evelyn [1898]. Ephraim died in1918 and Susan in 1923.
On the right is Barn Cottage and in a similar postcard shown in the 1990 April issue, the tap house opposite No. 71 is shown and is still there today. It supplied water to all the nearby cottages and was lovingly restored by Vi Kingdom in the 1990's, including a new roof.
No. 71, now known as Derrivale, is home to Shirley and Graham, Harley the dog and Penny and Lola the cats; whilst Barn Cottage and its extension are home to Sal, Chris, Dan and Oli and a menagerie of animals!
Tom Bartlett
Tower Cottage, July 2021
e-mail: tomandinge40@gmail.com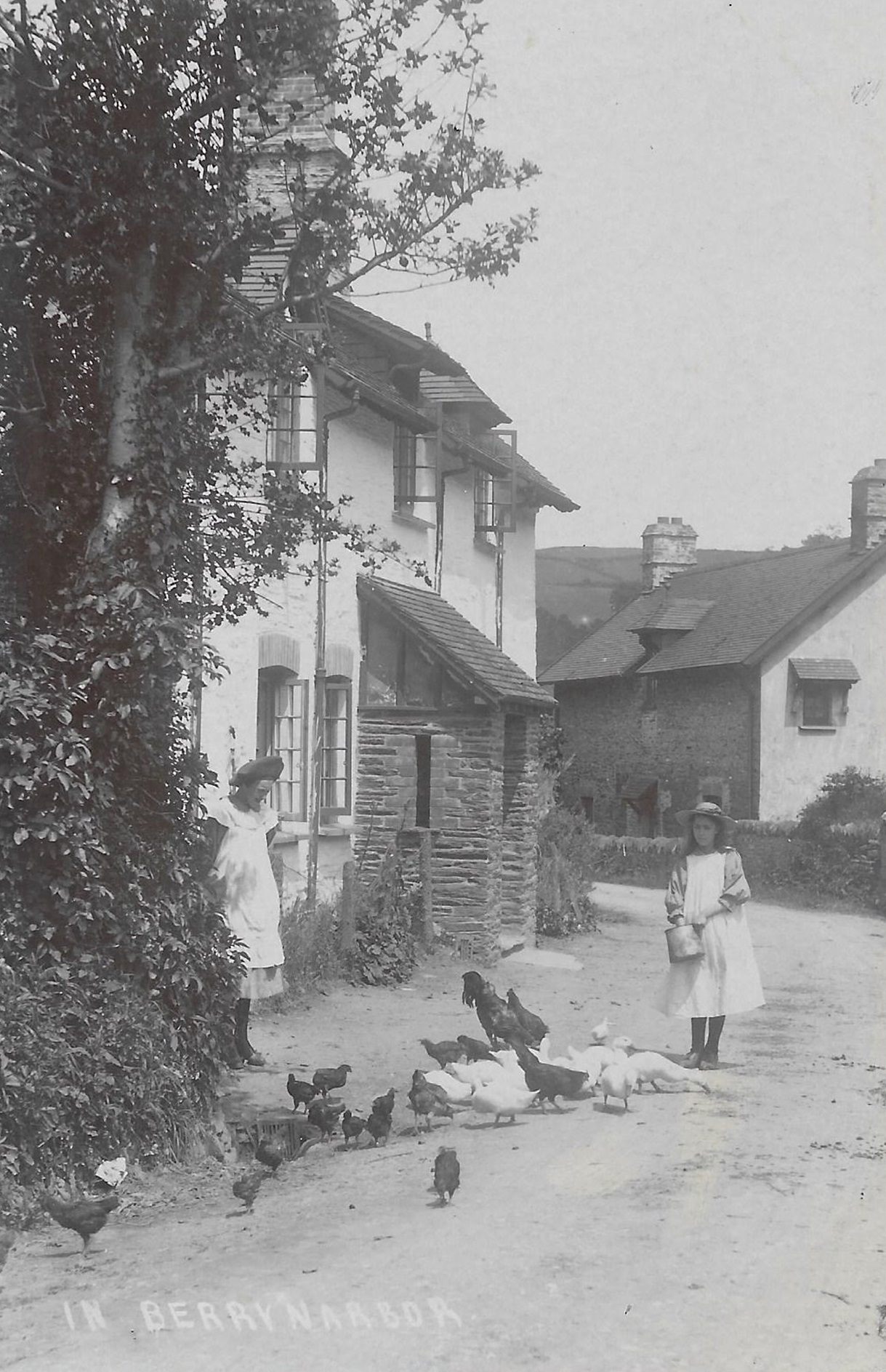 ---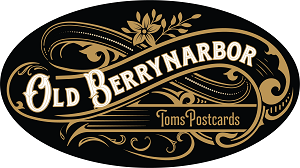 Artwork: Angela Bartlett
OLD BERRYNARBOR - VIEW NO. 191
Dower House 87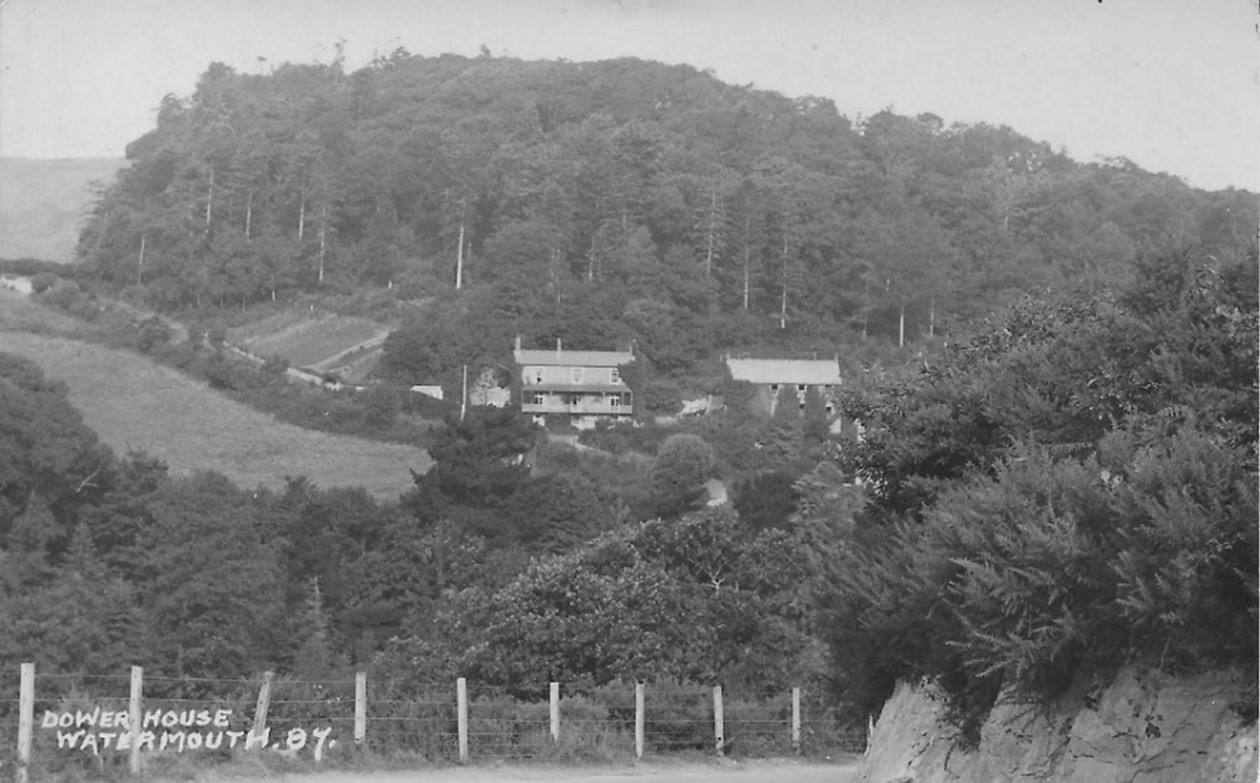 This month I have chosen yet another photographic postcard from my William Garratt collection of old postcards. This view is number 87, Watermouth House, which was built as a Dower House by the owners of the Watermouth Estate. It has been taken from the new road which was built following the large collapse of the main road from Ilfracombe to Combe Martin in 1919. The collapse occurred directly above Golden Cove, Berrynarbor.
The Dower House is the one to the left of the picture. It is reached by the entrance and steep incline opposite The Sawmill, together with Watermouth House Cottage, part of the right-hand building in the picture and Watermouth Cottage and Ding Dong, both nearer the road, hidden in the picture by the trees.
The name 'Dower' means that it was the widow's share of her husband's estate and the Dower House was left to Lady Bassett by her late husband.
The cleared patch to the left of Watermouth House and slightly uphill is the Kitchen Garden, and the track running in front of it was the main access to the House until after the Second War, joining the track running from Watermouth Castle to Oxen Park lane which crosses over Hagginton Hill at the bridge below Hagginton Farm. The Virginia creeper covering much of the building has mostly been removed along with the spiders living in it, but the fig tree just visible to the right of the house is still there.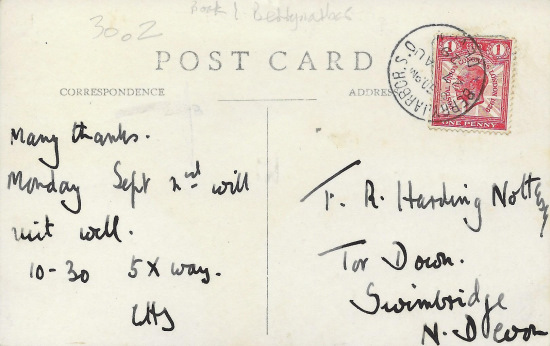 Following the sale of the Watermouth Estate and over the years the properties have mostly been the family homes of members of the Annear family.
The post card has a Berrynarbor postmark dated 27th August 1929, 6.50 p.m. and has been sent to Swimbridge. The one penny red stamp with the head of George V, is also inscribed with the words Postal Union Congress London 1929.
The Ninth Postal Union Congress was opened in London on 10th May 1929 by HRH The Prince of Wales. As the formal meeting of the Universal Postal Union held every four years, the congress was attended by representatives of most of the world's major postal authorities. The two previous congresses in Madrid and Stockholm had been marked by special stamps, so by the latter half of 1927 discussions had begun within the GPO on the necessity of issuing stamps for the London Congress. Previously the GPO had only issued one commemorative set, to mark the British Empire Exhibition in 1924.
It was known that King George V had very definite views on the matter: he is reported to have told Sir Kenneth Clark, then Director of the National Gallery, shortly before his death: 'I want you to make me a promise. Never allow them to make all those funny issues of stamps like some ridiculous place like San Marino. We invented the postage stamp - all it had on was the sovereign's head and Postage and its value. That's all we want.'
My thanks to Richard Annear and Judie for their help with this article.
Tom Bartlett
Tower Cottage, May 2021
tomandinge40@gmail.com
---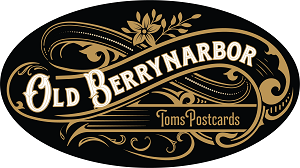 Artwork: Angela Bartlett
OLD BERRYNARBOR - VIEW NO. 190
Easter Wishes
For Easter I have chosen two early postcards from my collection.
The first, A Happy Easter, shows a young lad clutching a bunny rabbit with his knapsack and two Easter eggs on the ground. This card was printed in Germany, exclusively for Post Card & Variety Stores Ltd. London N.7 series 825 c1910.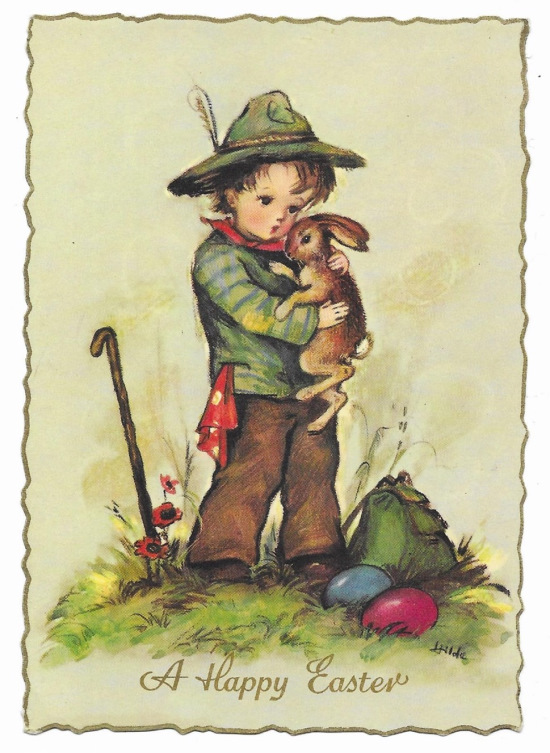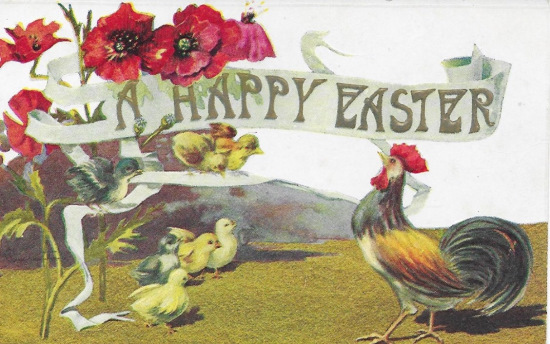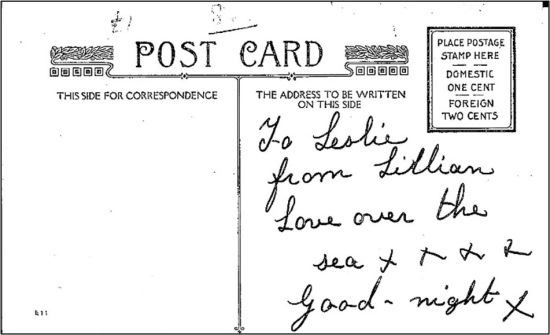 The second card, also A Happy Easter, is c1908, printed in America and has not been posted. The card shows a large cockerel and six young chicks against a background of hills and poppies. Where the stamp would be placed is the following printed message: Place Postage Stamp Here - - Domestic One Cent - - Foreign Two Cents.
Once again, I should like to wish all readers a Very Happy Easter 2021 and thank Judie for the production of our Newsletter since the first publication in August 1989!
Tom Bartlett
Tower Cottage, March 2021
e-mail: tomandinge40@gmail.com
---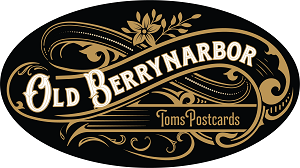 Artwork: Angela Bartlett
OLD BERRYNARBOR - VIEW NO. 189
In Berrynarbor - North Lee Farm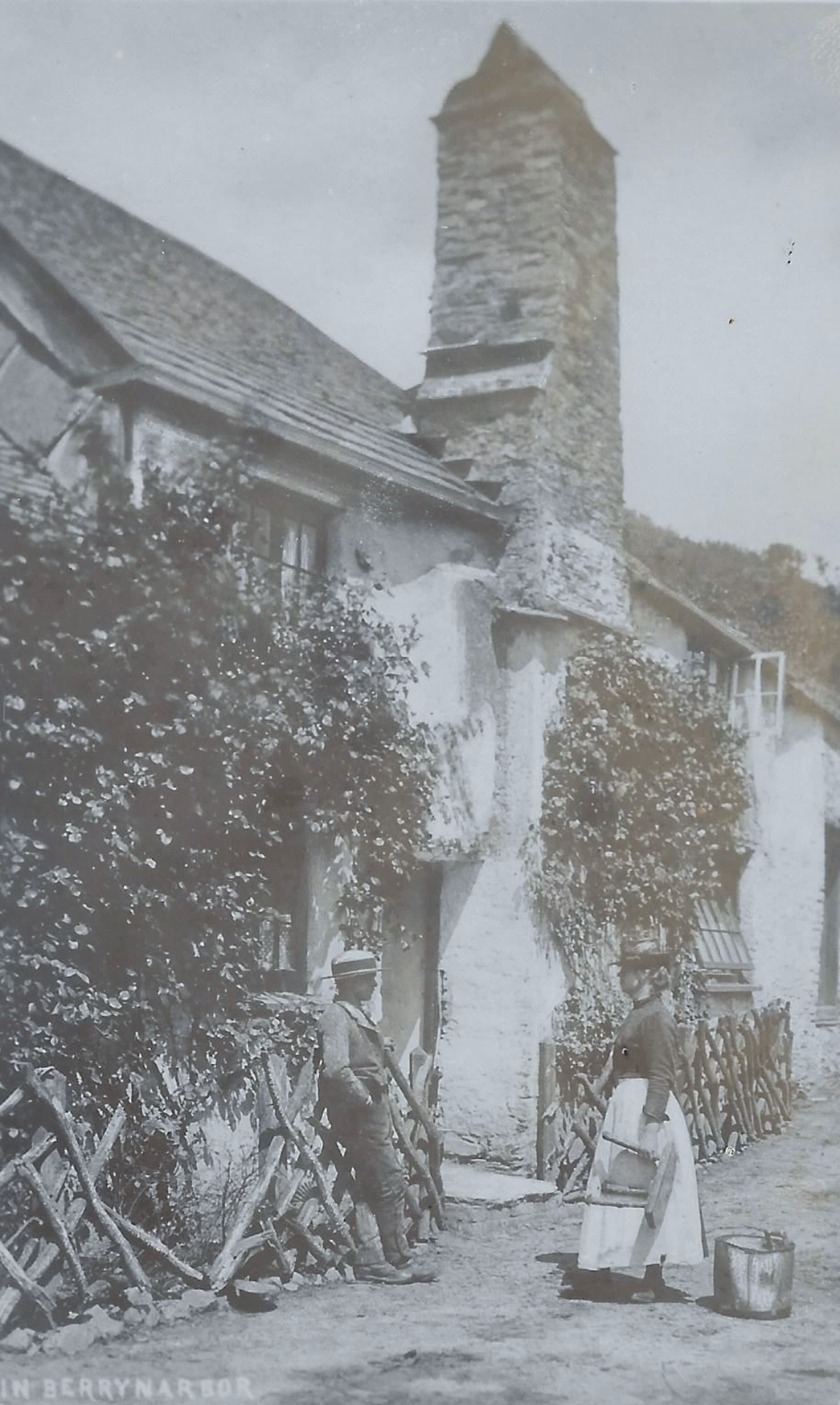 For this issue I have chosen a very early, c1903-4, upright postcard of North Lee Farm House. Outside the front door is Richard Huxtable with his wife Susan. Susan has or is just about to milk their cow or cows, and is holding her milking stool with a milking bucket on the ground beside her.
North Lee Farm is situated at the foot of Hagginton Hill and like the majority of cottages and farms, was held by the Watermouth Castle Estate.
North Lee Farm was sold at the first sale of the Watermouth Estate held on Tuesday, August 17th, 1920, at Bridge Hall, Barnstaple, with completion date being 25th March 1921. The following particulars were given:
"Lot 22. [coloured blue on Plan] North Lee.
A Very Excellent Small Holding.
Comprising:
A Slated Dwelling House, convenient Outbuildings, Meadow, Pasture and Arable Lands,
containing together about 36a. 1r. 16p. in the occupation
of Messrs. R. Huxtable and I.J. Bowden as Yearly Lady Day Tenants, and in hand.
The apportioned Tithe on this Lot is £6.5s.6d.
The Timber to be taken in the sum of £3.0s.0d.
There are two Water-taps on this Lot."
Mr. Huxtable purchased Lot 22 North Lee at the Sale for £1,100.0s.0d. and their line of ownership continued right up until the last listing I have, being Kelly's 1939 Directory.
Mr. and Mrs. Stanley Huxtable took over the Farm in c1939 until Stanley became ill in 1948. His wife then had to sell some of the fields and the livestock. They kept the field known at Pitt Meadow. Pitt Meadow was later sold to the Council for sewerage purposes.
Mrs. Huxtable sold North Lee to Miss Edna Barber in 1973.
My thanks to Rosslyn Hammett [nee Huxtable] who gave me some of the information way back in April 1997!
Tom Bartlett
Tower Cottage, January 2021
e-mail: tomandinge40@gmail.com <![if !mso]> <![endif]>
---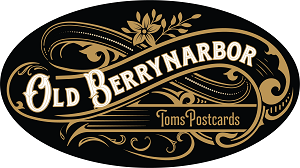 Artwork: Angela Bartlett
OLD BERRYNARBOR - NO. 188
Christmas 2020 & New Year 2021
The card, A Christmas Greeting, was published by Stewart & Woolf of London E.C., and posted on the 24th December 1909. This particular card has the holly spring embossed and has a small, thimble postmark from Overton, Hants. The card was sent to a Miss M. Wake, also in Overton, and reads:
Dear Auntie Just a p.c. to wish you a Merry Christmas and a Happy New Year. I hope you will get heaps of presents. Much love from Ena.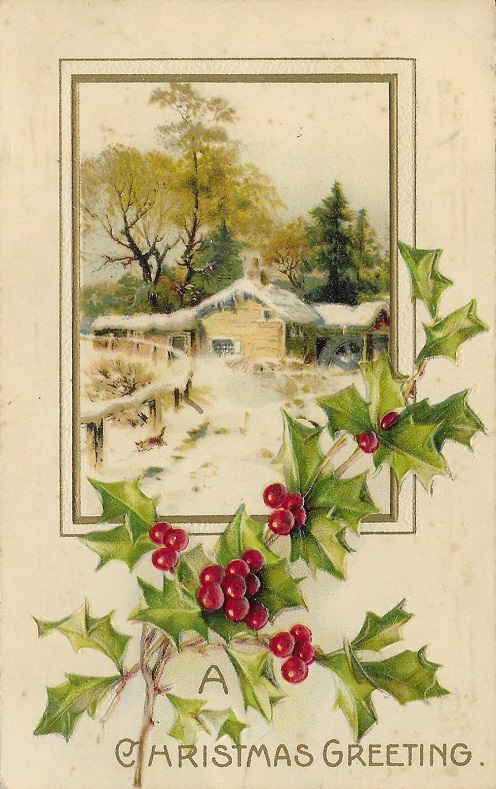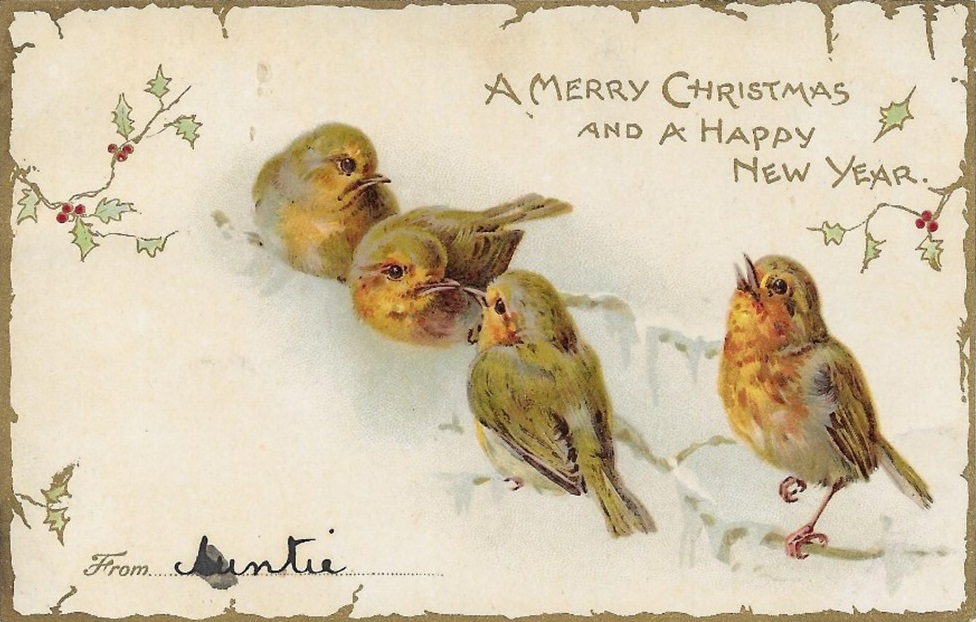 The second card, A Merry Christmas and A Happy New Year, shows four robins sitting on a sprig of holly. The postcard dates from c1902-1903 and has an unsplit back stating 'This side for the address'.
I should like to wish everyone a Happy, Healthy and Prosperous New Year 2021.
Tom Bartlett
Tower Cottage, November 2020
e-mail: tomandinge40@gmail.com
---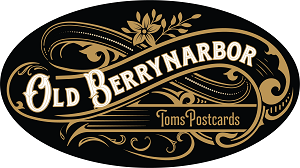 Artwork: Angela Bartlett
OLD BERRYNARBOR - VIEW NO. 187
For this issue I have chosen a very early Garratt, black and white printed postcard of 'Our Village Shop', the General Stores, c1903-4, or No. 44/45 Dormer Cottage and Dormer House.
This upright picture shows a youthful looking Mr. Klee, the owner, in his long apron and cap watching the two children. Note the adverts on the windows for Fry's Chocolate and Fry's Pure Cocoa and the suspended one for Homelight, which was lamp oil.
The windows are packed with groceries and Mr. Klee is holding a scoop and a bag he must have just filled!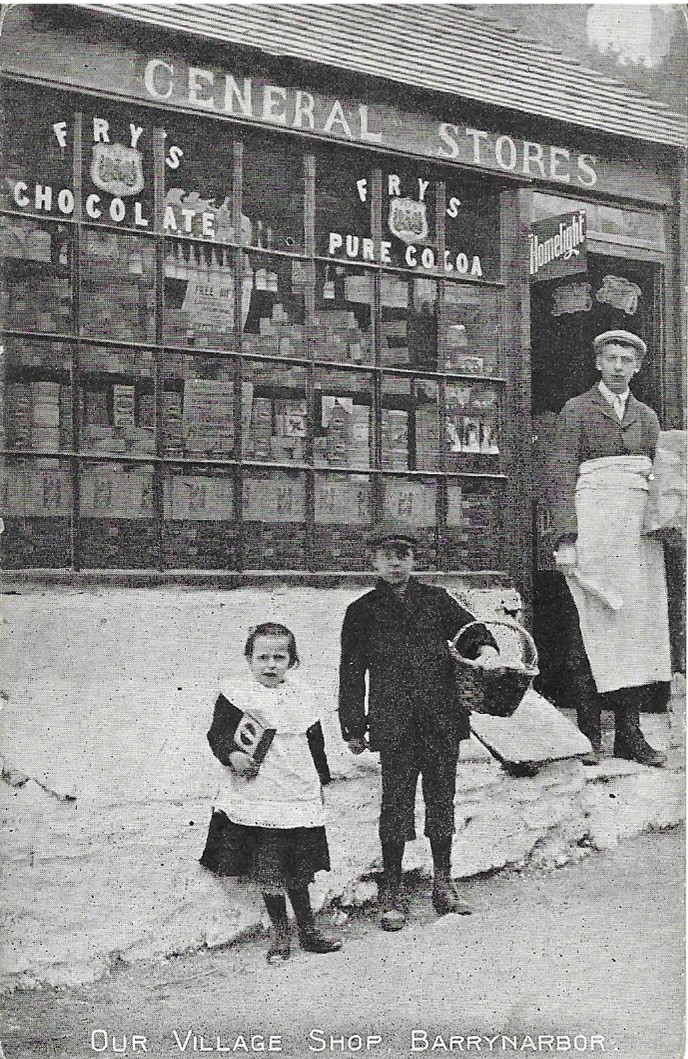 One of the two postcards I have of this view, has been posted to Miss G. Short of Holloway Bakery, Bath. It is very interesting in that it has actually been written and then sent by Mr. Klee and states: "Berrynarbor Hope to give you a visit one day next week. Little girl Reg sister when she was staying with us. F. Klee".
Frederick Thomas Klee is first listed as Shopkeeper in the 1906 Kelly's Directory, and also in the directories of 1914 and 1919. In late 1919 and 1923, Charles S. Ewens is listed as Shopkeeper, followed from 1924 through to 1939, by Albert James Baker.
The cottage was originally sold in the Watermouth Estate sale of 17th August 1920 by John Smale, F.A., at Bridge Hall, Barnstaple as Lot 47: A Tiled and Gabled Cottage No. 45 and adjoining Slated 4-roomed Cottage and Tiled Shop No. 44 and including A Large Garden in Castle Street." This entire lot sold for £320.
Many long-term residents of the village will remember Dave and Vi Goodman who lived in Dormer House. Dave was born in Greenwich in 1917 and came to Berrynarbor during the war with the PLUTO Project, when he met and married Vi, nee Toms, who was born in Berrynarbor. Their only son, Terry, was born in 1949 and attended our school. When Dave died in April 1987, Vi moved in to the adjoining Dormer Cottage where she lived until her death in 2002.
Dormer House has been home to quite a few families and, of course, Miss Muffet's Tea Rooms.
Tom Bartlett
Tower Cottage. September 2020
e-mail: tomandinge40@gmail.com
Please Note: I have many original but duplicate postcards which I am willing to sell. Please contact me if you are interested.
---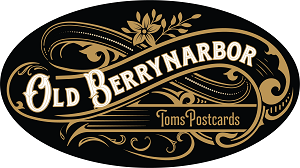 Artwork: Angela Bartlett
OLD BERRYNARBOR NO. 186
Sterrage Valley
This month I have chosen two cards of the Sterrage Valley. The first a Frances Frith No. 63954 first published 1911; the second published by E.J.B. and given the number 504.02, which has been printed in Saxony, Germany, c1903.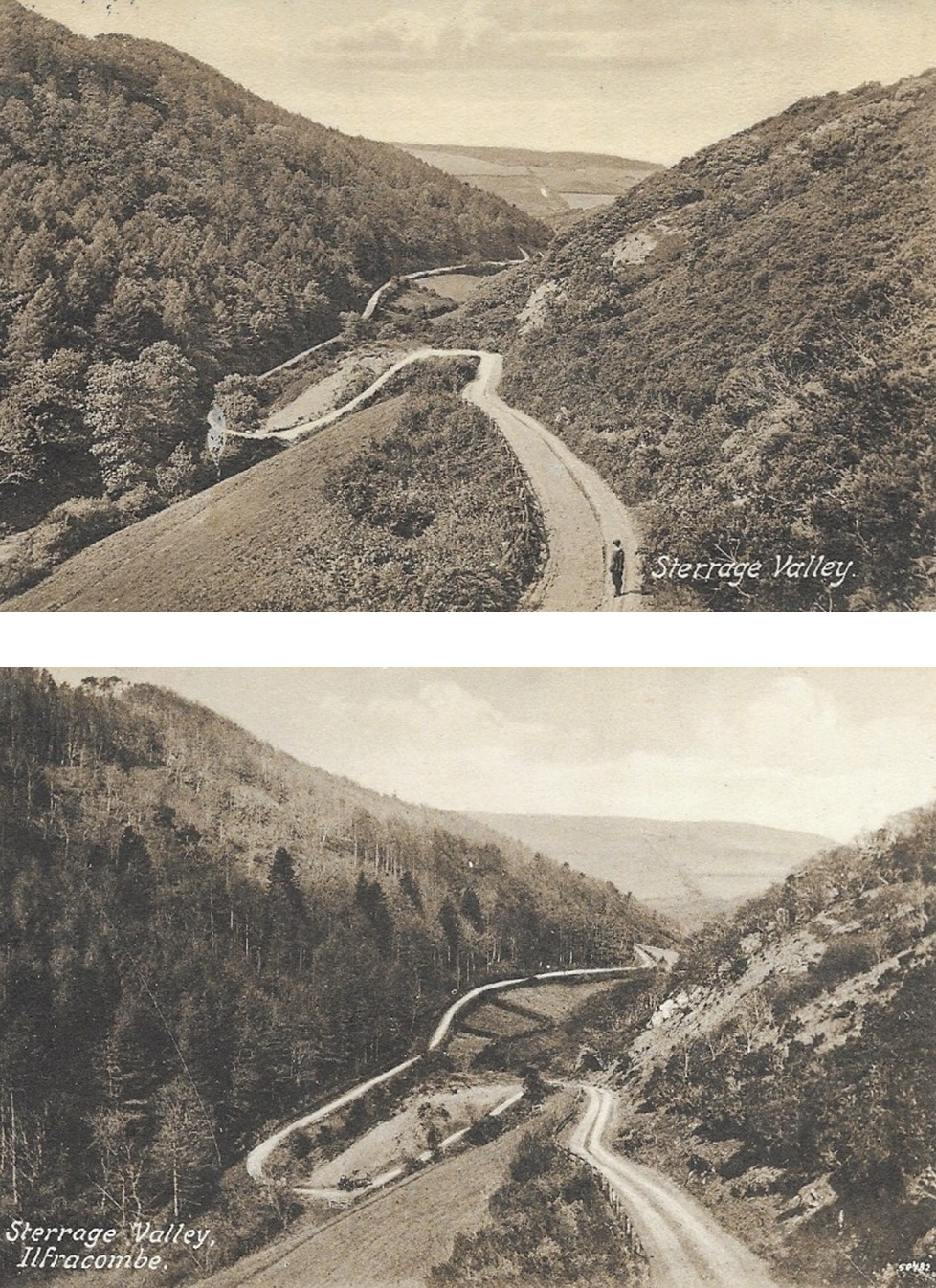 Both sepia cards, virtually the same view, show just how steep and twisting the road is. These days the trees have grown so high on both sides that the road ahead is hidden from view.
In the case of the Frith card, there is a person in the foreground, but as with Frith cards, this could have been added to enhance the view! The card has an Ilfracombe 4th July 1918 postmark with a red one penny stamp, and has been sent to Nurse N. Butler, Nursing Home, Manor Park, Lee, London S.E.13. The message reads: "We are going to drive round this track one day, it is very dangerous part good for the nerves. Love from S. Spence."
All our village roads would have been just scraped stone, so very dusty in the summer and very slippery in the winter or when it rained! Tarmacadam did not appear on our roads or lanes until after the First World War.
Tom Bartlett
Tower Cottage, July 2020
e-mail: tomandinge40@gmail.com
---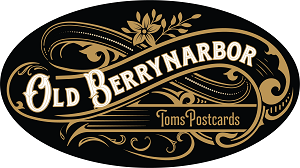 Artwork: Angela Bartlett
OLD BERRYNARBOR - NO. 185
Thistledew, Birdswell Laane
For this issue I have chosen two views, taken about 1950, of Thistledew, Birdswell Lane. The first view shows the entrance off the lane, and the second shows the house from the south, with Mrs. Dorothy Hubbard in the foreground with her arms full of flowers she has just picked.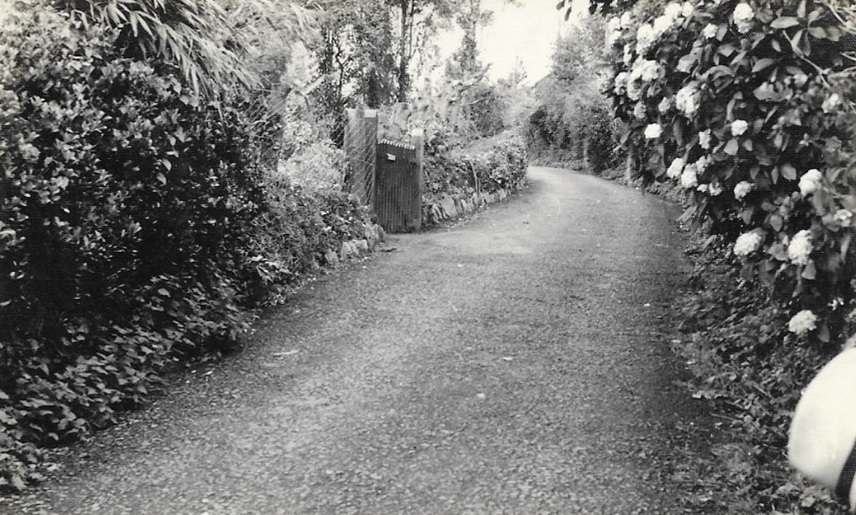 &nbsp
;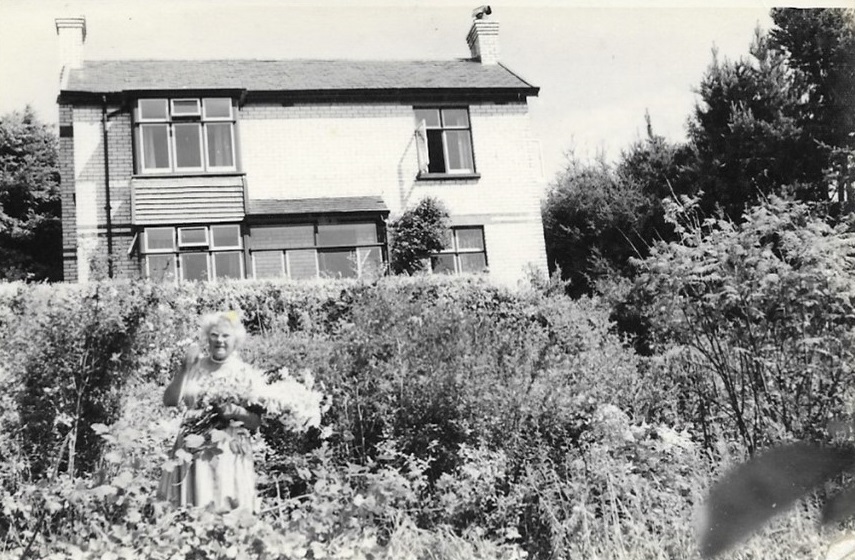 &nbsp
;
My thanks to the present owners, David and Madeline Hubbard [who in fact are no relation to the previous Hubbard's], for the following information.
In 1925, William and Roseline Bray sold the plot of land to a Miss Doris Rowe, who only used the land as a market garden. The house was built some time later.
In June 1957, the then owner, Mrs. Robins, sold Thistledew to Mr. F.J. and Mrs. Dorothy Hubbard, and his mother Mrs. Violet Hubbard. Dorothy Hubbard LRAM [Licentiate of the Royal Academy of Music], was an accomplished pianist who taught music and the piano to many of the local children.
In July 1985, Mr. C. Denton Powell and Mrs. M.A. Bannister bought Thistledew, marrying in 1990. They sold the home for £100,000 in 1994 to Mr. R.E. and Mrs. E.C. Lloyd, who, just two years later, in 1996, sold the property and land to Mr. and Mrs. William and Sylvia Baker. On Valentine's Day in February 2002, Thistledew became home to its current owners.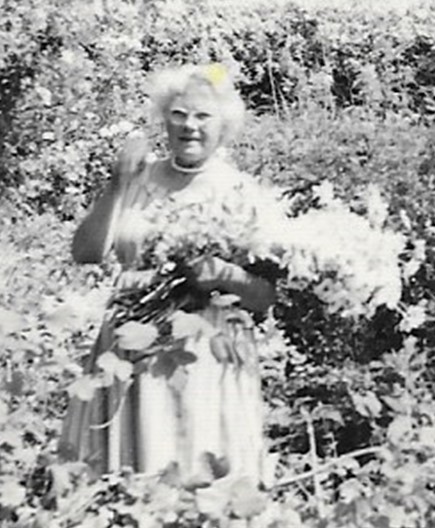 This view, taken at the same time, is from the back and the sea can still be seen from the property today.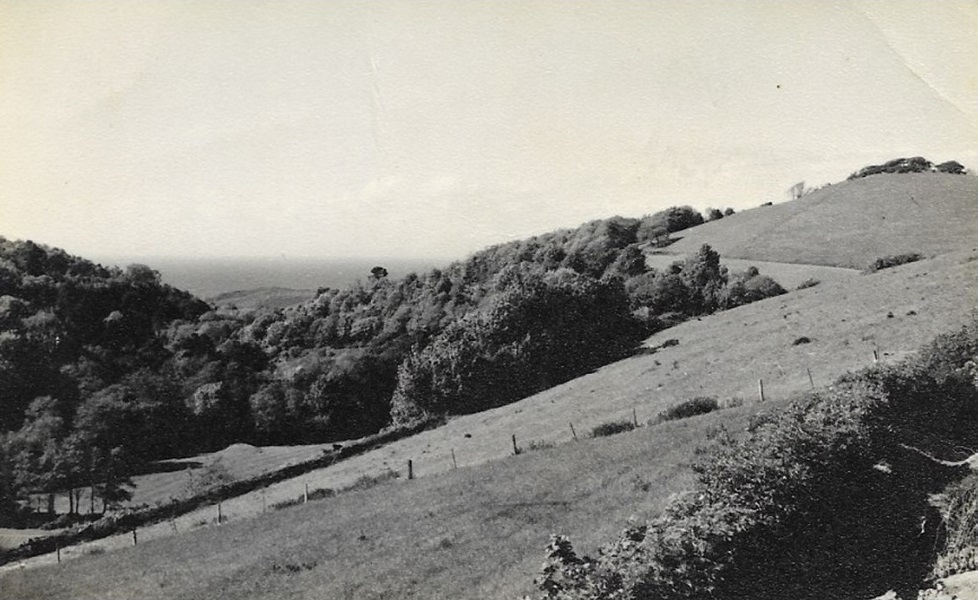 Tom Bartlett
Tower Cottage, May 2020
e mail: tomandinge40@gmail.com